Stolen (Paperback)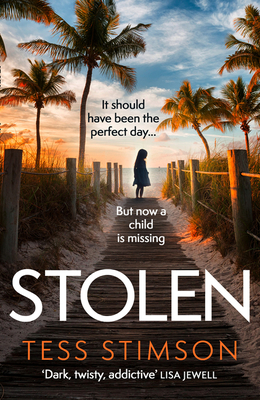 Description
---
'Wait just one minute while I catch my breath and pick my heart up off the floor. Wow This book grabbed onto me and would not let go... Five stars' NetGalley reviewer, ⭐⭐⭐⭐⭐
You thought she was safe. You were wrong...
Alex knows her daughter would never wander off in a strange place. So when her three-year-old vanishes from an idyllic beach wedding, Alex immediately believes the worst.
The hunt for Lottie quickly becomes a world-wide search, but it's not long before suspicion falls on her mother. Why wasn't she watching Lottie?
Alex knows she's not perfect, but she loves her child. And with all eyes on her, Alex fears they'll never uncover the truth unless she takes matters into her own hands.
Who took Lottie Martini? And will she ever come home?
A totally addictive thriller, with a twist you just won't see coming. Fans of Lisa Jewell, Louise Candlish and T.M. Logan will be totally gripped from the very first page.
Readers are gripped by
Stolen
:
'TEN STARS ... Utterly fabulous... You won't be able to put it down' NetGalley reviewer, ⭐⭐⭐⭐⭐
'Made my jaw drop ' NetGalley reviewer, ⭐⭐⭐⭐⭐
'Omg, wow... just wow, this book is absolutely bloody brilliant.... Worth all the stars and more' NetGalley reviewer, ⭐⭐⭐⭐⭐
'Crikey, reading this book has taken up my days and nights for 3 days I couldn't stop reading it... I loved it ' NetGalley reviewer, ⭐⭐⭐⭐⭐
'Absolutely unputdownable' NetGalley reviewer, ⭐⭐⭐⭐⭐
'Boy was I gripped... I stayed up all night reading... So many twists and turns' NetGalley reviewer, ⭐⭐⭐⭐⭐
'Twist, twist, twist - I loved it... Brilliant ' Jackie Kabler, author of The Perfect Couple
'Gripped me from the very first page... The twists and turns will have you at the edge of your seat ' NetGalley reviewer, ⭐⭐⭐⭐⭐
'Wow... The twists really blew me away ' NetGalley reviewer, ⭐⭐⭐⭐⭐
'I went through so many emotions reading this... Hits you right in the gut... Such a powerful and emotional read. Grab the tissues' NetGalley reviewer, ⭐⭐⭐⭐⭐
About the Author
---
Tess Stimson is the British author of ten novels, including top-ten bestseller The Adultery Club, and two non-fiction books, which between them have been translated into dozens of languages.Her first proper job after graduating from St Hilda's College, Oxford (where she read English) was as a news trainee with ITN (Independent Television News). She reported and produced regional and world stories, travelling to hotspots and war-zones all over the globe.In 2002, she was appointed Professor of Creative Writing at the University of South Florida and moved to the US. She now lives and works in Vermont with her husband, Erik, their three children, and (at the last count) two cats, three fish, one gerbil and a large number of bats in the attic.