Flora's Travelling Christmas Shop (Paperback)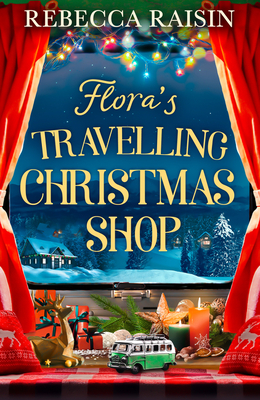 Description
---
'A gloriously festive, warm and cosy hug of a book. If this doesn't get you in the mood for mince pies, eggnog and pine tree scents, nothing will ' NetGalley reviewer, ⭐⭐⭐⭐⭐
'Tis the season for mulled wine, mince pies, and magic under the mistletoe...
Flora loves Christmas more than anything else in the world, so she's gutted when her Scrooge-alike boss fires her from Deck the Halls Christmas emporium. But now she finally has a chance to follow her dreams - and what better place to start than the home of Christmas?
Before she can say 'sleigh bells', Flora's on her way to Lapland in a campervan-cum-Christmas-shop. She can't wait to spend her days drinking hot chocolate and taking reindeer-drawn carriage rides, but something Flora didn't expect was meeting Connor, a Norse god of a man who makes her heart flutter and snowflakes swirl in her stomach. There's just one problem: Connor hates Christmas.
Can Flora convince Connor of the joys of Christmas - and will she find a festive romance along the way?
The perfect Christmas romance for fans of Debbie Johnson, Holly Martin and Jenny Colgan.
Readers LOVE
Flora's Travelling Christmas Shop
'An absolutely delightful festive feel good book Perfect for snuggling up with... a steaming mug of hot chocolate in front of a roaring fire Fabulous.' NetGalley reviewer, ⭐⭐⭐⭐⭐
'This was such a sparkling fabulous read and I devoured every word ... Rebecca Raisin is a force to be reckoned with.' NetGalley reviewer, ⭐⭐⭐⭐⭐
'A quirky heroine, a lovely story and filled with festive vibes - just fabulous ' NetGalley reviewer, ⭐⭐⭐⭐⭐
'I love Rebecca's books but this one is definitely one of my favourites to date.' NetGalley reviewer, ⭐⭐⭐⭐⭐
'Rebecca Raisin has done it again... I've loved all of her] books and this is no different, it just has a little Christmas sparkle on top ' NetGalley reviewer, ⭐⭐⭐⭐⭐
'Well written, cosy and comforting. Great escapism.' NetGalley reviewer, ⭐⭐⭐⭐⭐
'Such a great read. Rebecca Raisin is a fab author ' NetGalley reviewer, ⭐⭐⭐⭐⭐
About the Author
---
REBECCA RAISIN writes heartwarming romance from her home in sunny Perth, Australia. Her heroines tend to be on the quirky side and her books are usually set in exotic locations so her readers can armchair travel any day of the week. The only downfall about writing about gorgeous heroes who have brains as well as brawn, is falling in love with them - just as well they're fictional. Rebecca aims to write characters you can see yourself being friends with. People with big hearts who care about relationships and believe in true, once in a lifetime love. Her bestselling novel Rosie's Travelling Tea Shop has been optioned for film with MRC studios and Frolic Media.