The Trident: The Forging and Reforging of a Navy SEAL Leader (Hardcover)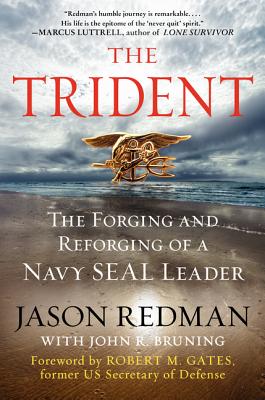 Description
---
Navy SEAL and author of Overcome Jason Redman's highly-charged account of his combat missions in Iraq and his miraculous recovery from wounds that might have killed him—if it were not for his grit and the devotion of his wife and family

Decorated Navy SEAL Lieutenant Jason Redman served his country in Columbia, Peru, Afghanistan and Iraq, where he commanded mobility and assault forces. In western Iraq alone, he conducted over forty capture-kill missions with his men, successfully locating more than 120 Al Qaida insurgents. In September 2007, while leading a mission against a key senior Al Qaida commander, his team was ambushed and he was critically wounded by machine-gun fire at point blank range.

During the intense recovery that followed—a years-long process that included 37 surgeries—Redman gained national media attention when he posted a sign on his door at Bethesda Naval Medical Center, warning all who entered not to "feel sorry for my wounds." Redman's sign became both a statement and a symbol for wounded warriors everywhere.

The Trident is an unforgettable story of one man's determination to overcome adversity. Redman recounts his story, from his grueling SEAL training to how he found the balance between arrogance and humility all while fighting America's enemies on far flung battlefields. He speaks candidly of the grit that helped him carry on despite grievous wounds, and of the extraordinary love and devotion of his wife, Erica, and family, without whom he would not have survived.

Vivid and powerful, emotionally resonant and illuminating, filled with sixteen pages of photos, The Trident traces the evolution of a modern warrior, husband, and father—a man who has come to embody the never-say-die spirit that defines America's elite fighting force.

About the Author
---
Jason Redman is a former lieutenant who spent eleven years as an enlisted navy SEAL, and almost ten years as a SEAL officer. He was awarded the Bronze Star Medal with Valor, the Purple Heart, the Defense Meritorious Service Medal, the Navy Commendation Medal, the Joint Service Achievement Medal, five Navy Achievement Medals, and two Combat Action Ribbons. After being severely wounded in Iraq in 2007, Redman returned to active duty before ultimately retiring in 2013. He is the founder of Wounded Wear, a nonprofit corporation that helps warriors rediscover the hero within through clothing, events, and opportunities, and he speaks about motivation and leadership across the country. He lives with his family in Virginia.
John R. Bruning is the coauthor of the critically acclaimed Outlaw Platoon (with Sean Parnell) and of House to House (with David Bellavia). He wrote dispatches from the field while embedded with an infantry unit in post-Katrina New Orleans, and received the prestigious Thomas Jefferson Award for Journalism from the Department of Defense for an article he wrote while embedded with the 3rd Combat Aviation Brigade's TF-Brawler in Afghanistan. He lives in Oregon.
Praise For…
---
"As a SEAL operator, I had the honor of serving with some of the best warriors and leaders in the United States military. Jay Redman's humble and direct account of his journey . . . is remarkable. His life is the epitome of the 'Never Quit' spirit."
— Marcus Luttrell, New York Times bestselling author of Lone Survivor and Service

"The Trident is a riveting, brutally honest and heartfelt story of a warrior's journey to hell and back. It's one of the best memoirs about love, combat and triumph against all odds that we've seen in a generation."
— Sean Parnell, New York Times bestselling author of Outlaw Platoon

"[A] book all leaders and aspiring leaders should read; both military and civilian—not only for the heart-pounding ride-along into battle, but for the inspiring reminder that a warrior's strength and tenacity comes not from his physical stature but from his family and from within."
— Eric Blehm, New York Times bestselling author of Fearless

"This story is not just about a SEAL on the Iraqi battlefield, but a SEAL at war with himself, and his ultimate victory. [Redman's] story will inspire the reader, just as it did me."
— Robert M. Gates, former Secretary of Defense, from his Introduction

"Lt. Redman doesn't hide anything . . . Only an intensely personal account like this can show us what he and thousands of others like him have gone though, and will continue to struggle with, for the rest of their lives."
— Larry Bond, New York Times bestselling author of Exit Plan

"The Trident is a frank, compelling and inspiring chronicle of an American warrior's journey."
— Washington Times