Love and Other Theories (Hardcover)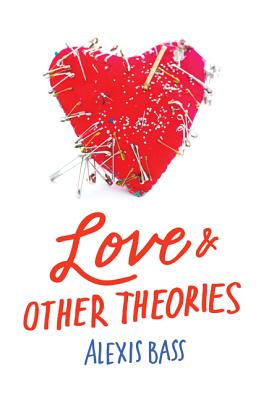 Description
---
Love and Other Theories is a fast-paced twist on the coming-of-age novel and the romantic comedy that Kirkus Reviews called "careful, subtle, and aching" in a starred review.
Aubrey and her best friends made a pact to play by the guys' rules when it comes to dating. They're hoping the rules will keep them from experiencing high school heartbreak—they don't realize that these rules could just as easily keep them from opening their hearts and minds.
And when new boy Nathan Diggs moves to town, Aubrey starts to think that some rules are meant to be broken.
With equal parts bite and romance, topped off with an irresistibly engaging voice, Alexis Bass's novel is one you won't want to miss.
About the Author
---
Alexis Bass grew up in Washington, went to college in Arizona, and currently lives in Northern California, where she works in marketing. This is her first novel.
Praise For…
---
"Warning: Bass's debut novel will ignite ALL your feelings!" — -Wendy Higgins, New York Times bestselling author of the Sweet Evil trilogy
"I loved LOVE AND OTHER THEORIES. Alexis Bass writes a compelling critique of the ways society expects girls to behave in their relationships, the lies girls tell each other--and themselves--to keep from getting hurt, and, when all is said and done, how only the heart knows the truth." — - Kristin Halbrook, author of Nobody But Us and co-founder of YA Highway
"Alexis Bass masterfully captures all the complexities of high school relationships. A lovely debut." — - Amanda Maciel, author of Tease
"A bold debut that authentically captures the frenzy of love, lust, and senior year of high school!" — Julie Murphy, author of Side Effects May Vary
"Careful, subtle and aching. " — Kirkus Reviews (starred review)
"Love and Other Theories challenged my assumptions, dared me to think differently and burrowed into my heart. A heart-achingly beautiful story about whether it is better to protect your heart or to take the biggest risk of all." — Daisy Whitney, author of The Mockingbirds
"In her debut novel, Bass provides honest, incisive, and sometimes uncomfortable insights into the complicated intersections of friendship and romance, the ways sex can be wielded as a weapon, and the measures some teens take to protect themselves from pain." — Publishers Weekly
"Bass's debut is an entertaining perspective on the battlefield of the teen dating world." — Voice of Youth Advocates (VOYA)