Dear Boy,: A Celebration of Cool, Clever, Compassionate You! (Hardcover)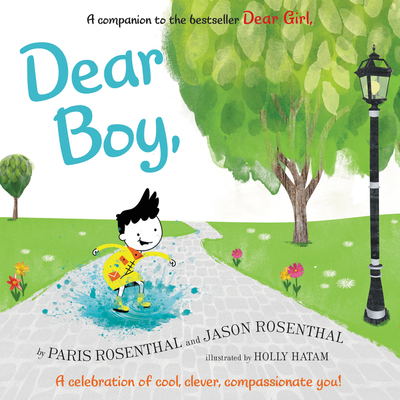 Description
---
The #1 New York Times bestselling follow-up picture book to the #1 New York Times bestseller Dear Girl, by beloved children's book author Amy Krouse Rosenthal and her daughter, Paris Rosenthal
Paris Rosenthal teams up with her father, Jason Rosenthal, the author of the Modern Love article "My Wife Said You May Want to Marry Me," to bring you the heartwarming and inspirational Dear Boy,.
Dear Boy, is an open love letter to the special boy in your life. Boys, too, need a gentle reminder that they are cool, clever, compassionate, and one of a kind.
With the same tenderness as Dear Girl,, Paris and Jason's charming text and Holly Hatam's stunning illustrations will make any boy reading this book feel that he's amazing just the way he is—whether he's offering a helping hand, singing in a choir, or reaching for the stars!
…be kind
…always trust magic
…and pursue your dreams.
About the Author
---
Paris Rosenthal is the coauthor of the #1 New York Times bestseller Dear Girl, a collaboration with her late mother, Amy Krouse Rosenthal, and the #1 New York Times bestseller Dear Boy, which she wrote with her father, Jason Rosenthal. She also wrote Project 1,2,3, a 365-day guided journal. Paris currently lives in New York City. And yes, she is named after Paris, the city.
Holly Hatam is the illustrator of the #1 New York Times bestsellers Dear Girl, and Dear Boy, which she had the pleasure of creating with Amy, Paris, and Jason Rosenthal. Some of her other books include Made by Maxine, written by Ruth Spiro, and Jack (Not Jackie), written by Erica Silverman. Holly lives in Whitby, Ontario, with her wacky husband and even wackier son.
Jason B. Rosenthal is the number one New York Times bestselling author of Dear Boy, cowritten with his daughter, Paris. He is the board chair of the Amy Krouse Rosenthal Foundation, which supports both childhood literacy and research in early detection of ovarian cancer. A lawyer, public speaker, and devoted father of three, he is passionate about helping others find ways to fill their blank spaces as he continues to fill his own. Jason resides in Chicago, a city he is proud to call home.
Instagram: jasonbrosenthal
amykrouserosenthalfoundation.com
Praise For…
---
"Raising and nurturing tiny humans, regardless of gender, is a difficult task—this stands as a reminder that love should be always present."
— Kirkus Reviews