We Crossed a Bridge and It Trembled: Voices from Syria (Paperback)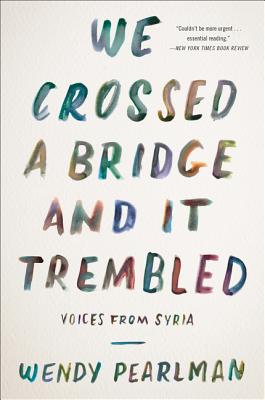 $16.99

Out Of Stock - Can Be Ordered For You. May take extra time.
Description
---
LONG-LISTED FOR THE CARNEGIE MEDAL
Reminiscent of the work of Nobel Prize winner Svetlana Alexievich, an astonishing collection of intimate wartime testimonies and poetic fragments from a cross-section of Syrians whose lives have been transformed by revolution, war, and flight.
Against the backdrop of the wave of demonstrations known as the Arab Spring, in 2011 hundreds of thousands of Syrians took to the streets demanding freedom, democracy and human rights. The government's ferocious response, and the refusal of the demonstrators to back down, sparked a brutal civil war that over the past five years has escalated into the worst humanitarian catastrophe of our times.
Yet despite all the reporting, the video, and the wrenching photography, the stories of ordinary Syrians remain unheard, while the stories told about them have been distorted by broad brush dread and political expediency. This fierce and poignant collection changes that. Based on interviews with hundreds of displaced Syrians conducted over four years across the Middle East and Europe, We Crossed a Bridge and It Trembled is a breathtaking mosaic of first-hand testimonials from the frontlines. Some of the testimonies are several pages long, eloquent narratives that could stand alone as short stories; others are only a few sentences, poetic and aphoristic. Together, they cohere into an unforgettable chronicle that is not only a testament to the power of storytelling but to the strength of those who face darkness with hope, courage, and moral conviction.
About the Author
---
Wendy Pearlman is a professor and award-winning teacher at Northwestern University, specializing in Middle East politics. Educated at Harvard, Georgetown, and Brown, Pearlman speaks fluent Arabic and has spent more than twenty years studying and living in the Arab World. She is the author of numerous articles and two books, Occupied Voices: Stories of Everyday Life from the Second Intifada (Nation Books, 2003) and Violence, Nonviolence, and the Palestinian National Movement (Cambridge University Press, 2011). She lives in Chicago, Illinois.
Praise For…
---
"Many of these voices are unforgettable...Pearlman shapes her subjects' narratives, winnowing interviews down to stirring examples of human adaptation...essential reading."
— New York Times Book Review
"Heart-stopping…Syrians, Pearlman writes, are too often cast as 'victims to be pitied, bodies to be sheltered, radicals to be denounced or threats to be feared ... it can be difficult to find chances to listen to actual Syrians as human beings'. But she has listened." — The Guardian
"Pearlman spoke with hundreds of displaced Syrians…. Common among the spare and haunting testimonies of these mothers, fathers, brothers, and sisters are the loss and reappearance of hope, humanity, and dreams of new freedom. This powerfully edifying work of witness is essential reading." — Booklist (starred review)
"A heartbreaking, human, and necessary book. Recommended for anyone who wishes to better understand the Syrian conflict." — Library Journal
"It's unsurprising to see the anger not just toward Syrian president Bashar al-Assad but also toward the international community...Nonetheless, the book is filled with hope, informed by an understanding of the unity possible in spite of the discord sowed by Assad." — Publishers Weekly (starred review)
"A timely and useful exploration into the events leading up to and following the Syrian uprising and ongoing refugee crisis." — VICE
"A gut-wrenching collection of true experiences of Syrians whose lives have been transformed, often torn apart, by the ongoing conflict. A breathtaking yet haunting work of nonfiction, this necessary book could not have come at a better time." — Bustle
"Profoundly important…Pearlman, an accomplished political scientist, has chosen to let her Syrian interlocutors speak for themselves. What emerges is a complex, engaging and difficult oral history, which deserves a wide readership." — Mark Lynch, Professor of Political Science at George Washington University and author of The New Arab Wars: Anarchy and Uprising in the Middle East and The Arab Uprising: The Unfinished Revolutions of the New Middle East
"An important book for anyone who wants to understand the root causes of the Syrian tragedy…There are many different competing "realities" of the Syrian conflict and the many voices recorded in this book capture this perfectly." — Andreas Krüger, Ambassador for the Negotiations on Syria, Federal Foreign Office of Germany
"Incendiary—this heart-wrenching testament could not be more timely. Beyond headlines or breaking news or political posturing, this work of witness allows real people to expose Syria's terrifying heart."              — Luis Alberto Urrea, author of The Devil's Highway and Into The Beautiful North
"The West has been repeatedly numbed to the human rights travesty of the authoritarian Assad regime—or worse, encouraged to think of its victims as outsiders—but these accounts fly in the face of that selfish idea." — Elle.com
"An important work -- vivid, moving, and unforgettable." — Omnivoracious
"A moving collection of personal accounts from Syrians covering the time before the conflict with Bashar Al-Assad to now." — Rebellious Magazine
"Profoundly important…Pearlman, an accomplished political scientist, has chosen to let her Syrian interlocutors speak for themselves. What emerges is a complex, engaging and difficult oral history, which deserves a wide readership." — Mark Lynch, Professor of Political Science at George Washington University and author of The New Arab Wars: Anarchy and Uprising in the Middle East and The Arab Uprising: The Unfinished Revolutions of the New Middle East
"Pearlman's book is not only important because it puts names to suffering, but also because it reminds readers—especially in the final segment, "Reflections"—that in the Syrian conflict, "there is no right or wrong," only problematic "shades of gray." A poignant and humane collection." — Kirkus Reviews
"To read these pages, to meet these men and women, is to cross a bridge ourselves, and to tremble: at the fragility of social order…but also at the love, anger, terror, trauma, compassion, endurance, awe, and determination a single human voice can convey." — Larry Siems, author of The Torture Report and editor of Mohamedou Ould Slahi's Guantanamo Diary
"Pearlman masterfully stitches together a collective journey, stories moving seamlessly from one to the next...The disparate voices, ranging from defiant, funny, mournful, wistful, and tragic, form a complex narrative of the Syrian tragedy—my story, my family's stories, the stories of the people and lives that we lost." — Lina Sergie Attar, cofounder and chief executive of the Karam Foundation
"A powerful must read book for anyone wanting to understand what's happening in Syria and why it matters." — Chicago Review of Books
"A stunning mosaic of narratives told in vignettes of varying lengths. It's hard to fathom the humanitarian disaster of the Syrian war. These testimonies—wrenching but also deeply hopeful—help us wrap our minds around it."— — Fusion
"Heartbreaking and horrifying...As a vital and powerful document of suppressed perspectives, We Crossed a Bridge and It Trembled should be required reading for not just all Americans, but everyone." — The Riveter
"Pearlman's collection is a chance to remind ourselves of the humanity behind the UNHRC's ticking number of displaced people and what's reported in the daily news." — WBUR
"[This] is a book to be read and reread…[Pearlman] has succeeded in the challenge of offering a humanistic account that does not dissolve Syrians into lofty or abstract rhetoric…their diverse voices remain clearly and unequivocally allied in their arduous struggle." — Yassin al-Haj Saleh, Syrian dissident, winner of the 2012 Prince Claus Award, and author of several books, including The Impossible Revolution, Syria in the Shadow, and Salvation O Boys: 16 Years in Syrian Prisons
"I was quickly hooked by Pearlman's simple and often captivating human narratives… the book does well to explain the challenges of the future, not only in ending the war but in healing a traumatized and shell-shocked society." — The New Yorker