Clown in a Cornfield (Paperback)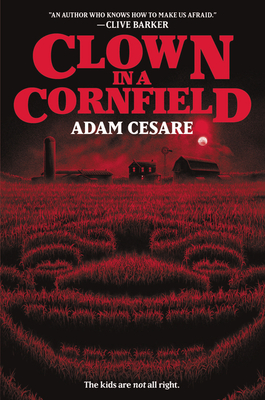 Description
---
Bram Stoker Award Winner for Superior Achievement in a Young Adult Novel
In Adam Cesare's terrifying young adult debut, Quinn Maybrook finds herself caught in a battle between old and new, tradition and progress—that just may cost her life.
Quinn Maybrook and her father have moved to tiny, boring Kettle Springs, to find a fresh start. But what they don't know is that ever since the Baypen Corn Syrup Factory shut down, Kettle Springs has cracked in half. 
On one side are the adults, who are desperate to make Kettle Springs great again, and on the other are the kids, who want to have fun, make prank videos, and get out of Kettle Springs as quick as they can.
Kettle Springs is caught in a battle between old and new, tradition and progress. It's a fight that looks like it will destroy the town. Until Frendo, the Baypen mascot, a creepy clown in a pork-pie hat, goes homicidal and decides that the only way for Kettle Springs to grow back is to cull the rotten crop of kids who live there now. 
YALSA's Best Fiction for Young Adults Nominee
About the Author
---
Adam Cesare is a New Yorker who lives in Philadelphia. His books include Clown in a Cornfield, Video Night, The Summer Job, and Zero Lives Remaining. He's an avid fan of horror cinema and runs Project: Black T-Shirt, a YouTube review show where he takes horror films and pairs them with reading suggestions.
Praise For…
---
"This party starts early, and it does not stop until all the bodies have hit the floor."  — Stephen Graham Jones, author of Mongrels and The Only Good Indians
"Adam Cesare's CLOWN IN A CORNFIELD starts as a fun and scary retro-slasher but then cleverly twists and bloodies its way into being a very new kind of beast. Rejoice horror fans new and old, and be terrified of Adam's everyday clowns." — Paul Tremblay, author of A Head Full of Ghosts and The Cabin at the End of the World
"Tense, modern and gory, Cesare's Clown in a Cornfield is simultaneously classic and fresh. This is thrilling, old school horror for a new generation." — Madeleine Roux, author of the Asylum series
"There's a lot to love about Adam Cesare's new novel, Clown in a Cornfield. First, the title. Holy crap. Then the front cover. Double holy crap. Also consider it's already received blurbs from people like Clive Barker, Stephen Graham Jones, and Paul Tremblay? Triple holy crap. People are going to be talking about this novel all year. Get ready for it." — Lit Reactor
"The immersive atmosphere, nail-biting action sequences, and satisfying social commentary results in a thoughtful, campy, and just-plain-fun read for horror fans, especially those who crave a retro feel but still want a story set firmly in the present." — Library Journal (starred review)
"A pulse-pounding thrill ride for retro-horror fans who are not faint of heart (or stomach)." — Kirkus Reviews
"This pitch-perfect horror experience can be enjoyed as pure entertainment for its fun retro slasher style, but teen readers will also fully appreciate the sly underlying social commentary." — Booklist (starred review)
"With this novel, Cesare is going to create a new generation of life-long horror fans." — Signal Horizon Magazine
"Cesare's cinematic eye means the set-pieces are loud, brash, and dramatic (it's no surprise that there's a film adaptation in the works). Given what we are all experiencing now, there's something wonderfully pleasing, nostalgic, and even therapeutic spending several hours cheering on Quinn – smart and brave -- as she takes on [...] killer clowns."  — Locus Magazine
"Clown in a Cornfield delivers everything the title promises--and more. More carnage, more mayhem and a sly social commentary that cuts to the bone. A must-read for horror fans." — Riley Sager, New York Times bestselling author of Final Girls
Clown in a Cornfield is a true-to-form classic horror story, complete with blood and gore, chainsaws and crossbows, and abundant deaths. This is a truly fun piece of escapism for teens who are okay with slasher-flick violence.   — YALSA's Best Fiction for Young Adults Nominee
This debut horror novel has all the trappings of a good, popcorn-scented slasher flick. Reluctant readers will find this a quick and fun read. They will definitely appreciate the stress-relieving escapism. Suggest it to readers looking for Stephen King read-alikes and fans of the Friday the 13th franchise. — YALSA Quick Picks for Reluctant Readers Nominee