Operation Chastise: The RAF's Most Brilliant Attack of World War II (Paperback)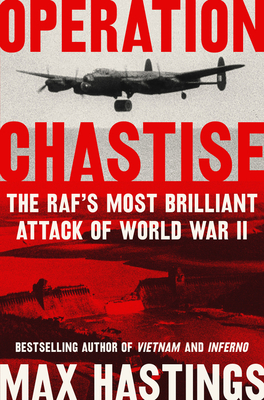 Description
---
Best Nonfiction of 2020 -- Kirkus Reviews


Now in paperback, one of the most lauded historians of our time returns to the Second World War in this magnificent retelling of the awe-inspiring raid on German dams conducted by the Royal Army Force's 617 Squadron.


The attack on Nazi Germany's dams on May 17, 1943, was one of the most remarkable feats in military history. The absurdly young men of the Royal Air Force's 617 Squadron set forth in cold blood and darkness, without benefit of electronic aids, to fly lumbering heavy bombers straight and level towards a target at a height above the water less than the length of a bowling alley. Yet this story—and the later wartime experience of the 617 Squadron—has never been told in full.
Max Hastings takes us back to the May 1943 raid to reveal how the truth of that night is considerably different from the popularized account most people know. The RAF had identified the Ruhr dams as strategic objectives as far back as 1938; in those five years Wing Commander Guy Gibson formed and trained the 617 Squadron. Hastings observes that while the dropping of Wallis's mines provided the dramatic climax, only two of the eight aircraft lost came down over the dams—the rest were shot down on the flight to, or back from, the mission. And while the 617 Squadron's valor is indisputable, the ultimate industrial damage caused by the dam raid was actually rather modest.
In 1943, these brave men caught the imagination of the world and uplifted the weary spirits of the British people. Their achievement unnerved the Nazi high command, and caused them to expend large resources on dam defenses—making the mission a success. An example of Churchill's "military theatre" at its best, what 617 Squadron did was an extraordinary and heroic achievement, and a triumph of British ingenuity and technology—a story to be told for generations to come.
Operation Chastise includes three 8-page black-and-white photo inserts and 6 maps.
About the Author
---
Sir Max Hastings chronicles Vietnam with the benefit of vivid personal memories: first of reporting in 1967-68 from the United States, where he encountered many of the war's decision-makers including President Lyndon Johnson, then of successive assignments in Indochina for newspapers and BBC TV: he rode a helicopter out of the US Saigon embassy compound during the 1975 final evacuation. He is the author of twenty-six books, most about conflict, and between 1986 and 2002 served as editor-in-chief of the Daily Telegraph, then editor of the Evening Standard. He has won many prizes both for journalism and his books, of which the most recent are All Hell Let Loose, Catastrophe and The Secret War, best-sellers translated around the world. He has two grown-up children, Charlotte and Harry, and lives with his wife Penny in West Berkshire, where they garden enthusiastically. 
Praise For…
---
"Operation Chastise is a remarkable book, well in keeping with the impressive track record that Hastings long ago established as an astute chronicler of the human dimension of 20th-century conflict…Combining formidable narrative power with equally potent explanatory insight, it situates the Dambusters Raid in the broader strategic context of World War II as a whole, while serving as an illuminating entry point into the ethical debates concerning the Allies' air war against Germany." — Washington Post
"[Hastings's] account of the events of May 16-17, 1943, will keep you on the edge of your seat, but his analysis of their causes and consequences is equally deserving of attention…. he sticks to his view, first articulated over 40 years ago, that the costs of the wider bomber offensive outstripped its results." — New York Times Book Review
"Fascinating and immensely readable… a fine account, rich in human drama and tragedy, told by a historian whose new books are always to be welcomed. Operation Chastise is no exception." — Wall Street Journal
"The master of military history takes on Britain's celebrated May 1943 Dam Buster air attack. As his latest skillful history demonstrates, Hastings is still on top of his game, showing once again that the preparations, participants, and consequences of a military action are as fascinating as the fireworks. Another Hastings must-read."
— Kirkus Reviews (starred review)
"[A] thorough, character-driven history....military history buffs will prize this definitive account of the RAF mission." — Publishers Weekly
"Readers of military history will find much to enjoy in this brisk, propulsive read that keeps the pages turning without sacrificing detail." — Library Journal
"Following a superb rendering of the attack, Hastings addresses two uncomfortable consequences: many civilians and, ironically, enslaved laborers were killed, and the operation failed its strategic ambition since the destroyed dams were quickly rebuilt. Hastings has composed a fitting memorial to Operation Chastise's participants." — Booklist
"Using his considerable background and narrative skill, Sir Max Hastings covers this operation from its genesis, through the technical and tactical developments that made the operation possible, and then takes the reader into the cockpit of the bombers that carried out the attack. . . . Drawing from memoirs and numerous other personal accounts, Hastings goes beyond a traditional unit history to not only tell the tale of the British engineers and aircrews, but the German civilians living below the dam and their tales of survival during the attack. His sympathetic weaving of all these individual experiences show the wide range of effects this battle had on the survivors from both sides. . . . This is truly an incredible tale of technology and heroism." — New York Journal of Books
"The book here is a wonderful intellectual journey. . . . ideal for anyone looking for an engaging and nuanced history of the famous Dambusters operation in WWII. It is full to the brim with stirring narrative, beautiful pictures, and detailed maps of the operation." — Military History Matters