All of This: A Memoir of Death and Desire (Hardcover)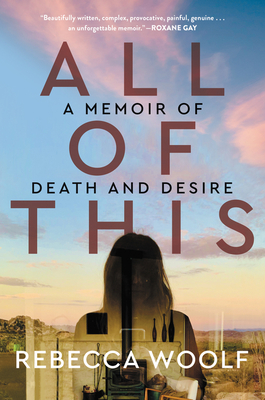 $26.99

Out Of Stock - Can Be Ordered For You. May take extra time.
Description
---
"Beautifully written, complex, provocative, painful, genuine...an unforgettable memoir."—ROXANE GAY
"Wonderfully lyrical and uncomfortably honest in a way that is so rare, yet so needed."—JENNY LAWSON
"Disturbing and profound, this intimate book also reveals the sometimes-labyrinthine nature of the bonds that unite people in love...A provocative and memorable work."—Kirkus Reviews
After years of struggling in a tumultuous marriage, writer Rebecca Woolf was finally ready to leave her husband. Two weeks after telling him she wanted a divorce, he was diagnosed with stage four pancreatic cancer. Four months later, at the age of forty-four, he died.
In All of This, Woolf chronicles the months before her husband's death—and her rebirth after he was gone. With rigorous honesty and incredible awareness, she reflects on the end of her marriage: how her husband's illness finally gave her the space to make peace with his humanity and her own.
Stunning, compelling, and brilliantly nuanced, All of This is one woman's story of embracing the complexities of grief without shame—as a mother, a widow, and a sexual being—and emerging on the other side of a relationship with gratitude and relief.
About the Author
---
REBECCA WOOLF has worked as a freelance writer since age 16 when she became a leading contributor to the hit 90s book series, Chicken Soup for the Teenage Soul and its subsequent Teen Love Series books. Since then, Woolf has contributed to numerous publications, websites and anthologies, most notably her own award-winning personal blog, Girl's Gone Child, which attracted millions of unique visitors worldwide. As well as launching her own successful blog, Woolf has contributed dozens of personal essays to publications both on and offline including Refinery29, Huffington Post, Parenting, and Romper and in 2012 hosted Childstyle, a web series on HGTV.com. She has appeared on CNN and NPR and has been featured in The New York Times, Time Magazine and New York Mag. She lives in Los Angeles with her son and three daughters. 
Praise For…
---
"beautifully written, complex, provocative, painful, genuine…an unforgettable memoir" — ROXANE GAY, bestselling author of Bad Feminist
"An authentic and profound book on the complexities of being human. Painfully beautiful, wonderfully lyrical and uncomfortably honest in a way that is so rare, yet so needed." — JENNY LAWSON, bestselling author of Furiously Happy
"I started reading All of This as soon as it arrived, and quickly realized that it was going to have my full and feverish attention until I'd devoured the whole thing. It's truly a rare combination of gripping story and immaculate, genius-in-her-prime writing. I had to re-do my makeup like 4 times during the process of reading. I just kept crying. All of This reminded me that honesty saves lives, and that it's an act of love to be truthful about feelings and experiences."  — DIABLO CODY, Oscar Award Winning screenwriter and producer of Juno, Jennifer's Body, and Young Adult
"Unflinching and brutally precise. Woolf has taken an inventory of the barbaric accouterments of illness, and she presses these details into her scenes like spikes. The barf bags and spit cups, the sponge pops and no-slip socks, the folding canes that give way to tennis-ball-padded walkers and then wheelchairs: It's a singular category of horror and she nails it." — Meghan Daum, The New York Times Book Review
"Disturbing and profound, this intimate book about one woman's path to personal liberation also reveals the sometimes-labyrinthine nature of the bonds that unite people in love A provocative and memorable work of autobiography." — Kirkus Reviews
"Woolf takes readers on a journey that is nothing if not unforgettable… brutally honest and empowering tale of a woman who emerges from her marriage and her husband's final illness like a butterfly from a chrysalis—not neatly or painlessly, but nonetheless beautiful to behold… Be prepared to laugh, to cry …readers will definitely be glad they got on this roller coaster with her." — Library Journal
"Stark, real, and very brave, Rebecca Woolf's All of This is one of the most true books I've ever read about grief and the relationships that bring it to us. Add to cart now because this astounding book is going to blow your mind."  — Claire Bidwell Smith, author of Anxiety: The Missing Stage of Grief
"This book is an absolute hurricane force of truth and beauty. This book takes our conceptions of love and happiness and throws them into the inferno of reality. Rebecca's writing is bloody, beautiful, and tender, All of This not only cracks the surface of love and relationships it spelunks into the depths of the human heart. No one is spared and no one ought to be. This book is a triumph." — LYZ LENZ, author of Belabored and God Land, and contributing essayist to Not That Bad: Dispatches from Rape Culture by Roxane Gay