Life on the Line: Young Doctors Come of Age in a Pandemic (Hardcover)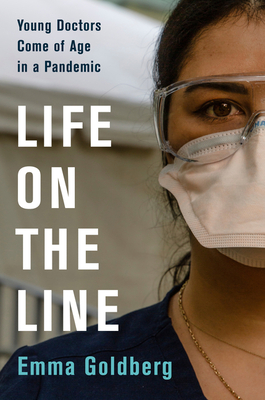 $27.99

Out Of Stock - Can Be Ordered For You. May take extra time.
Description
---
The gripping account of six young doctors enlisted to fight COVID-19, an engrossing, eye-opening book in the tradition of both Sheri Fink's Five Days at Memorial and Scott Turow's One L.
In March 2020, soon-to-graduate medical students in New York City were nervously awaiting "match day" when they would learn where they would begin their residencies. Only a week later, these young physicians learned that they would be sent to the front lines of the desperate battle to save lives as the coronavirus plunged the city into crisis.
Taking the Hippocratic Oath via Zoom, these new doctors were sent into iconic New York hospitals including Bellevue and Montefiore, the epicenters of the epicenter. In this powerful book, New York Times journalist Emma Goldberg offers an up-close portrait of six bright yet inexperienced health professionals, each of whom defies a stereotype about who gets to don a doctor's white coat. Goldberg illuminates how the pandemic redefines what it means for them to undergo this trial by fire as caregivers, colleagues, classmates, friends, romantic partners and concerned family members.
Woven together from in-depth interviews with the doctors, their notes, and Goldberg's own extensive reporting, this page-turning narrative is an unforgettable depiction of a crisis unfolding in real time and a timeless and unique chronicle of the rite of passage of young doctors.
About the Author
---
Emma Goldberg is a reporter at the New York Times, writing for sections such as Health and Science, Styles, Gender, National, and Culture, among others. Her cover stories have featured campus techlash, surgeon moms, young women running for office, and low-income medical students. Since the start of the coronavirus outbreak, she has turned her focus to the lives of students, physicians, and nurses battling the pandemic. She is the winner of the Newswomen's Club of New York Best New Journalist Award and the Sidney Hillman Foundation's Sidney Award. Goldberg received her BA at Yale and MPhil at Cambridge University.
Praise For…
---
"Emma Goldberg's Life on the Line offers vivid, intimate portraits of brand-new doctors on the front lines of the greatest public-health crisis of our time. But it's also more than that: a carefully-considered meditation on morality in times of crisis, and what it really means, from every angle, to care for others when the world is coming apart. The result is devastating and miraculous — beautifully written, and overflowing with hope." — Robert Kolker, New York Times bestselling author of Hidden Valley Road and Lost Girls
"In this poignant, evocative, and timely book, Emma Goldberg follows six very young doctors as they try to face down the COVID crisis, recognizing that this disease, instead of serving to equalize all people in the face of death, came down unjustly hard on those with disadvantaged backgrounds. In telling their stories, she tells the real story of the pandemic.  This is not only excellent reporting and writing, but also an important primary source, one of the books that future readers will turn to to understand this strange, nearly incomprehensible time we've been through."  — Andrew Solomon, National Book Award winning author of The Noonday Demon and Far from the Tree
"Life on the Line is a fascinating story of rookie doctors in New York City entering the medical profession at the height of the COVID-19 pandemic. At a deeper layer, it is also a commentary on the changing faces and culture of medicine, and the implications of these shifts for the patients that we serve." — Damon Tweedy, M.D., author of Black Man in a White Coat
"With her breathtaking debut, Emma Goldberg has indelibly painted the courage and commitment of young doctors hurled into the COVID pandemic mere hours after graduating medical school. And these are not just skilled and idealistic physicians, they are the vanguard of an increasingly diverse cohort of doctors confronting a disease that disproportionately slew Americans who have been shoved out of the mainstream -- Black, Brown, poor, immigrant, elderly. For those of us who revere My Own Country, Abraham Verghese's classic account of small-town doctors reckoning with the onslaught of AIDS, Emma Goldberg has written the sequel for this present plague." — Samuel G. Freedman, author of Small Victories and Inheritance
"These six young altruists have much to teach us about how doctors are trained, how they think, how they function under pressure, and, most important, why they have chosen their difficult profession. Cynical readers in need of a shot of idealism need look no further than Emma Goldberg's empathetic, well-reported, and moving account."  — Anne Fadiman, National Book Critics Circle Award winning author of The Spirit Catches You and You Fall Down
"Emma Goldberg captures a unique moment in modern medical history, when students finishing their schooling are abruptly thrust into the role of bedside doctors to tackle a burgeoning pandemic. Beyond the psychological toll they incur as they struggle to save Covid patients is the real risk to their own health in providing care. Goldberg offers vivid portraits of young physicians who discover deep wells of courage and commitment that will inspire the reader as we take stock of those perilous early days."  — Jerome Groopman, M.D., New York Times bestselling author of The Anatomy of Hope
"This book is an essential contribution to our understanding and documentation of life during the pandemic. Goldberg paints a vivid portrait of a place, time, and loss that we should never forget." — Susan Fowler, author of Whistleblower 
"New York Times reporter Goldberg debuts with a vivid and heart-wrenching portrayal of six doctors who graduated from medical school during the "first-wave peak" of Covid-19 in New York City. This is a raw and emotional depiction of young professionals thrust into the middle of a crisis." — Publishers Weekly
"Goldberg's close-up look at inspiring, fast-tracked med-school graduates who became essential front-line pandemic physicians is bracing and invaluable. Still with lots to learn, these heroes already have so much to offer."  — Booklist
"An inspiring story of a group of young doctors who endured a trial by fire." — Kirkus Reviews