Valiant Women: The Extraordinary American Servicewomen Who Helped Win World War II (Hardcover)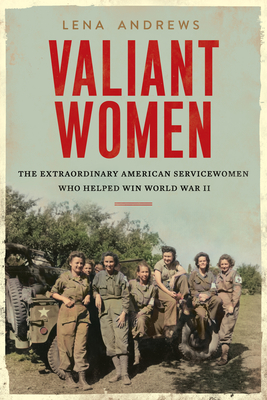 Description
---
National Bestseller * Goodreads Choice Awards Finalist
"An ingenious look at WWII." —Publishers Weekly (Starred Review)
A groundbreaking new history of the role of American servicewomen in WWII, illuminating their forgotten yet essential contributions to the Allies' victory.
Valiant Women is the story of the 350,000 American women who served in uniform during World War II. These incredible women served in every service branch, in every combat theater, and in nearly two-thirds of the available military occupations at the time.
They were pilots, codebreakers, ordnance experts, gunnery instructors, metalsmiths, chemists, translators, parachute riggers, truck drivers, radarmen, pigeon trainers, and much more. They were directly involved in some of the most important moments of the war, from the D-Day landings to the peace negotiations in Paris. These women—who hailed from every race, creed, and walk of life—died for their country and received the nation's highest honors. Their work, both individually and in total, was at the heart of the Allied strategy that won World War II.
Yet, until now, their stories have been relegated to the dusty shelves of military archives or a passing mention in the local paper. Often the women themselves kept their stories private, even from their own families.
Now, military analyst Lena Andrews corrects the record with the definitive and comprehensive historical account of American servicewomen during World War II, based on new archival research, firsthand interviews with surviving veterans, and a deep professional understanding of military history and strategy.
About the Author
---
Lena Andrews is a military analyst for the Central Intelligence Agency. She has a PhD in political science from MIT, specializing in international relations and security studies. She has spent more than a decade in foreign policy, having previously worked at the RAND Corporation and the United States Institute of Peace.
Praise For…
---
"This engaging account of the 350,000 women who served in uniform during World War II sheds new light on overlooked members of the Greatest Generation." — People, "Best New Books"
"Military analyst Andrews debuts with an enlightening revisionist history spotlighting combat support by women in WWII….Through interviews with the few servicewomen still alive and comprehensive research, Andrews takes an ingenious look at WII 'in a different way.' It's a must-read for women's and military history buffs." — Publishers Weekly (starred review)
"A welcome celebration of military heroes who deserve more recognition. An invaluable addition to our knowledge of the Allied victory." — Kirkus Reviews (starred review)
"Brilliantly told. Firsthand interviews with living veterans and photographs spread throughout the text bring the lives, service, sacrifice, and the struggle for military inclusion of everyday women beautifully to life. ... Binge-able and easily approachable for those new to the subject, this book is perfect for WWII buffs and readers of history, military history, women's history, and feminist nonfiction." — Booklist (starred review)
"Based on interviews, memoirs, and extensive archival research, this engaging book offers a wide-ranging look at women's contributions to the war effort...Readers interested in women's and military history, especially World War II events and experiences, will value this book." — Library Journal (starred review)
"Valiant Women is a vital and engrossing attempt to correct the record and rightfully celebrate the achievements of female veterans of World War II." — BookPage (starred review)
"Andrews paints a vivid historical scene, demonstrating the transformative nature of women in the war effort—not only for the more than 350,000 women who served in the armed forces before, during, and after the war, but also for U.S. society as a whole. ... Fascinating portraits of individual women enliven the narrative.... Andrews's book is a fitting history of and tribute to the women who contributed so vitally to the Allied victory." — Shelf Awareness (starred review)
"We tend to associate war with all things men: male soldiers, male officers, and male heroes. Lena Andrews, who happens to be a military analyst for the CIA, would like to have a word about that. In this can't-miss piece of nonfiction, she gets into the many achievements of the women who served during World War II — working as everything from codebreakers to translators to parachute riggers and beyond. If you're a history buff (or just love stories of women breaking barriers), add it to your list." — The Skimm
"This engrossing book highlights the long-neglected but vital contributions of an entire generation of American women to the decisive allied victory in World War II. Lena Andrews introduces us to these uncommon heroes – including pilots, mechanics, intelligence experts and gunnery instructors – and weaves their exploits into a fresh and surprising chapter of the largest war in history. At turns heartbreaking and inspiring, this unique narrative shares the powerful stories of these fearless women who made that decisive victory possible." — Lt. General DAVID BARNO, US Army (Ret.), former senior American commander of U.S. and coalition forces in Afghanistan
"Focusing on a fascinating dimension of the Second World War, Lena Andrew's Valiant Women explores how American women uniquely contributed to the war effort, examining the organizational, cultural and personal dimensions, and demands, associated with their critical contributions. This illuminating account helps explain why World War II continues to cast such a large shadow over American society—and will continue to do so for years to come. Read it to learn about, and to honor, those amazing women that served." — Brigadier General PAULA G. THORNHILL, USAF (Ret.)
"Lena Andrews's lively book uncovers the little-known story of the amazing variety of women—from nurses to scientists, clerks to pilots—who sometimes had to fight a double battle during World War II: against the Axis powers, and against men who belittled their vital contributions." — ADAM HOCHSCHILD, author of American Midnight and King Leopold's Ghost