Why Has Nobody Told Me This Before? (Paperback)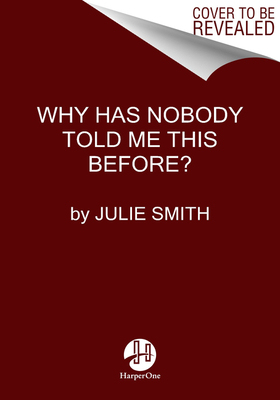 Description
---
International Bestseller
"Smart, insightful, and warm. Dr. Julie is both the expert and wise friend we all need."—Lori Gottlieb, New York Times bestselling author of Maybe You Should Talk to Someone and co-host of the Dear Therapists podcast
Drawing on years of experience as a clinical psychologist, online sensation Dr Julie Smith provides the skills you need to navigate common life challenges and take charge of your emotional and mental health in her debut book.
Filled with secrets from a therapist's toolkit, Why Has Nobody Told Me This Before teaches you how to fortify and maintain your mental health, even in the most trying of times. Dr Julie Smith's expert advice and powerful coping techniques will help you stay resilient, whether you want to manage anxiety, deal with criticism, cope with depression, build self-confidence, find motivation, or learn to forgive yourself. Why Has Nobody Told Me This Before tackles everyday issues and offers practical solutions in bite-sized, easy-to-digest entries which make it easy to quickly find specific information and guidance. 
Your mental well-being is just as important as your physical well-being. Packed with proven strategies, Dr. Julie's empathetic guide offers a deeper understanding of how your mind works and gives you the insights and help you need to nurture your mental health every day. Wise and practical, Why Has Nobody Told Me This Before might just change your life. 
About the Author
---
Dr. Julie Smith has over ten years' experience as a clinical psychologist and was the first professional to use TikTok to give insights on therapy. After running her own private practice, Julie launched her TikTok channel with the mission of making top-quality mental health education accessible to all. During the COVID-19 pandemic, her audience grew astronomically to 3 million followers as users related to the bite-size self-help videos she was sharing and put her advice into practice. Those videos have clocked up around half a billion views across platforms. Julie has appeared in two BBC films. She has also appeared on CBBC, Good Morning Britain, BBC Breakfast, and CNN International and is the BBC Radio 1 Life Hacks psychologist. She has been featured by Women's Health, Buzzfeed, The Telegraph, The Times, The Sunday Mail, Glamour, CNN and more. She was also named by TikTok in the top 100 creators. She lives in Hampshire, England, with her husband and three children.
Praise For…
---
"Smart, insightful, and warm. Dr. Julie is both the expert and wise friend we all need."  — Lori Gottlieb, New York Times bestselling author of Maybe You Should Talk to Someone and co-host of the "Dear Therapists" podcast
"Now more than ever, people are struggling with their mental health and Dr. Julie Smith delivers in a big way in "Why Has Nobody Told Me This Before." Her practical tips and tools are for anyone struggling with anxiety, self-doubt, or depression. Readers will step away from this book feeling more resilient and able to take control of their own lives. If you want to feel like you have a therapist sitting across from you, empowering you with how to be your best self, this book is for you!" — Nicole LePera, New York Times bestselling author of How to Do the Work
"Drawing on years of experience as a clinical psychologist in her debut book, Dr. Julie Smith provides readers with the skills they need to fortify and maintain their mental health." — Fortune
"Warm and welcoming. Smith focuses on weighty topics that we all contend with, such as stress, grief, fear and self-doubt, and provides suggestions for how to work through these feelings . . . Why Has Nobody Told Me This Before? is seasoned with compassionate insights."  — BookPage