The List: A Good Morning America Book Club Pick (Hardcover)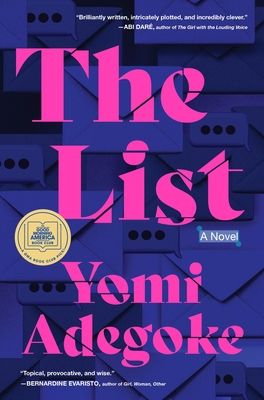 Description
---
A GOOD MORNING AMERICA BOOK CLUB PICK!
Recommended by The New York Times • Vogue • People • NPR • Vulture • The Guardian • Cosmopolitan • Rolling Stone • Publishers Weekly • The Sunday Times • and many more!
In this sensational, page-turning debut novel, a high-profile female journalist's world is upended when her fiancé's name turns up in a viral social media post—a nuanced, daring, and timely exploration of the real-world impact of online life, from award-winning journalist and internationally bestselling author Yomi Adegoke.
"Brilliantly written, intricately plotted and incredibly clever. Once I started, I could not put it down, and I am sure I'll be thinking about this book for a very long time." — Abi Daré, New York Times bestselling author of The Girl with the Louding Voice
Ola Olajide, a celebrated journalist at Womxxxn magazine, is set to marry the love of her life in one month's time. Young, beautiful, and successful—she and her fiancé Michael are considered the "couple goals" of their social network and seem to have it all. That is, until one morning when they both wake up to the same message: "Oh my god, have you seen The List?" 
It began as a crowdsourced collection of names and somehow morphed into an anonymous account posting allegations on social media. Ola would usually be the first to support such a list—she'd retweet it, call for the men to be fired, write article after article. Except this time, Michael's name is on it.
Compulsively readable, wildly entertaining, and filled with sharp social insight, The List is a piercing and dazzlingly clear-sighted debut about secrets, lies, and the internet. Perfect for fans of Such a Fun Age, Luster, and My Dark Vanessa, this is a searing portrait of these modern times and our morally complicated online culture.
"Topical, heartfelt, provocative and wise, Yomi Adegoke's characters are tenderly realized . . . the entire cast of this ultimate millennial novel springs vividly to life." — Bernardine Evaristo, Booker Prize-winning author of Girl, Woman, Other
 "The List asks 'what if?' and the answers will surely get people thinking. A vibrantly told exploration of the messy interface between virtual and offline relationships. A page-turning tale!" — Charmaine Wilkerson, New York Times bestselling author of Black Cake
About the Author
---
YOMI ADEGOKE is a multi-award-winning journalist and bestselling author. She is currently a columnist at the Guardian and British Vogue. She's written for the Sunday Times, the Independent, Stylist, and the New Statesman, among others, and was the host of the Women's Prize for Fiction Podcast. In 2018, she cowrote the bestselling book Slay in Your Lane and in the same year was named one of the most influential people in London by the Evening Standard. She is a recipient of the Groucho Maverick Award and a Marie Claire Future Shaper Award, and in 2021 she was named one of Forbes 30 under 30.
Praise For…
---
"What makes an unputdownable read? It's usually an indelible combination of compelling, complicated characters; a propulsive, suspenseful plot; a glamorous setting; a dash of romance; and thorny themes that are sure to inspire frenzied debate. Yomi Adegoke's new novel, The List . . . has all of that in spades, and is guaranteed to have you hooked from the first page." — Vogue
"This astute debut about the Internet and reality's gray areas leads to a disturbing twist." — People
"Anyone who's ever been part of a whisper network will recognize the misogyny in the worlds this couple inhabits, and anyone who has watched "The Morning Show" will recognize that there's going to be a big showdown, although the accusations might surprise everyone. Adegoke does not disappoint."  — Bethanne Patrick, NPR
"Yomi Adegoke explores a tricky subject with enormous skill and delicacy, and the result is a brilliant, emotionally engaging novel, as taut as a thriller and just as compelling." — Irish Times
"Powerful. . . Adegoke provides an acute and often chilling portrait of the power of social media, the online rush to judgment, and the grey areas between guilt and innocence."  — The Guardian
"In British writer Adegoke's complex and revelatory U.S. debut, an online magazine editor in London is put in a difficult position after her fiancé is anonymously accused of harassment and physical assault at an office party. . . . The story is full of poignant turns and nuanced insights, such as when Michael examines how he was negatively conditioned as a boy by a misogynist culture. This page-turner has bite." — Publishers Weekly (starred review)
"A real nail-biter, this impeccably written debut from journalist Adegoke . . . keeps audiences wondering until the end. Boasting cinematic qualities that will ease its jump to the screen, this book has already been sold for a TV series." — Library Journal (starred review)
"Adegoke delivers a thought-provoking account of the power of social media to amplify and to silence, as well as the devastating effects of online pileups that catch innocent bystanders in their wake. This timely novel demands to be discussed." — Booklist (starred review)
"Yomi Adegoke's debut thriller is sophisticated, complex, and smart, posing an uneasy question: what would you do if your partner was accused of a heinous act? And how would you go about finding out the truth? The List follows Ola and Michael, two Black British professionals whose status as #couplegoals is threatened by shocking (and anonymous) revelations about Michael's behavior towards another woman." — Crimereads
"Topical, heartfelt, provocative and wise, Yomi Adegoke's characters are tenderly realized, and she has an exceptional ear for capturing different vernaculars so that the entire cast of this ultimate millennial novel springs vividly to life."  — Bernardine Evaristo, Booker Prize-winning author of Girl, Woman, Other
"The List was phenomenal. Brilliantly written, intricately plotted and incredibly clever. Once I started, I could not put it down, and I am sure I'll be thinking about this book for a very long time. Five solid stars from me. Thank you to Yomi for sharing her talent with the world." — Abi Daré, New York Times bestselling author of The Girl with the Louding Voice
"The List asks 'what if?' and the answers will surely get people thinking. A vibrantly told exploration of the messy interface between virtual and offline relationships. A page-turning tale!" — Charmaine Wilkerson, New York Times bestselling author of Black Cake
"Cleverly constructed, utterly compelling, immersive, and addictive. The List is the literary equivalent of 'water cooler television'. I was hooked from the first page." — Sara Collins, internationally bestselling author of The Confessions of Frannie Langton 
"A whip-smart and thought-provoking dissection of a terrifyingly plausible 'what if' . . . a triumph."  — Ruth Ware, #1 New York Times bestselling author of The It Girl 
"Intelligent, funny, topical, and impossible to put down."  — Paula Hawkins, #1 New York Times bestselling author of The Girl on the Train
"It's quite the cocktail – a page-turner that you can't second guess." — The Times (UK)
"Clever and intricately plotted, The List examines the dark side of social media and its influence on even the closest of our personal relationships. Weaving in anonymous allegations and the way they call into question our responsibility and loyalty, this is a book that's just right for our times." — Harper's Bazaar (UK)
"The book that everyone's talking about…. The hype is real." — The Independent (UK)
"One of the most anticipated debuts of the year and with a perfectly manicured finger on the popular culture pulse, The List, is a must-read…. Such a clever, timely read, fans of Yellowface will love The List too.'" — Red Magazine (UK)
"What makes an unputdownable summer read? It's usually an indelible combination of compelling, complicated characters, a propulsive, suspenseful plot, a glamorous setting, a dash of romance and thorny themes that are sure to inspire frenzied debate. Yomi Adegoke's new novel, The List . . . has all of that in spades, and is guaranteed to have you hooked from the first page. . . . Jaw dropping, as are the numerous twists scattered throughout, each and every one profoundly cinematic."  — Vogue (UK)
"The List is topical, thought-provoking and vital, diving into the grey areas of difficult conversations that both writers and readers tend to avoid. And in the process, opening much needed debates about cancel culture, anonymity and the terrifying power of the internet." — Marie Claire (UK)