Heat (Paperback)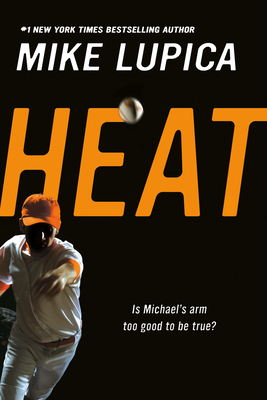 Description
---
The #1 Bestseller!

Michael Arroyo has a pitching arm that throws serious heat along with aspirations of leading his team all the way to the Little League World Series. But his firepower is nothing compared to the heat Michael faces in his day-to-day life. Newly orphaned after his father led the family's escape from Cuba, Michael's only family is his seventeen-yearold brother Carlos. If Social Services hears of their situation, they will be separated in the foster-care system—or worse, sent back to Cuba. Together, the boys carry on alone, dodging bills and anyone who asks too many questions. But then someone wonders how a twelve-year-old boy could possibly throw with as much power as Michael Arroyo throws. With no way to prove his age, no birth certificate, and no parent to fight for his cause, Michael's secret world is blown wide open, and he discovers that family can come from the most unexpected sources.

Perfect for any Little Leaguer with dreams of making it big--as well as for fans of Mike Lupica's other New York Times bestsellers Travel Team, The Big Field, The Underdogs, Million-Dollar Throw, and The Game Changers series, this cheer-worthy baseball story shows that when the game knocks you down, champions stand tall.
About the Author
---
Mike Lupica is one of the most prominent sportswriters in America and is the recipient of the prestigious Damon Runyon Award for excellence in journalism. His longevity at the top of his field is based on his experience and insider's knowledge, coupled with a provocative presentation that takes an uncompromising look at the tumultuous world of professional sports. Today he is a syndicated columnist for the New York
Daily News
, which includes his popular "Shooting from the Lip" column, which appears every Sunday.
He began his newspaper career covering the New York Knicks for the New York Post at age 23. He became the youngest columnist ever at a New York paper with the New York Daily News, which he joined in 1977. For more than 30 years, Lupica has added magazines, novels, sports biographies, other non-fiction books on sports, as well as television to his professional resume. For the past fifteen years, he has been a TV anchor for ESPN's The Sports Reporters. He also hosted his own program, The Mike Lupica Show on ESPN2.
In 1987, Lupica launched "The Sporting Life" column in Esquire magazine. He has published articles in other magazines, including Sport, World Tennis, Tennis, Golf Digest, Playboy, Sports Illustrated, ESPN: The Magazine, Men's Journal and Parade. He has received numerous honors, including the 2003 Jim Murray Award from the National Football Foundation.
Mike Lupica co-wrote autobiographies with Reggie Jackson and Bill Parcells, collaborated with noted author and screenwriter, William Goldman on Wait 'Till Next Year, and wrote The Summer of '98, Mad as Hell: How Sports Got Away from the Fans and How We Get It Back and Shooting From the Lip, a collection of columns. In addition, he has written a number of novels, including Dead Air, Extra Credits, Limited Partner, Jump, Full Court Press, Red Zone, Too Far and national bestsellers Wild Pitch and Bump and Run. Dead Air was nominated for the Edgar Allen Poe Award for Best First Mystery and became a CBS television move, "Money, Power, Murder" to which Lupica contributed the teleplay. Over the years he has been a regular on the CBS Morning News, Good Morning America and The MacNeil-Lehrer Newshour. On the radio, he has made frequent appearances on Imus in the Morning since the early 1980s.
His previous young adult novels, Travel Team, Heat, Miracle on 49th Street, and the summer hit for 2007, Summer Ball, have shot up the New York Times bestseller list. Lupica is also what he describes as a "serial Little League coach," a youth basketball coach, and a soccer coach for his four children, three sons and a daughter. He and his family live in Connecticut.