Trail of Fate: Book 2 (The Youngest Templar #2) (Paperback)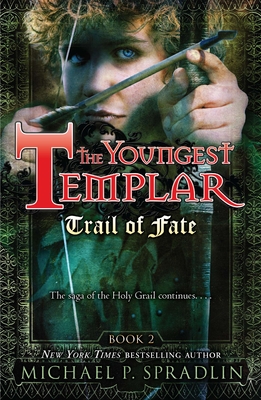 Other Books in Series
This is book number 2 in the The Youngest Templar series.
Description
---
As a templar, young Tristan is entrusted to protect the Holy Grail. But it is the Grail that protects him as he escapes the Holy LandÑand the evil Templar Sir HughÑand washes up, alone, on a foreign shore. Before long, TristanÕs adventures put him in danger, caught in the fighting between a heretical band of Cathars and the king of France, and still on the run from Sir Hugh. TristanÕs only chance to save the Grail is to make his way to England. But when he falls for Celia, the beautiful leader of the Cathars, his loyalty to the Grail wavers. And when Celia becomes endangered, Tristan is torn, forced to make a choiceÑand the wrong one could have disastrous consequences.
About the Author
---
Michael P. Spradlin is the author of more than a dozen books for children. He grew up in a small town in Michigan not far from the Indiana border. Surrounded by books in his formative years, he grew up loving to read and imagining himself the hero of numerous epic battles.When not writing, he enjoys reading, traveling, spending time with his family and worrying over the fact that he really should be writing instead of doing other stuff. He lives in Michigan with his wife Kelly, son Michael, daughter Rachel and two dogs Willow and Apollo.