Back of the Bus (Paperback)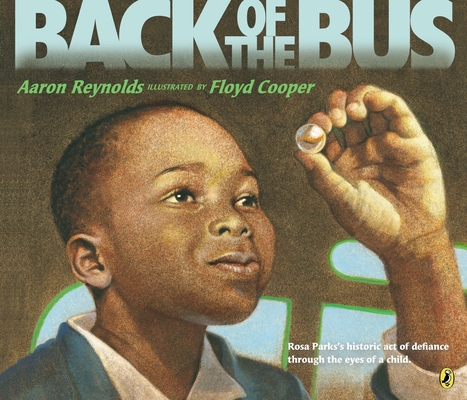 Description
---
It's December 1, 1955.

A boy and his mother are riding the bus in Montgomery, Alabama like any other day—way in the back of the bus. The boy passes time by watching his marble roll up and down the aisle with the motion of the bus…

Until a big commotion breaks out from way up front.

With simple words and powerful illustrations, Aaron Reynolds and Coretta Scott King medalist Floyd Cooper recount the pivotal arrest of Rosa Parks at the dawn of the Civil Rights Movement.
About the Author
---
Aaron Reynolds is the author of the Caldecott Honor Medal-winning Creepy Carrots, illustrated by Peter Brown, which was also a New York Times bestseller. Among his other books for young readers are Chicks and Salsa; Nerdy Birdy; and the graphic novel Caveboy Dave. He lives in Illinois.
Floyd Cooper (www.floydcooper.com) always dreamed of becoming an artist and has developed into a highly-acclaimed creator of books for young readers. Among the books he has either written & illustrated on his own or illustrated for others are Jump! (From the Life of Michael Jordan); Max and the Tag-Along Moon; The Blacker the Berry, for which he was awarded the Coretta Scott King Award for Illustration; and I Have Heard of a Land, for which he received a Coretta Scott King Honor Award. Floyd lives in New Jersey with his family. Follow him on Twitter @floydcooper4 .
Praise For…
---
"Coupled with Cooper's rich paintings, this is a noteworthy reflection on the actions of a single individual in turning the tide of segregation."
—School Library Journal

"Cooper's filmy oil paintings are characterized by a fine mistlike texture, which results in warm, lifelike portraits that convincingly evoke the era, the intense emotional pitch of this incident, and the everyday heroism it embodied."
—Publishers Weekly