Graceling (Graceling Realm #1) (Hardcover)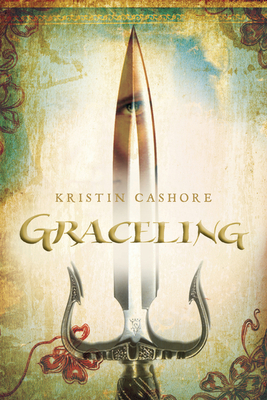 $19.99

Out Of Stock - Can Be Ordered For You. May take extra time.
Staff Reviews
---
This is the book that got me into Young Adult Fantasy. I absolutely love it! It's set in a land where certain people have special abilities, but for Katsa, her gift is more of a curse. Graceling is a novel rich with imagination and strong characters, and it will hold your attention through the last page!
— - Kate - Anderson's Bookshop Naperville
Winter 2009 Kids' List
---
"In a world where some people are born with extreme and often feared skills -- called Graces -- Katsa struggles for redemption from her own horrifying Grace, that of killing, and teams up with another young fighter to save their land from a corrupt king. Action-packed and featuring a strong, feisty girl."
— Kristi Tiedt, Butterfly Books, De Pere, WI
Description
---
Discover the Graceling Realm in this unforgettable, award-winning novel from bestselling author Kristin Cashore.
A New York Times bestseller * ALA Best Book for Young Adults * Mythopoeic Fantasy Award for Children's Literature Winner * Publishers Weekly, School Library Journal, Booklist, and BCCB Best Book of the Year
"Rageful, exhilarating, wistful in turns" (New York Times Book Review) with "a knee weakening romance" (Los Angeles Times). Graceling is a thrilling, action-packed fantasy adventure that will resonate deeply with anyone trying to find their way in the world.
Graceling tells the story of the vulnerable-yet-strong Katsa, who is smart and beautiful and lives in the Seven Kingdoms where selected people are born with a Grace, a special talent that can be anything at all. Katsa's Grace is killing.
As the king's niece, she is forced to use her extreme skills as his brutal enforcer. Until the day she meets Prince Po, who is Graced with combat skills, and Katsa's life begins to change. She never expects to become Po's friend. She never expects to learn a new truth about her own Grace—or about a terrible secret that lies hidden far away . . . a secret that could destroy all seven kingdoms with words alone.
And don't miss the sequel, Fire, and companion, Bitterblue, both award-winning New York Times bestsellers featuring Kristin Cashore's elegant, evocative prose and unforgettable characters. 
ALA Best Book for Young Adults
Mythopoeic Fantasy Award for Children's Literature Winner
Publishers Weekly, School Library Journal, Booklist, and BCCB Best Book of the Year
About the Author
---
Kristin Cashore is author of many New York Times best-selling books, including Graceling, Fire, Bitterblue, and Jane, Unlimited. She received a master's from the Center for the Study of Children's Literature at Simmons College, and she has worked as a dog runner, a packer in a candy factory, an editorial assistant, a legal assistant, and a freelance writer. She currently lives in the Boston area.
kristincashore.blogspot.com
Twitter: @kristincashore
Praise For…
---
"Graceling offers a fresh view of the process of learning self-mastery and has a knee-weakening romance . . ." — Los Angeles Times
"In this debut fantasy, Cashore treats readers to compelling and eminently likeable characters and a story that draws them in from the first paragraph. This is gorgeous storytelling: exciting, stirring, and accessible. Fantasy and romance readers will be thrilled." — School Library Journal (starred review)
"Katsa is an ideal adolescent heroine, simultaneously confident of her strengths yet unsure of her place in the world. Every character is crafted with the same meticulous devotion to human comprehensibility, making the villain all the more appalling in his understated, twisted madness. In a tale filled with graphic violence and subtle heartbreak, gentle passion and savage kindness, matter-of-fact heroics and bleak beauty, no defeat is ever total and no triumph comes without cost. Grace-full, in every sense." — Kirkus Reviews (starred review)
"Intrigue, death, love, a little sex, and pitched battles create a sure winner for mature fantasy fans." — Voice of Youth Advocates (VOYA)
"With a butt-kicking but emotionally vulnerable heroine, [Graceling] should appeal to fans of recent girl-power urban fantasies, as well as readers who've graduated from Tamora Pierce's Tortall series." — The Horn Book
"Cashore strikes a strong balance between adventure, drama and romance—bloody battles and sexual tension co-exist in equal measure—and Katsa's combination of pride in her unique talents and vulnerability in her self-doubts make her a strongly sympathetic character. Readers will identify closely with this young woman, whose coming of age also involves coming to terms with a talent that is both a blessing and a curse." — BookPage
"The teenage characters in this novel, like those we may know in life, grow into their graces. They realize that their monstrous individuality is not so monstrous after all." — New York Times Book Review
"Here's a WOW of a book! Seeing half-wild Katsa learn humanity as she battles soldiers, storms, and her own obsessive nature—I HAD to know how it ended!" — Tamora Pierce, author of New York Times bestseller Bloodhound