Lawfully Wedded Husband: How My Gay Marriage Will Save the American Family (Living Out: Gay and Lesbian Autobiog) (Hardcover)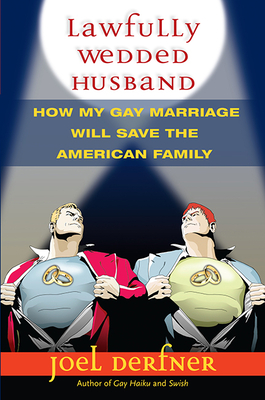 $26.95

Temporarily Out Of Stock - Can Be Ordered For You, Takes Extra Time.
Description
---
When Joel Derfner's boyfriend proposed to him, there was nowhere in America the two could legally marry. That changed quickly, however, and before long the two were on what they expected to be a rollicking journey to married bliss. What they didn't realize was that, along the way, they would confront not just the dilemmas every couple faces on the way to the altar—what kind of ceremony would they have? what would they wear? did they have to invite Great Aunt Sophie?—but also questions about what a relationship can and can't do, the definition of marriage, and, ultimately, what makes a family.            Add to the mix a reality show whose director forces them to keep signing and notarizing applications for a wedding license until the cameraman gets a shot she likes; a family marriage history that includes adulterers, arms smugglers, and poisoners; and discussions of civil rights, Sophocles, racism, grammar, and homemade Ouija boards—coupled with Derfner's gift for getting in his own way—and what results is a story not just of gay marriage and the American family but of what it means to be human.
About the Author
---
Joel Derfner is or has been an aerobics instructor, knitter, go-go boy, math teacher, cheerleader, and the author of Gay Haiku and Swish: My Quest to Become the Gayest Person Ever and What Happened Instead. Musicals for which he has composed the score have played in London, New York, and several cities in between (going the long route). He is from Charleston, South Carolina, and now lives in New York City with his husband.
Praise For…
---
"If, as Marshall McLuhan once taught us, the medium is the message, then Derfner's medium—this lovely, discursive amalgamation of wit and smarts—is indeed his message about how to stay happy, sane, and honest in whatever situation one finds oneself in."—Philip Gambone, author of Travels in a Gay Nation: Portraits of LGBTQ Americans

"Moving seamlessly from the personal to the historical to the political, Joel Derfner meditates with wit, insight, and even-handedness on the realities of marriage—his and everyone's. His story is not only deftly placed in the context of the broader fight for marriage equality, but is also a powerful tool in that fight. Mainly because it's so funny."—David Javerbaum, former head writer for The Daily Show

"Derfner is an engaging storyteller, and while his sense of humor is ever-present, he never lets it diminish or undermine his discussions of the book's more serious subjects. This is a book that is more about reality than reality television."—Lambda Literary


"[Derfner's] observations about the implications of [two weddings] are infused with the perfect mix of serious scholarship, self-effacing humor, and humility."—Huffington Post


"This is an enjoyable, thoughtful look at marriage, wrapped in wry humor with a few eyebrow-raisers to make things interesting. If you're a softie for a boy-meets-boy story, a lover of how-we-met tales, a twitterpated romantic, you'll want it now. For you, Lawfully Wedded Husband will be a nice surprise."—LGBT Weekly