Long Illness: A Practical Guide to Surviving, Healing, and Thriving (Hardcover)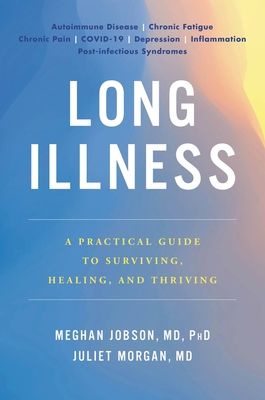 Description
---
From COVID-19 and autoimmune disease to chronic pain and inflammation, this new integrative approach and practical guide from two UCSF doctors is an essential guide to living with long illnesses.
Having a long illness—from autoimmune disease to dysautonomia, long COVID to myalgic encephalomyelitis/chronic fatigue syndrome (ME/CFS) to chronic pain or depression—can mean a long struggle to get adequate care. From explaining symptoms over and over again to doctors and family members to making sure you are receiving the correct diagnosis and treatment, having a long illness can be a fulltime job. And it's a hard one.  

Drs. Meghan Jobson and Juliet Morgan specialize in treating long illness; from their work on the frontlines with long COVID, they know that all long illnesses share many of the same hallmarks. Using evidence-based integrative medicine, they have put together a program that legitimizes long illness and validates concerns where other physicians often dismiss them. In Long Illness, you'll find an unparalleled, holistic approach to healing, with valuable information on:  
The foundations of long illness and what it means for your life 
How to work with your medical team to get the care you need
Common symptoms, such as pain, fatigue, headaches, difficulty breathing, digestive disruption, insomnia, and more 
A wide range of accessible healing techniques, including cognitive behavioral therapy (CBT), traditional Eastern medicine, mindfulness practices, and emerging therapies 
Your mental health with long illness and how to manage it 
Long term solutions  
Recovery is a process, not always a destination. This book will help you build your recovery tool kit, reclaim your identity, manage your symptoms, and become empowered to get the care team you deserve.  
About the Author
---
Dr. Juliet Morgan is a neurologist, psychiatrist, and integrative medicine physician. She cares for patients with long illness in private practice and is an assistant clinical professor in the Department of Psychiatry at the University of California San Francisco Weill Institute for Neurosciences. Dr. Morgan earned her BA from Duke University and her medical degree from Baylor College of Medicine. She completed her medical residencies and fellowship at the University of California San Francisco.  

Dr. Meghan Jobson is an internist with specialized training in integrative and palliative medicine. She cares for people with long illness as a physician with the San Francisco Department of Public Health. Dr. Jobson earned her BA from the University of North Carolina at Greensboro, her PhD in Neuroscience from the University of Utah, and her medical degree from the University of North Carolina, Chapel Hill. She completed her medical residency and fellowships at the University of California San Francisco. 

They live in San Francisco, CA.