Scroll (Hardcover)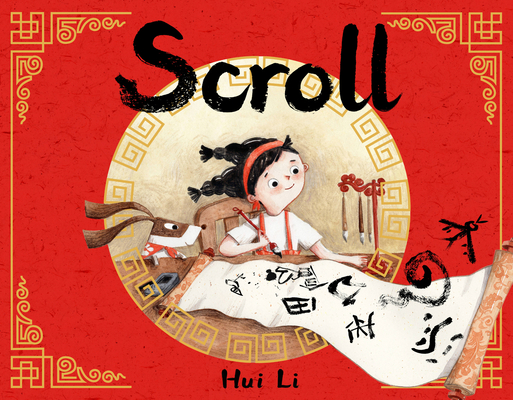 Description
---
Lulu and her dog Dumpling enter a magical world where Chinese calligraphy comes to life in this beautifully illustrated, interactive picture book about family, tradition, and the importance of kindness.
After Grandpa introduces calligraphy and Chinese characters to Lulu and her dog Dumpling, they find themselves magically transported to a world where the characters they draw come to life! Soon Lulu and Dumpling meet a bird, a zither-playing musician, and many other animated friends. But when they discover an angry dragon, Lulu is not sure how to draw them out of this tense encounter.
Spanning themes of art and history, this inventive story introduces children to complex Chinese characters, celebrates family and tradition, and shows how resourcefulness and kindness can save the day. 
About the Author
---
Hui Li is a lifelong student of Chinese calligraphy. As a child, she practiced on old newspapers and learned several styles of traditional script. By the age of eleven, she had earned the rank of a Kudan, or 9-dan (the highest calligraphy rank). This visually expansive and personal story is her first book for children. She lives in New Jersey with her family.
Praise For…
---
Praise for Scroll:A Bookpage Best Picture Book of the Year
* "A beautifully drawn, cleverly told tale of bravery and wit. Artistically, 
Scroll
 is one of the most unique books on shelves today. . . 
Scroll
 is deceptively modest, starting with its cover, which depicts a writing lesson that blossoms into one of the most unique stories of the year—one that is as educational as it is entertaining. As Lulu discovers, wonders await those who take a chance and dive in."—
BookPage, starred review
* "Readers are plunged into an enchanted world where drawing skills and creative problem-solving hold the key to a favorable outcome…. A masterful integration of storytelling, an introduction to a complex language, and cross-cultural understanding make this an excellent addition to any ­elementary ­library."
—
School Library Journal, starred review
"While drawing the character for 'door,' she unexpectedly activates a portal into another world! This charming story utilizing a comics format will engage readers with its blend of history, language learning, and adventure."—
Booklist
"A girl embarks on a fantastical adventure through a landscape permeated with calligraphy ... the story is told in appealing vignettes and speech bubbles, and at the top of every page, readers will find pictures of the characters used in the illustration along with their English meanings, allowing kids to match the characters with their roles in the scene.
 A fun and clever introduction to an ancient art form.
"—
Kirkus Reviews
"A girl of Chinese descent finds adventure via a calligraphy brush in Li's clever debut…. Chinese characters embellished with color and detail illustrate ideogram-based language, and red seals at the top of each page smartly introduce each new term and its meaning. Hand-rendered watercolor, colored pencil, and Chinese ink art offers a visual feast via energetic brushwork and transparent pools of color."
 —
Publishers Weekly
"Hui Li brilliantly transforms the history of Chinese characters into a marvelous adventure in 
Scroll
…. Li's first solo author/artist title is an imaginative, purposefully rendered comic picture-book. Li adds Chinese characters across the page-tops, encouraging readers to find them within her inviting drawings. 'Imagine if every character you draw has its own story,' Li's author's note muses. Here, it magically does."—
Shelf Awareness