Pighearted (Hardcover)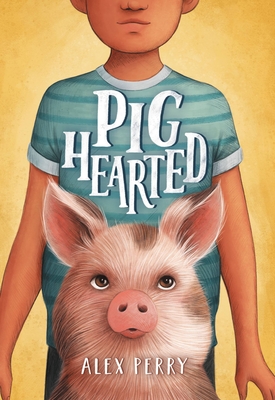 $16.99

Out Of Stock - Can Be Ordered For You. May take extra time.
Description
---
Charlotte's Web meets My Sister's Keeper in this charming story told from the alternating perspectives of a boy with a fatal heart condition and the pig with the heart that could save his life.

Jeremiah's heart skips a beat before his first soccer game, but it's not nerves. It's the first sign of a heart attack. He knows he needs to go to the hospital, but he's determined to score a goal. Charging after the ball, he refuses to stop…even if his heart does.
J6 is a pig and the only one of his five brothers who survived the research lab. Though he's never left his cell, he thinks of himself as a therapy pig, a scholar, and a bodyguard. But when the lab sends him to live with Jeremiah's family, there's one new title he's desperate to have: brother.
At first, Jeremiah thinks his parents took in J6 to cheer him up. But before long, he begins to suspect there's more to his new curly-tailed companion than meets the eye. When the truth is revealed, Jeremiah and J6 must protect each other at all costs—even if their lives depend on it.
About the Author
---
Alex Perry used to teach middle schoolers in Houston, but now she writes for kids everywhere. She currently lives in Arkansas with her family. Pighearted is her debut novel. She invites you to visit her at alexperrybooks.com or follow her on Twitter @Alextheadequate.
Praise For…
---
"Prepare to have your heart stolen by this hilarious, heartbreaking entirely unique novel about what it means to be human, to give everything to help someone else and the powerful bonds of love between family."
—
Donna Gephart, award-winning author of Abby, Tried and True, The Paris Project and Lily and Dunkin
"Like J6 himself, this book positively sparkles with personality, and beats with so much heart, your own can't help but grow."
—
Sarah Allen, author of What Stars Are Made Of and Breathing Underwater
"With a lightheartedness maintained by a delightfully fresh pig's-eye view of human life, Pighearted raises grave questions, showing the utmost respect for young readers."
—
Suzanne LaFleur, author of Eight Keys and Counting to Perfect
"A heartwarming (and unsettling) reminder to never stop fighting for those you love."
—
Kirkus Reviews
"Debut author Perry, exploring the ethics of animal experimentation, offers two compelling first-person perspectives, alternating between a dying boy and an anthropomorphic pig and providing a sweet, if slightly farfetched, resolution."
—
Publishers Weekly