Hammered: The Iron Druid Chronicles, Book Three (Mass Market)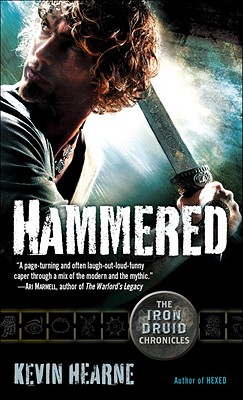 Other Books in Series
This is book number 3 in the The Iron Druid Chronicles series.
Description
---
In the third novel in the New York Times bestselling Iron Druid Chronicles, two-thousand year-old Druid Atticus O'Sullivan must take down the Norse god of thunder himself.

"A page-turning and often laugh-out-loud-funny caper through a mix of the modern and the mythic."—Ari Marmell, author of The Warlord's Legacy

When the naysayers say, "Nay, don't mess with the man who wields the lightning bolts," ninety-nine times out of a hundred, the ancient Druid Atticus O'Sullivan would nod along and agree. But when multiple people convince him that Thor, the Norse god of thunder, needs to get got, he thinks maybe this is the one time he should ignore the advice of the wise—even if those sages include deities who tend not to be wrong about very much.

Because Thor has undeniably done somebody wrong—many somebodies, in fact, and Atticus doesn't think he can simply dismiss it as someone else's problem. Plus he has made promises that he doesn't feel he can break, promises that will take him away from Midgard to the planes of the Norse, where his actions will create ripples throughout the nine realms.

On top of that there's a turf war brewing amongst the vampires, a zealous group of mystic hunters called the Hammers of God running rampant, and a pack of werewolves who very much don't wish to see their leader taken off to Valhalla.

In order to avoid being the nail underneath the hammer Mjöllnir, Atticus will need every ounce of Irish luck he can muster, and maybe the help of a few deities in his corner.

Don't miss any of The Iron Druid Chronicles:
HOUNDED | HEXED | HAMMERED | TRICKED | TRAPPED | HUNTED | SHATTERED | STAKED | SCOURGED | BESIEGED
About the Author
---
Kevin Hearne hugs trees, pets doggies, and rocks out to heavy metal. He also thinks tacos are a pretty nifty idea. He is the New York Times bestselling author of The Iron Druid Chronicles, the Ink & Sigil series, and the Seven Kennings series, and is co-author of The Tales of Pell with Delilah S. Dawson.
Praise For…
---
Praise for The Iron Druid Chronicles

"[Kevin] Hearne is a terrific storyteller with a great snarky wit. . . . Neil Gaiman's American Gods meets Jim Butcher's Harry Dresden."—SFFWorld

"[The Iron Druid books] are clever, fast-paced and a good escape."—Boing Boing

"Hearne understands the two main necessities of good fantasy stories: for all the wisecracks and action, he never loses sight of delivering a sense of wonder to his readers, and he understands that magic use always comes with a price. Highly recommended."—The Magazine of Fantasy & Science Fiction

"Superb . . . plenty of quips and zap-pow-bang fighting."—Publishers Weekly (starred review)

"Celtic mythology and an ancient Druid with modern attitude mix it up in the Arizona desert in this witty new fantasy series."—Kelly Meding, author of Chimera

"[Atticus is] a strong modern hero with a long history and the wit to survive in the twenty-first century. . . . A snappy narrative voice . . . a savvy urban fantasy adventure."—Library Journal

"A page-turning and often laugh-out-loud funny caper through a mix of the modern and the mythic."—Ari Marmell, author of The Warlord's Legacy

"Outrageously fun."—The Plain Dealer

"Kevin Hearne breathes new life into old myths, creating a world both eerily familiar and startlingly original."—Nicole Peeler, author of Tempest Rising