Hexed: The Iron Druid Chronicles, Book Two (Mass Market)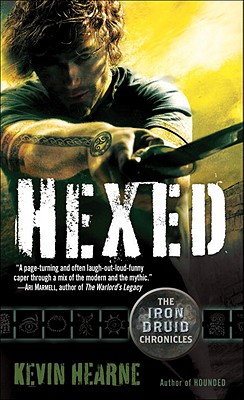 Other Books in Series
This is book number 2 in the The Iron Druid Chronicles series.
Description
---
In the second novel in the New York Times bestselling Iron Druid Chronicles, two thousand-year-old Druid Atticus O'Sullivan faces off against witches, Bacchants, and a ravenous fallen angel.

"A page-turning and often laugh-out-loud-funny caper through a mix of the modern and the mythic."—Ari Marmell, author of The Warlord's Legacy

Atticus O'Sullivan has had cause to mistrust witches in his storied past, but he's willing to live and let live with the Sisters of the Three Auroras, a legendary local coven, even going so far as to sign a non-aggression treaty with them. But that treaty is tested immediately when a deadly new coven sweeps into town seeking to take over, along with some Bacchants from Las Vegas and a fallen angel who's decided to snack on high school students like they were trail mix.

It's more than Atticus can handle alone and he must enlist the trickster Coyote, the headhopping abilities of the witch Laksha Kulesekaran, and his neighbor's illegal arsenal if he wants to keep the city safe from diabolical takeover. He must also exchange favors with his vampire attorney, Leif Helgarson, in a deal that might prove to be the worst of his long life—for Leif doesn't want to be paid by the hour.

To defeat the mortal hexes of this new coven and keep his apprentice—and his city—safe, Atticus must think fast, make promises, keep his sword handy, and hope he'll survive to fight another day.

Don't miss any of The Iron Druid Chronicles:
HOUNDED | HEXED | HAMMERED | TRICKED | TRAPPED | HUNTED | SHATTERED | STAKED | SCOURGED | BESIEGED
About the Author
---
Kevin Hearne hugs trees, pets doggies, and rocks out to heavy metal. He also thinks tacos are a pretty nifty idea. He is the New York Times bestselling author of The Iron Druid Chronicles, the Ink & Sigil series, and the Seven Kennings series, and is co-author of The Tales of Pell with Delilah S. Dawson.
Praise For…
---
Praise for The Iron Druid Chronicles

"[Kevin] Hearne is a terrific storyteller with a great snarky wit. . . . Neil Gaiman's American Gods meets Jim Butcher's Harry Dresden."—SFFWorld

"[The Iron Druid books] are clever, fast-paced and a good escape."—Boing Boing

"Hearne understands the two main necessities of good fantasy stories: for all the wisecracks and action, he never loses sight of delivering a sense of wonder to his readers, and he understands that magic use always comes with a price. Highly recommended."—The Magazine of Fantasy & Science Fiction

"Superb . . . plenty of quips and zap-pow-bang fighting."—Publishers Weekly (starred review)

"Celtic mythology and an ancient Druid with modern attitude mix it up in the Arizona desert in this witty new fantasy series."—Kelly Meding, author of Chimera

"[Atticus is] a strong modern hero with a long history and the wit to survive in the twenty-first century. . . . A snappy narrative voice . . . a savvy urban fantasy adventure."—Library Journal

"A page-turning and often laugh-out-loud funny caper through a mix of the modern and the mythic."—Ari Marmell, author of The Warlord's Legacy

"Outrageously fun."—The Plain Dealer

"Kevin Hearne breathes new life into old myths, creating a world both eerily familiar and startlingly original."—Nicole Peeler, author of Tempest Rising