How To Tell Stories To Children (Hardcover)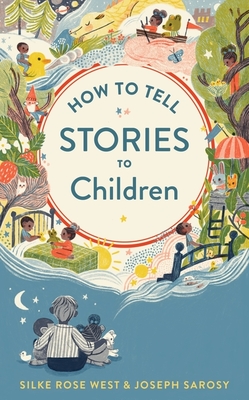 Description
---
Storytelling is one of the oldest and most essential skills known to humankind, a timeless parenting tool that helps families celebrate life's joys, navigate its challenges, and raise healthy, well-adjusted kids.

Stories help children manage their emotions, empathize with others, and better understand the complex world we live in. More importantly, storytelling cultivates a rich and meaningful bond between storyteller and listener, building intimacy and trust between parent and child.

In this delightful book, Silke Rose West and Joseph Sarosy—early childhood educators with thousands of storytelling hours between them—distill the key ingredients of storytelling into a surprisingly simple method that can make anyone an expert storyteller. Their intuitive technique uses events and objects from your child's daily life to make storytelling easy and accessible. By shifting the focus from crafting a narrative to strengthening your relationship with your child, this book will awaken skills you never knew you had.

Complete with practical advice, helpful prompts, and a touch of science to explain how stories enrich our lives in so many ways, How to Tell Stories to Children is a must-read for parents, grandparents and educators. 
 
 
About the Author
---
JOSEPH SAROSY is the founder of The Juniper School, an outdoor school comprised of grades 1-3. He is a freelance writer for Fatherly, and in 2019 he self-published A Father's Life, a finalist in the 2019 NIEA Awards. He works with men and fathers locally, and created the #Greatdad campaign to highlight great fathers across the nation. His blog The Storytelling Loop has been read by over 70,000 people worldwide.
SILKE ROSE WEST is a Waldorf teacher and veteran of the Waldorf method who has taught kindergarten for over 30 years. In 1995, she cofounded the Taos Waldorf School and today she runs an independent forest kindergarten called Taos Earth Children. She is renowned in Taos for her puppet shows and storytelling and consults with teachers and schools nationwide.
Praise For…
---
"Storytelling is, without doubt, the best way to imprint information or ideas on the mind of the listener. This book will help to promote storytelling as a key education tool." - Dr. Jane Goodall, DBE, Founder of the Jane Goodall Institute & UN Messenger of Peace   "This book will quietly thrill you and deeply connect you with your children. It will give you the feeling I can do this."  - Kim John Payne, bestselling author of Simplicity Parenting   "The best stories are told by the ones who know us deeply. And if you lack confidence, then here is loads of help."  - Steve Biddulph, New York Times bestselling author of The Secret of Happy Children "Humans understand the world primarily through stories, which means you can shape the world of the small people you love with just a bit of fancy and a lot of love."  - Bill McKibben, New York Times bestselling author of Eaarth and The End of Nature   "I believe this kind of practical wisdom is what so many fathers and mothers need to connect with their children in a spiritual, loving, and easily effective way. "  - Fr. Richard Rohr, New York Times bestselling author and Founder of the Center for Action and Contemplation "The  book  is  well  written  and  deftly  conveys  its  lessons  to  readers, avoiding preachiness as it argues that storytelling is a way to provide kids with the attention they crave. The authors are  encouraging  throughout,  making  a  solid  case  for  storytelling  as  a  skill  that  can  be  developed  by  anyone  and  practiced  effectively  by  amateurs.  Readers will  walk  away  from the book feeling empowered and capable. The sample tales do a fine job of demonstrating how children can be satisfied  by simple  narratives,  and  the  exercises  ("Find  Some-thing Small and Make It Big"; "Change Your Voice") deliver guidance while inspiring readers to experiment. An informative and practical guide for adults who want to be successful storytellers." - Kirkus Reviews "I wish I'd read this book before my children grew up. Its simple insights and practices will make me a better storyteller." - Charles Eisenstein, Author of The More Beautiful World Our Hearts Know Is Possible "This isn't really a book about technique. It peels away technical concerns and takes you to the glowing heart of the matter:  Telling stories to children is  a  bonding,  nurturing,  embracing,  and  thoroughly  natural  thing  for  any  adult  to  do.  Silke and Joe invite you to claim your rich human legacy and experience the joy and satisfaction of telling stories, any stories, to the children in your life." - Joe Hayes, Bilingual Storyteller and Author of A Heart Full of Turquoise " I love this book! Stories give us ways to connect and consider what we have in common with each other, and to celebrate what makes us delightfully different." - Melanie DeMore, African American Folk Singer and Storyteller "After  40  years  of   teaching,  training  teachers,  and  even  longer in telling stories—this is the first book I've seen quite like this." - Sar —