The Mystwick School Of Musicraft (Paperback)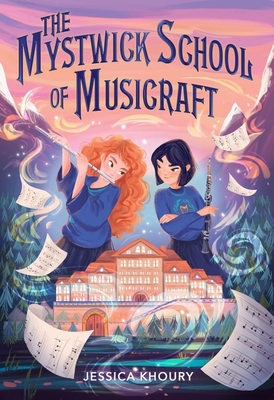 Description
---
Humor and heart shine in this middle grade fantasy about a girl who attends a boarding school to learn how to use music to create magic, perfect for fans of Nevermoor and The School for Good and Evil series.
Amelia Jones always dreamed of attending the Mystwick School of Musicraft, where the world's most promising musicians learn to create magic.
So when Amelia botches her audition, she thinks her dream has met an abrupt and humiliating end—until the school agrees to give her a trial period. Amelia is determined to prove herself, vowing to do whatever it takes to become the perfect musician. Even if it means pretending to be someone she isn't.
Meanwhile, a mysterious storm is brewing that no one, not even the maestros at Mystwick, is prepared to contain. Can Amelia find the courage to be true to herself in time to save her beloved school from certain destruction?
About the Author
---
Jessica Khoury is the author of multiple books for teens. The Mystwick School for Musicraft is her middle-grade debut. In addition to writing, she is an artistic mapmaker and spends far too much time scribbling tiny mountains and trees for fictional worlds. Her spare hours are spent video gaming, painting, or cooking badly. She lives in Greenville, South Carolina, with her husband, daughter, and sassy husky Katara.
Praise For…
---
"The concept of musicraft—producing magic by playing music—feels fresh and is undeniably appealing, and who is going to say no to a trip to another magical boarding school? The storytelling flows, pulling readers along, and some particularly grand, magical sequences (including a legitimately epic ending) make this stand-alone fantasy a memorable adventure...full of heart, clever plotting, and strong world building that young readers, musicians and otherwise, will enjoy escaping to."—Booklist "A toe-tapping fantasy novel mixes music and mystery."—Kirkus "For fans of Harry Potter who don't want to stray too far from Hogwarts but are in need of new adventures." —School Library Journal "At the core, this is a feel-good story about believing in one's ability, musical or otherwise." —The Bulletin of the Center for Children's Books —