Black Wings Beating (The Skybound Saga #1) (Hardcover)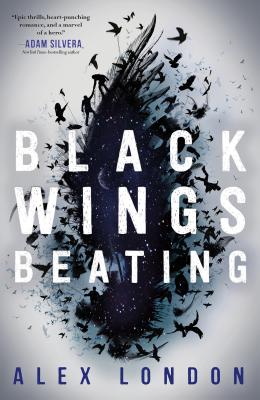 Other Books in Series
This is book number 1 in the The Skybound Saga series.
Description
---
*An NBC Today Show Book Club Pick!*
*A Seventeen Magazine Best YA Book of 2018!*
*A Kirkus Best YA Fantasy Book of the Year*
*A We Need Diverse Books 2018 Must-Read*

"Epic thrills, heart-punching romance, and a marvel of a hero" --Adam Silvera, New York Times-bestselling author of They Both Die at the End

The people of Uztar have long looked to the sky with hope and wonder. Nothing in their world is more revered than the birds of prey and no one more honored than the falconers who call them to their fists.

Brysen strives to be a great falconer—while his twin sister, Kylee, rejects her ancient gifts for the sport and wishes to be free of falconry. She's nearly made it out, too, but a war is rolling toward their home in the Six Villages, and no bird or falconer will be safe.

Together the twins must journey into the treacherous mountains to trap the Ghost Eagle, the greatest of the Uztari birds and a solitary killer. Brysen goes for the boy he loves and the glory he's long craved, and Kylee to atone for her past and to protect her brother's future. But both are hunted by those who seek one thing: power.

In this first young-adult fantasy novel in a trilogy, Alex London launches a soaring saga about the memories that haunt us, the histories that hunt us, and the bonds of blood between us.
About the Author
---
Alex London has written books for adults, children, and teens. The first book in the Skybound Saga, Black Wings Beating—which the New York Times Book Review called "brilliantly crafted"—was a NBC Today Show Book Club Pick, a Kirkus Best YA Book of the Year, and received several starred reviews. His young adult debut, Proxy, was an ALA Top Ten Quick Pick for Reluctant Young Readers, a 2014 Best Fiction for Young Adults, a Rainbow List Selection, and appeared on state reading lists across the country. At one time a journalist reporting from conflict zones and refugee camps, Alex lives with his husband in Philadelphia, Pennsylvania.
Praise For…
---
*An NBC Today Show Book Club Pick!*
*A Seventeen Magazine Best YA Book of 2018!*
*A Kirkus Best YA Fantasy Book of the Year*
*A We Need Diverse Books 2018 Must-Read*
*ALA Rainbow List Selection*

"[London] gives us a brilliantly crafted high fantasy about a society in which survival depends on falconry; even bird haters will be spellbound . . . Black Wings Beating is its own wondrous thing." -- The New York Times Book Review

"Black Wings Beating gives us irresistible, complex characters in a propulsive, adventure-filled story, pulling off the rare trick of leaving its readers satisfied but undeniably excited for a second volume." -- NBC's TODAY Show

"London's world-building is exceptional, and the story has twists and turns to keep readers engaged. VERDICT A well-crafted fantasy featuring diverse characters, this book is a strong selection for all libraries serving teens." -- School Library Journal, starred review

"With political intrigue, epic battle sequences, jolts of romance, and strong female and queer characters, there's a lot to pique readers' interests here. But it's the unique world-building and beautifully complex sibling relationship that make this a must-read. Readers will be swept away in this book's talons." -- Kirkus Reviews, starred review

"With dynamic world building . . . this trilogy opener is a captivating, layered adventure that explores the bonds of siblings in an unforgiving world. Stock up—this one will make the rounds." -- Booklist

"This grounded survival story of teenage angst in the face of romance, family, and deadly birds is paired with provocative details of an impending conflict that may shake up everything in future installments. Fantasy fans should find a worthwhile combination of familiar tropes and novel world building to make this a series to keep an eye on." --The Bulletin of the Center for Children's Books

"Black Wings Beating takes the fantasy genre to soaring new heights with its epic thrills, heart-punching romance, and a marvel of a hero." --Adam Silvera, New York Times Bestselling author of They Both Die at the End

"Enter the gritty culture of cutthroat falconry in Alexander London's Black Wings Beating and prepare to be riveted. This book has so much to recommend it that I don't know where to begin: clever writing, boisterous, endearing characters, and threats coming from every direction, be they dark wings in the sky or a band of nomadic zealots with a reputation for slaughter. You'll be caught up in the adventure from the first chapter. And did I mention the falcons? You'll fall in love with the falcons." --Kendare Blake, #1 New York Times Bestselling author of Three Dark Crowns

"A ferocious fantasy world coupled with two formidable protagonists, Black Wings Beating is a heart-pounding story that lures readers deep into the high-stakes tradition of falconry, and challenges them to examine what they'd be willing to do in order to protect those they love. Stunning and arresting; a must-read." --Dhonielle Clayton, New York Times Bestselling author of The Belles and the Tiny Pretty Things series

"Black Wings Beating is an incredible journey, unlike anything I have ever read before. Awaiting you in its pages are a uniquely crafted world, high stakes, an incredibly difficult and dangerous quest, and a brother and sister who you will root for, care about, and want desperately to hug. London has created an incredible novel that will leave you desperately awaiting the follow up." --Rachel Strolle, Anderson's Bookshop, Naperville, IL

"Black Wings Beating captured my attention from the very beginning! I was willingly tethered to this book until I finished! Full of action, intrigue, suspense and love, I was captivated by the world of falconry and these two siblings' journey." --Kristin Treviño, Youth & Digital Services Librarian, Irving Public Library-South Irving Library