Jasmine Toguchi, Mochi Queen (Paperback)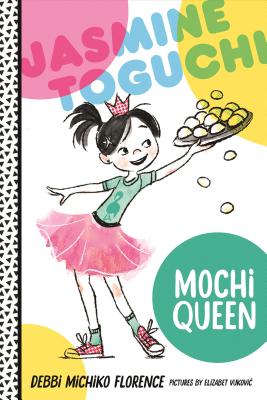 Other Books in Series
This is book number 1 in the Jasmine Toguchi series.
Description
---
*A fun activity included in every book!*

A Junior Library Guild Fall 2017 Selection
An Amazon's Best Children's Books of 2017
A Beverly Clearly Children's Choice Award Nominee
An Evanston Public Library's 101 Great Books for Kids List 2017
A Chicago Public Library's Best of the Best Books 2017
A 2017 Nerdy Book Club Award Winner
A We Are Kid Lit Collective 2019 Summer Reading List Pick

The first book in a new chapter book series featuring a spunky Japanese-American heroine!

Eight-year-old Jasmine Toguchi is a flamingo fan, tree climber, and top-notch mess-maker!

She's also tired of her big sister, Sophie, always getting to do things first. For once, Jasmine wishes SHE could do something before Sophie—something special, something different. The New Year approaches, and as the Toguchi family gathers in Los Angeles to celebrate, Jasmine is jealous that her sister gets to help roll mochi balls by hand with the women. Her mom says that Jasmine is still too young to join in, so she hatches a plan to help the men pound the mochi rice instead. Surely her sister has never done THAT before.

But pounding mochi is traditionally reserved for boys. And the mochi hammer is heavier than it looks. Can Jasmine build her case and her mochi-making muscles in time for New Year's Day?
About the Author
---
Debbi Michiko Florence is a third-generation Japanese American and has many fond memories of sharing in her family's traditions while growing up in California and visiting her relatives in Japan. Debbi is also the author of novels and picture books, including Niki Nakayama: A Chef's Tale in 13 Bites. She now lives in Connecticut with her husband and their many animals (but no flamingo).

Elizabet Vukovic received her BFA from the Academy of Art University in San Francisco, California. She specializes in children's book illustration but enjoys experimenting with character design, concept art, fashion illustration, and decorative art. Her illustrated books include Debbi Michiko Florence's Jasmine Toguchi series, Katey Howes's Be A Maker, and Elana K. Arnold's An Ordinary Day. She currently resides in Rotterdam, the Netherlands.
Praise For…
---
*A January Amazon Prime Box Pick!*

"Jasmine, the 8-year-old Japanese-American heroine of this charming chapter book, wants to help make mochi, a sticky rice dessert. When she's told that only men can pound the rice, she decides to convince everyone that she can do it. In this first of the series, readers get a plucky heroine, an easy-to-follow plot, a warm cast of extended family members and, at the end, a recipe for mochi." —The New York Times Book Review

"Florence paints a lovely picture of a warm, extended family whose members truly care about one another and take each other seriously...New readers thirsty for series fiction will look forward to more stories about Jasmine and her family." —Kirkus Reviews

"This first entry nicely balances humor with the challenges of growing up; readers will devour it." —School Library Journal

"...an adorable and heartwarming story about a kid who wants to feel special and do something first for once, along with a nice overview of a Japanese New Year celebration."—Booklist

"Florence warmly traces Jasmine's efforts to get strong (and fast), her clashes and tender moments with her family, and the ins and outs of making mochi (a recipe is included). Vukovic's b&w spot illustrations evoke Japanese Sumi-e painting while playfully capturing Jasmine's willfulness and her family's closeness." —Publishers Weekly

"The Toguchi family's warmth and affection for one another will leave readers eager to spend more time with them."—Bulletin of the Center for Children's Books

"This first in the series handily introduces a plucky, strong-willed girl whose family traditions may be new to many readers but whose frustrations will be familiar to nearly all. Humorous illustrations help young audiences picture the mochi-making process, which is further explained in an author's note. Also appended: a recipe for 'microwave mochi.'" —The Horn Book