This Thing Between Us: A Novel (Paperback)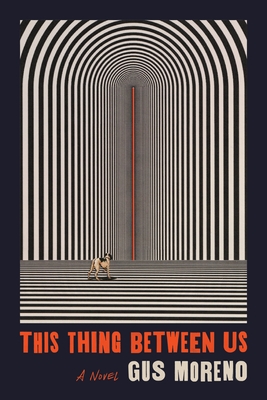 $18.00

Out Of Stock - Can Be Ordered For You. May take extra time.
Description
---
"A surreal excursion into heartache and horror narrated by a man undone by grief . . . Along with allusions to Rod Serling and The Exorcist, there are shades of H. P. Lovecraft, Stephen King, zombie literature and, at least once, A Hitchhiker's Guide to the Galaxy . . . You don't want to read this book right before bed." —Sarah Lyall, The New York Times Book Review

"This intense cosmic horror with a touch of Mexican American folklore is incredibly creepy and moving." —Margaret Kingsbury, BuzzFeed

It was Vera's idea to buy the Itza. The "world's most advanced smart speaker!" didn't interest Thiago, but Vera thought it would be a bit of fun for them amidst all the strange occurrences happening in the condo. It made things worse. The cold spots and scratching in the walls were weird enough, but peculiar packages started showing up at the house—who ordered industrial lye? Then there was the eerie music at odd hours, Thiago waking up to Itza projecting light shows in an empty room.

It was funny and strange right up until Vera was killed, and Thiago's world became unbearable. Pundits and politicians all looking to turn his wife's death into a symbol for their own agendas. A barrage of texts from her well-meaning friends about letting go and moving on. Waking to the sound of Itza talking softly to someone in the living room . . .

The only thing left to do was get far away from Chicago. Away from everything and everyone. A secluded cabin in Colorado seemed like the perfect place to hole up with his crushing grief. But soon Thiago realizes there is no escape—not from his guilt, not from his simmering rage, and not from the evil hunting him, feeding on his grief, determined to make its way into this world.

A bold, original horror novel about grief, loneliness and the oppressive intimacy of technology, This Thing Between Us marks the arrival of a spectacular new talent.
About the Author
---
Gus Moreno is the author of This Thing Between Us. His stories have appeared in Aurealis, Pseudopod, Bluestem Magazine, and the Burnt Tongues anthology. He lives in the suburbs with his wife and dogs, but never think that he's not from Chicago for one second.
Praise For…
---
**Named a Best Book of 2021 by the New York Public Library and NPR**

A Most Anticipated Book of Fall at Buzzfeed, Gizmodo, Tor.com, This is Horror, and CrimeReads

"A surreal excursion into heartache and horror narrated by a man undone by grief . . . Along with allusions to Rod Serling and The Exorcist, there are shades of H. P. Lovecraft, Stephen King, zombie literature and, at least once, A Hitchhiker's Guide to the Galaxy . . . You don't want to read this book right before bed."
—Sarah Lyall, The New York Times Book Review

"This Thing Between Us is more than a horror novel about loss and grief. This is a political book about culture, migration, and identity . . . It's a fresh take on the genre that celebrates and pays tribute to its elements, from the gore to the cerebral stuff . . . While the scary parts are fun to read, the emotional grittiness of this novel is what makes a lasting impact . . . A superb debut. "
—Gabino Iglesias, NPR

"Disquieting . . . [The] level of emotional complexity, raw and candid in its evocation, that ensures This Thing Between Us is not beholden to any trope or cliché . . . This Thing Between Us did remind me of The Only Good Indians. Both books take a similar visceral and passionate approach to race and identity while also being truly heart-stopping pieces of fiction. And akin to Jones, Moreno's novel is genuinely terrifying . . . A magnificent debut."
—Ian Mond, Locus

"Fascinating, bizarre, and incredibly creative, Gus Moreno's debut is as hard to pin down as that voice in the [smart] speaker, but far more rewarding."
—Molly Odintz, CrimeReads

"This intense cosmic horror with a touch of Mexican American folklore is incredibly creepy and moving."
—Margaret Kingsbury, BuzzFeed

"[This Thing Between Us is] unsettling, poignant and like the best ghost stories, I found myself telling the bare bones of the story to friends and family, just to see the reaction. It begins in Pilsen, which is exactly right—gentrification is inherently a ghost story, a tale of disrupted lives and new families moving into the homes of people passed over . . . Moreno's playbook is old and knowing: Our uncertainty about technology can hold very serious heartbreak about what's lost."
—Christopher Borrelli, Chicago Tribune

"Mordant, moving, and creepy."
—Jeff VanderMeer, on Twitter

"A genuinely creepy supernatural horror novel, a book that made the hairs on the back of my neck stand up and prompted me to turn on the nightlight at bedtime . . . The story is hard-driving and terrifying and well-wrought. It's not just a promising start to a long career — it's a fantastic novel in its own right."
—Cory Doctorow, Medium

"Gus Moreno's strange and beguiling debut novel This Thing Between Us was such an experience . . . it will not surprise me at all if it morphs into a sleeper cult hit . . . This Thing Between Us [is] a bold and highly original horror novel built around the power of grief, guilt, isolation, loneliness and the entities which might feed on those feelings. When you get to the end you may well ask yourself "what the f**k did I just read?" and then backtrack over the previous pages for missed clues you may or may not find . . . Startling and unforgettable."
—Tony Jones, Ginger Nuts of Horror

"Gus Moreno's This Thing Between Us is as original as it is affecting. It is a meditation on grief and on what it means to belong, and there were scenes that left me genuinely creeped out, unsettled, and shaken. An existentially frightening book. Count me as a fan."
—Paul Tremblay, author of A Head Full of Ghosts and Survivor Song

"The worst kind of grief, technology that activates all your paranoia, and a line between madness and sanity that's so blurry as to not even matter . . . Hold on, this isn't a ride, it's a slide, and it doesn't care whether you're ready or not."
—Stephen Graham Jones, bestselling author of The Only Good Indians

"Moreno writes about feelings and experiences for which words can never be big enough. And he does it, not only with skill and grace, but with a grasp of genre capable of igniting a page-turning frenzy in the reader . . . Tasteful nods to other classics in the genre abound . . . This Thing Between Us does what only the best horror can — gives the reader reason to hold onto their humanity."
—Jesse Davis, Memphis Flyer

"A horror tale of hair-raising hairpin curves! You won't be able to guess where Gus Moreno's cool, weird journey is taking you. Funny, scary, and utterly heartbreaking."
—Andy Davidson, author of The Boatman's Daughter

"Bone-chilling . . . Moreno makes clever use of structure to maximize dread, opening with Vera's funeral and then doubling back, while references to famous horror novels and films trick readers into thinking they're following a familiar path before the tragic plot veers wildly off-map. Harrowing existential horror that lingers like a nightmare."
—Kirkus, starred review

"[This Thing Between Us is] as emotionally taxing as it is terrifying—a novel of domestic conflict and suspense as well as horror."
—Carole V. Bell, BookPage

"A gorgeously gory journey through madness and grief that I found impossible to put down. Moreno's manipulation of reality is mesmerizing, twisting the protagonist and the reader up in a nightmare of modern day horrors and long-told stories of the boogeyman. It's been a long time since I've felt so engrossed and terrified. Drawing the curtains closed won't help, Thiago's demons are already in your brain!"
—Rachel Eve Moulton, author of Tinfoil Butterfly

"In graceful prose peppered with terrifyingly vivid descriptions, Moreno gives a nod to 2001: A Space Odyssey to explore the perils of technology while probing the all-too-human complexities of grief. The devastating result marks Moreno as a horror writer to watch."
—Publishers Weekly, starred review

"A frightening story of grief and evil . . . The anger and grief Thiago is trying to deal with absolutely leap off the page as Moreno tugs on the reader's heart over and over again."
—Marla Warren, The Nerd Daily

"An original new voice in cosmic horror . . . Readers will eagerly follow Thiago and the increasingly weird twists and turns that escalate from unsettlingly haunting to uncomfortably creepy, and ultimately arrive at mind-altering terror . . . Much like the very best of twenty-first-century cosmic horror such as The Fisherman by John Langan or The Hollow Places by T. Kingfisher."
—Becky Spratford, Booklist

"This Thing Between Us brings the very real horrors of living in the world into blazing contact with a supernatural strangeness that refuses to be subsumed into any pattern we can categorize, dissect, and exorcize. In Gus Moreno's strong, original first novel, reality floats over a void, always threatening to seep out and engulf us."
—Brian Evenson, author of Song for the Unraveling of the World

"Dazzling . . . From its first, startling line, the narrative wraps the reader in graceful prose that refuses to let go until the striking end. Moreno has written a fine, fine book, one I am glad to recommend."
—John Langan, author of Children of the Fang and Other Genealogies

"Powerful . . . creepy and engaging, this work will make an impactful addition to horror sections."
—Library Journal

"Get ready to throw your electronic virtual assistant out the window! Gus Moreno's creepy, atmospheric, darkly funny novel will have you side-eyeing your Alexa, thanks to a tech-tinged story about grief, the afterlife, and demonic disturbances. This Thing Between Us is terrifying and unputdownable, with a likable, grounded narrator who pulls back the curtain on the other side, only to reveal something truly unnerving. An unforgettable debut."
—Jamey Bradbury, author of The Wild Inside

"Ah, horror thrillers! We. love. them. Gus Moreno really did a great job giving us the best seat on this ride."
—Nazlican Ay, The Honey Pop

"This Thing Between Us is an unsettling, visceral, harrowing descent into loss, madness, and suffering. While there are moments of peace, humor, and reflection scattered throughout this dark journey, Gus Moreno has cast a spell that I'm still trying to shake off. It's Come Closer meets Angel Heart with a dash of Dante's Inferno."
—Richard Thomas, author of Disintegration and Breaker