The Correspondents: Six Women Writers on the Front Lines of World War II (Hardcover)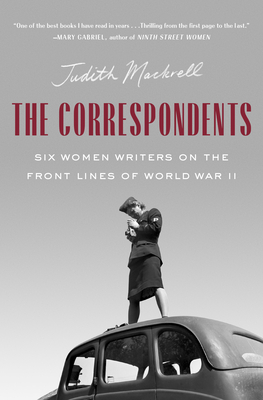 $30.00

Out Of Stock - Can Be Ordered For You. May take extra time.
Description
---
The riveting, untold history of a group of heroic women reporters who revolutionized the narrative of World War II—from Martha Gellhorn, who out-scooped her husband, Ernest Hemingway, to Lee Miller, a Vogue cover model turned war correspondent.

"Thrilling from the first page to the last." —Mary Gabriel, author of Ninth Street Women
"Just as women are so often written out of war, so it seems are the female correspondents. Mackrell corrects this omission admirably with stories of six of the best…Mackrell has done us all a great service by assembling their own fascinating stories." —New York Times Book Review

On the front lines of the Second World War, a contingent of female journalists were bravely waging their own battle. Barred from combat zones and faced with entrenched prejudice and bureaucratic restrictions, these women were forced to fight for the right to work on equal terms with men.

The Correspondents follows six remarkable women as their lives and careers intertwined: Martha Gellhorn, who got the scoop on Ernest Hemingway on D-Day by traveling to Normandy as a stowaway on a Red Cross ship; Lee Miller, who went from being a Vogue cover model to the magazine's official war correspondent; Sigrid Schultz, who hid her Jewish identity and risked her life by reporting on the Nazi regime; Virginia Cowles, a "society girl columnist" turned combat reporter; Clare Hollingworth, the first English journalist to break the news of World War II; and Helen Kirkpatrick, the first woman to report from an Allied war zone with equal privileges to men.

From chasing down sources and narrowly dodging gunfire to conducting tumultuous love affairs and socializing with luminaries like Eleanor Roosevelt, Picasso, and Man Ray, these six women are captured in all their complexity. With her gripping, intimate, and nuanced portrait, Judith Mackrell celebrates these courageous reporters who risked their lives for the scoop.
About the Author
---
JUDITH MACKRELL is the critically acclaimed author of The Unfinished Palazzo and Flappers. She is also a celebrated dance critic, and her biography of the ballerina Lydia Lopokova, Bloomsbury Ballerina, was short-listed for the Costa Biography Award. She also coauthored The Oxford Dictionary of Dance.
Praise For…
---
*Finalist for the 2022 Sperber Book Prize*

"Not only did female journalists face the challenges and dangers of actually reporting the war, but first they had to battle even to be allowed to cover it. Barred from combat zones, they had to hitchhike to the front line and struggled to get assignments from editors, some of whom fielded complaints from readers who did not want their news to come from women correspondents…Just as women are so often written out of war, so it seems are the female correspondents. Mackrell corrects this omission admirably with stories of six of the best…Mackrell has done us all a great service by assembling their own fascinating stories."
—New York Times Book Review

"The six women who form the focus of Judith Mackrell's The Correspondents...were a formidable bunch....A powerful and convincing picture of the overwhelming struggle these women—and others like them—were forced to endure to make themselves heard."
—Wall Street Journal

"Gripping...It is no easy feat to weave six lives into a narrative that compels the reader all the way through, but like a big-canvas painting that brings together personal dramas and machinations of state, The Correspondents is full of intriguing detail."
—The Los Angeles Review of Books

"Judith Mackrell's The Correspondents is a brilliant, gripping account of six journalists covering World War Two from deep inside the danger zone. Mackrell's writing so captures the drama of the period that you can almost hear her characters' typewriter keys tapping out their reports amid the rumble of tanks. But more than just a writers-at-war story, Mackrell's account succeeds because it describes the internal conflict individuals experienced—the women at the center of her stories and the people they encountered—during a moment when the world truly appeared to have gone insane. I found The Correspondents to be one of the best books I have read in years. It is thrilling from the first page to the last."
—Mary Gabriel, author of Ninth Street Women

"A vivid portrait of the women whose clear-eyed reporting brought home the tragedy and heroism of one of history's most pivotal conflicts. We owe these journalists a great debt."
—Liza Mundy, New York Times bestselling author of Code Girls

"Definitive, deeply researched, and beautifully told, The Correspondents tells the story of women at war—and reminds us how a few brave souls can blaze a trail and change the world."
—Keith O'Brien, New York Times bestselling author of Fly Girls

"Important and insightful...In telling the interwoven stories of how six bold, ambitious, fearless women reported on the Second World War and its aftermath, Mackrell tells the story of the war itself but in a radical new way."
—Anne Sebba, author of Les Parisiennes

"Judith Mackrell's bravura group portrait of six English and American women journalists who confronted entrenched professional prejudice while risking their lives to cover World War II is as engaging as their own richly varied reportage. Fast-paced and informative, it puts these women's trail-blazing accomplishments in the social, military, and historical contexts we need to grasp how remarkable they were—at a time when the authorities saw them as a novelty and their mission, to report only about civilian life under war conditions. The period before, during, and after the war is illuminated by Mackrell's impressively researched account of their creative ways around official constraints, like being barred from combat zones, their bravery under fire, and their intense wartime affairs and sometimes complicated friendships."
—Carolyn Burke, author of Foursome and Lee Miller: A Life

"These six remarkable women writers shared courage, intelligence, competitiveness and a determination not be sidelined into the woman's angle; more than that, they left a legacy for war reporting that has shaped all those who have followed in their steps."
—Caroline Moorehead, author of Gellhorn and A Train in Winter

"Bold newswomen such as Clare Hollingworth and Martha Gellhorn wrote the first draft of World War II, now Judith Mackrell gives us a chance to learn about the lives behind the headlines."
—Sarah Rose, author of D-Day Girls

"A powerful narrative of WWII news, journalistic ethics, and women's achievements in the face of daunting odds...This is an important book."
—New York Journal of Books

"Wonderful...Judith Mackrell's biography of six female journalists during World War II feels almost like a novel with its rich details."
—BookPage

"[An] immersive and revealing group biography...Sparkling quotations from the reportage are woven throughout, and colorful biographical details shed light on the correspondents' defiance of conventions...A rousing portrait of women who not only reported on history, but made it themselves." 
—Publishers Weekly (starred review)

"An exhilarating read packed with emotion and genuine humanity. A vivid portrayal of six remarkable women who made history reporting on World War II."
—Kirkus (starred review)

"In this dazzling, insightful, engrossing, and multifaceted group biography, Mackrell reveals the enormous physical, emotional, and professional obstacles each woman encountered and the astonishing ingenuity each employed to confront and overcome those challenges."
—Booklist

"Thrilling...The six journalists profiled in The Correspondents deserve credit for their pioneering work. Fortunately for us, their life stories make for vivid and fascinating reading, too."
—Christian Science Monitor

"The Correspondents skilfully interweaves the narratives of six remarkable women war correspondents who fought against sexism, misogyny and circumstance in determined pursuit of their story...With the narrative drive of a well-paced thriller, Mackrell's essential work will have you reaching for more about the words and lives of these trailblazing six."
—Toronto Star

"Powerful and engaging...The history of the second world war has largely been told by, for and about men. The story of these six correspondents covering the battle zones of Europe and North Africa stands as an important corrective...They were not just reporters; they were also pioneers, and Judith Mackrell has done them proud."
—Clare Mulley, The Spectator (UK)

"Beautifully researched, deeply sympathetic, and particularly insightful about Martha Gellhorn and Clare Hollingworth. They and the other women who went to war were pioneers in a dangerous profession who overcame fear and discrimination with grace and skill."
—John Simpson, BBC foreign correspondent

"In this hugely entertaining and informative book, Judith Mackrell tells the stories of six intrepid women who demanded the right to risk their lives reporting from the front line...Both thoughtful and edge-of-your-seat thrilling."
—The Mail on Sunday (UK)

"One of the most fascinating and engrossing books I've read in years."
—Historical Novel Society