We Were Liars (Paperback)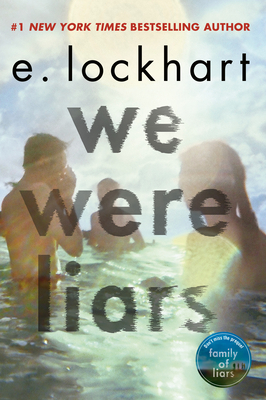 Staff Reviews
---
Oh. My. Goodness. You don't need to know much about this book in order
to know that you must read it.  From the very first page, you know you
are in the hands of a master.  The story doesn't even matter (thought
it's great) – the writing is that good.  This is one that I won't
expound on much so as not to spoil anything, but trust me when I say
that you will turn the last page, let go of the breath you didn't know
you were holding, and immediately open it again.  Then you will want to
tell everyone you know to go read it so you can talk about it!  Such a
fantastic book!
— Ginny – Anderson's Bookshop Naperville
Description
---
#1 NEW YORK TIMES BESTSELLER • A modern, sophisticated suspense novel from National Book Award finalist, and Printz Award honoree E. Lockhart. Don't miss the #1 New York Times bestselling prequel, Family of Liars.

A beautiful and distinguished family.
A private island.
A brilliant, damaged girl; a passionate, political boy.
A group of four friends—the Liars—whose friendship turns destructive.
A revolution. An accident. A secret.
Lies upon lies.
True love.
The truth.

Read it.
And if anyone asks you how it ends, just LIE.

"Thrilling, beautiful, and blisteringly smart, We Were Liars is utterly unforgettable." —John Green, #1 New York Times bestselling author of The Fault in Our Stars


About the Author
---
e. lockhart wrote the New York Times bestsellers We Were Liars and Genuine Fraud. Her other books include Fly on the Wall, Dramarama, The Disreputable History of Frankie Landau Banks, and the Ruby Oliver Quartet: The Boyfriend List, The Boy Book, The Treasure Map of Boys, and Real Live Boyfriends. Visit her online at emilylockhart.com, and follow @elockhart on Twitter.
Praise For…
---
"Sometimes a book is a book and sometimes a book is a phenomenon. E. Lockhart's 2014 Y.A. psychological thriller We Were Liars is, without a doubt, a phenomenon. . . . The prequel aims to stand on its own, and technically it does; you don't need to have read the earlier book to understand this new one. But for the greatest enjoyment of Family of Liars, read We Were Liars first." —The New York Times, on Family of Liars

"You're going to want to remember the title. Liars details the summers of a girl who harbors a dark secret, and delivers a satisfying, but shocking twist ending." —Breia Brissey, Entertainment Weekly

"This mindblowing YA thriller from E. Lockhart will make you glad you're the 99 percent...And that's about all we can tell you when it comes to the story of 'We Were Liars,' the book by E. Lockhart that everyone will be reading, and re-reading, this summer. It's twisty, it's mysterious, and it's got a surprise ending that'll knock your socks off."
—Kat Rosenfield, MTV News

"Surprising, thrilling, and beautifully executed in spare, precise, and lyrical prose, Lockhart spins a tragic family drama, the roots of which go back generations. And the ending? Shhhh. Not telling. (But it's a doozy)...This is poised to be big." —Booklist, starred review

"Lockhart has created a mystery with an ending most readers won't see coming, one so horrific it will prompt some to return immediately to page one to figure out how they missed it. At the center of it is a girl who learns the hardest way of all what family means, and what it means to lose the one that really mattered to you." —Publishers Weekly, starred review

"Riveting, brutal and beautifully told." —Kirkus, starred review

"The ending is a stunner that  will haunt readers for a long time to come." —School Library Journal, starred review

"A taut psychological mystery marked by an air of uneasy disorientation...The ultimate reveal is shocking both for its tragedy and for the how-could-I-have-not-suspected-that? feeling it leaves us with. But we didn't, which is Lockhart's commendable triumph." —The Horn Book, starred review

"This is a love story as much as it is a psychological mystery…Astonishing." —Shelf Awareness, starred review

"[a] haunting, sophisticated mystery...a novel so twisty and well-told that it will appeal to older readers as well as to adolescents." —The Wall Street Journal

"Irresistible premise for this ticking time bomb of a novel." —The New York Times Book Review

"A Lockhart YA is always a treat and this is no exception...The glimpse we get into a life of privilege, a lifestyle most of us can only imagine, is insightful and thrilling. The ending will shock the mose jaded of readers, we promise!" —RT Book Reviews

"There's trouble in paradise at the opening of National Book Award finalist and Printz honoree E. Lockhart's shattering yet ultimately hopeful YA novel . . . and neither family nor reader will ever be the same." —Library Journal

"It's a nearly perfect story, and it's utterly absorbing." —Bustle,  A YA Best Book of the Year

"No book on this summer's reading list will have readers immobilized in their hammocks more than E. Lockhart's We Were Liars..... This book has that surprise quality--like Elizabeth Wein's Code Name Verity--that makes readers scramble back through hungrily devoured chapters and wonder in admiration: Could I have seen this coming? Did I miss any clues?" —Newsday

"Like a shard of glass, WE WERE LIARS glitters and shines, then cuts deep. E. Lockhart has truly outdone herself with this masterful, darkly mesmerizing portrait of a fractured family ruined by the excess of wealth. Humming with rich descriptions and razor-sharp intelligence, the story of Cadence Sinclair Eastman will both inspire and haunt readers for years to come." —Sarah Pitre, Forever Young Adult

"Perception often is not reality -- and it certainly is not in WE WERE LIARS. This is a look at what "a perfect world" looks like on the inside and how it unravels once one of the players sees it for what it is. Pitch perfect in both plotting and character development."
—Carol Fitzgerald, Book Reporter

"The must-read contemporary novel so far this year is definitely E. Lockhart's stellar We Were Liars, a rich, stunning summer mystery with a sharp twist that will leaving you dying to talk about the book with a pal or ten." —Sonia Charaipotra, Parade

"A haunting tale about how families live within their own mythologies. Sad, wonderful, and real." —Scott Westerfeld, author of Uglies and Leviathan

"I've fallen in love with every E. Lockhart book I've ever read (and I've read them all), but We Were Liars blows them all out of the water. Dark, gripping, heartrending, and terrifyingly smart, this book grabs you from the first page--and will never let go." — Robin Wasserman, author of The Waking Dark

"Spectacular." —Lauren Myracle, author of Shine, The Infinite Moment of Us, and TTYL

"A haunting, brilliant, beautiful book. This is E. Lockhart at her mind-blowing best." — Sarah Mlynowski, author of Don't Even Think About It and Gimme a Call

"Stunningly sharp. . . . will sear itself into your memory." —Christian Science Monitor

"A haunting psychological thriller." —The Guardian

"The mystery driving the plot is a shocking punch in the face that will stay with you long after you finish." —Hypable Online Hypable-Weekend Reading

"There's no preparing for the shocker of an ending."
—SLJ

"We Were Liars is amazing. I felt run over by it . . . .Emily has done something incredible here. —Paul O. Zelinsky