Nightmares! The Lost Lullaby (Hardcover)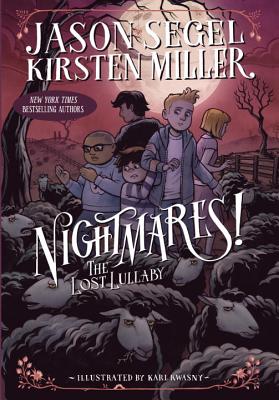 Other Books in Series
This is book number 3 in the Nightmares! series.
Description
---
The third book in the hilariously scary Nightmares! series by New York Times bestselling authors Jason Segel and Kirsten Miller is here! You thought the nightmares were over? You better keep the lights on!
 
Charlie Laird has a very bad feeling.
 
1. There's a NEW GIRL at school, and Charlie and his friends have DEFINITELY seen her before.
2. He's been hearing strange noises after dark, which is NEVER a good sign.
3. The nightmares are back, and they're WEIRDER THAN EVER.
 
    Not since he faced his fears has Charlie had so many bad dreams. Whenever he falls asleep, he finds himself in a Netherworld field, surrounded by a flock of CREEPY BLACK SHEEP.
   They're not counting sheep. They refuse to jump. In fact, they don't do much at all. EVEN EERIER, THOUGH, is that it's not Charlie's nightmare. Somehow he's trapped in someone else's bad dream. And he's pretty sure the twins ICK and INK are responsible.
   Charlie and his friends thought they'd put the twins out of business, but it seems they didn't quite finish the job. Now the WOOLLY NIGHTMARES are closing in, and INK has shown up at Cypress Creek Elementary! Charlie's convinced that INK is up to NO GOOD. And if he's right, it could be a very long time before anyone's dreams are sweet again.
 
Praise for the Nightmares! series:

"Charlie Laird, who learns fear will eat you alive if you feed it, makes an impression, and . . . readers will want to accompany him again." —The New York Times Book Review

"A touching comical saga . . . about facing things that go bump in the night." —US Weekly

"Coraline meets Monsters, Inc. in this delightfully entertaining offering from actor [Jason] Segel and co-author [Kirsten] Miller." —Publishers Weekly
About the Author
---
Jason Segel used to have nightmares just like Charlie, and just like Charlie, he's learned that the things we're most afraid of are the things that can make us strong . . . if we're brave enough to face them. Jason likes acting, writing, making music, and hanging out with his friends. Sometimes he writes movies. Sometimes he writes songs for movies. Sometimes he stars in those movies and sings those songs. You might know him from The Muppets and Despicable Me. Your parents might know him from other stuff. Nightmares! The Lost Lullaby is his third novel. Look for the first two books in the Nightmares! series: Nightmares! and Nightmares! The Sleepwalker Tonic, available from Delacorte Press.
 
Kirsten Miller grew up in a small town just like Cypress Creek, minus the purple mansion. She lives and writes in New York City. Kirsten is the author of the acclaimed Kiki Strike books, the New York Times bestseller The Eternal Ones, and How to Lead a Life of Crime. Nightmares! The Lost Lullaby is the third novel Kirsten has written with Jason Segel. You can visit her at kirstenmillerbooks.com or follow @bankstirregular on Twitter.
Praise For…
---
Praise for the Nightmares! Series:

"Charlie Laird, who learns fear will eat you alive if you feed it, makes an impression, and . . . readers will want to accompany him again." —The New York Times Book Review

"A touching comical saga . . . about facing things that go bump in the night." —US Weekly

"Coraline meets Monsters, Inc. in this delightfully entertaining offering from actor [Jason] Segel and co-author [Kirsten] Miller." —Publishers Weekly

"Succeeds at scaring and amusing in equal measure . . . Sweet, charming, and imaginative."—Kirkus Reviews

"Comical antics, cartoonish spot illustrations, and creepy villains make for quite an entertaining read."—Booklist

"An engaging and creative story...woven with a generous amount [of] humor."-VOYA

"There's humor and a fairly high ick-factor."-SLJ

"Cleverly crafted...This novel presents just the right mix of 'scary and humorous.'"—ILA Literacy Daily