The Blind Side: Evolution of a Game (Paperback)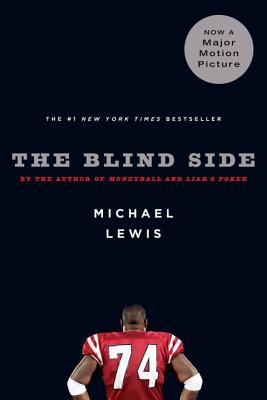 $15.95

Out Of Stock - Can Be Ordered For You. May take extra time.
Description
---
The #1 New York Times Bestseller



"Lewis has such a gift for storytelling…he writes as lucidly for sports fans as for those who read him for other reasons." —Janet Maslin, New York Times
When we first meet him, Michael Oher is one of thirteen children by a mother addicted to crack; he does not know his real name, his father, his birthday, or how to read or write. He takes up football, and school, after a rich, white, Evangelical family plucks him from the streets. Then two great forces alter Oher: the family's love and the evolution of professional football itself into a game where the quarterback must be protected at any cost. Our protagonist becomes the priceless package of size, speed, and agility necessary to guard the quarterback's greatest vulnerability, his blind side.
About the Author
---
Michael Lewis is the best-selling author of Liar's Poker, Moneyball, The Blind Side, The Big Short, The Undoing Project, and The Fifth Risk. He lives in Berkeley, California, with his family.
Praise For…
---
It's not a jock book. It's not a sociology book. It's a storybook about modern society, ancient virtues, and the power of love, money and talent to do a little good.
— Jay Hancock - Baltimore Sun

The Blind Side is as insightful and moving a meditation on class inequality in America as I have ever read—although to put it that way, I realize, makes it sound deadly dull. It isn't.

— Malcolm Gladwell, author of Talking to Strangers and The Tipping Point

Lewis's overview of the evolution of NFL strategy…is not only sound but shrewder than that of many so-called football insiders who can't see the forest for the trees.
— Allen Barra - Washington Post

[Lewis] is advancing a new genre of journalism.
— George F. Will - New York Times Book Review

The Blind Side works on three levels. First as a shrewd analysis of the NFL; second, as an exposé of the insanity of big-time college football recruiting; and, third, as a moving portrait of the positive effect that love, family, and education can have in reversing the path of a life that was destined to be lived unhappily and, most likely, end badly.

— Wes Lukowsky - Booklist