Alone on the Ice: The Greatest Survival Story in the History of Exploration (Paperback)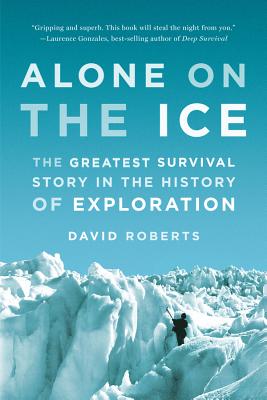 $16.95

Temporarily Out Of Stock - Can Be Ordered For You, Takes Extra Time.
Description
---
"Gripping and superb. This book will steal the night from you." —Laurence Gonzales, author of Deep Survival
On January 17, 1913, alone and near starvation, Douglas Mawson, leader of the Australasian Antarctic Expedition, was hauling a sledge to get back to base camp. The dogs were gone. Now Mawson himself plunged through a snow bridge, dangling over an abyss by the sledge harness. A line of poetry gave him the will to haul himself back to the surface.
Mawson was sometimes reduced to crawling, and one night he discovered that the soles of his feet had completely detached from the flesh beneath. On February 8, when he staggered back to base, his features unrecognizably skeletal, the first teammate to reach him blurted out, "Which one are you?"
This thrilling and almost unbelievable account establishes Mawson in his rightful place as one of the greatest polar explorers and expedition leaders. It is illustrated by a trove of Frank Hurley's famous Antarctic photographs, many never before published in the United States.
About the Author
---
David Roberts (1943–2021) is the author of thirty books on mountaineering, exploration, and anthropology. His books have won the Boardman Tasker Award for Mountain Literature and the Grand Prize at the Banff Mountain Book Competition.
Praise For…
---
Wonderfully told, impressively researched…For fans of outdoor adventure, Alone on the Ice brings you as close to trekking in a blizzard on icy, dangerous terrain as you'll likely want to get.

— Chuck Leddy - Minneapolis Star Tribune

Impressively seamless and straightforward.
— Christina Thompson - Boston Globe

A chilling story…You feel the freezing temperatures, the fear, the desperation, along with the loyalty of the other Australasian Antarctic Expedition members.
— Sandra Dallas - Denver Post

In Alone on the Ice, Roberts, a veteran mountain climber and chronicler of adventures, admirably succeeds in restoring the luster that the Australian Antarctic Expedition and its leader deserve.

— Dennis Drabelle - Washington Post

A fresh and thoroughly researched account of Doulas Mawson's epic journey of self-rescue across one of the most inhospitable regions known to man. Roberts takes the reader alongside the men of the 1912 Australasian Antarctic Expedition, and the desperation of Mawson s sledge journey can be well imagined step by frigid step.
— Ed Viesturs, author of K2: Life and Death on the World's Most Dangerous Mountain

Others have written the loose outlines of Douglas Mawson's astonishing survival against the worst conditions that Antarctica can deliver a lesser-known but equally compelling epic as that of Ernest Shackleton but Roberts's telling trumps them all.
— Gordon Wiltsie, author of To the Ends of the Earth

This is Roberts at his best, telling a little-known tale of adventure, tragedy, and endurance. Mawson may be the most famous Australian explorer, and Alone on the Ice is an admirable introduction of him to American readers.

— Greg Child, author of Over the Edge

An accurate and enthralling account of the greatest story of polar exploration and survival. Roberts takes the reader back to a time of hardship, collective friendship, and a level of determination unknown in todays culture. This book will make you cherish every meal and the joys of a warm bed.
— Conrad Anker, coauthor of The Lost Explorer: Finding Mallory on Mt. Everest