Becoming Grandma: The Joys and Science of the New Grandparenting (Paperback)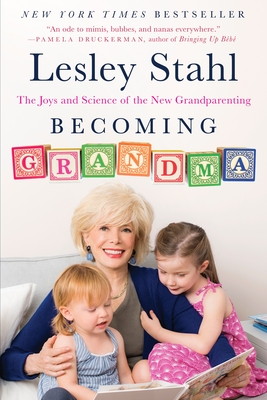 Staff Reviews
---
Respected journalist Lesley Stahl examines the current state of grandmotherhood. All kinds of grandmas are featured. It's a mutually beneficial relationship as old as time, BUT with new adaptations. Living longer, healthier and wealthier makes today's grandmas different in significant ways. Becoming Grandma AKA Celebrating Grandma.
— Candy - Anderson's Bookshop Naperville
Description
---
The New York Times Bestseller

From one of the country's most recognizable journalists, Lesley Stahl of CBS's 60 Minutes: How becoming a grandmother transforms a woman's life.
 
After four decades as a reporter, Lesley Stahl's most vivid and transformative experience of her life was not covering the White House, interviewing heads of state, or researching stories at 60 Minutes. It was becoming a grandmother. She was hit with a jolt of joy so intense and unexpected, she wanted to "investigate" it—as though it were a news flash. And so, using her 60 Minutes skills, she explored how grandmothering changes a woman's life, interviewing friends like Whoopi Goldberg, colleagues like Diane Sawyer (and grandfathers, including Tom Brokaw), as well as the proverbial woman next door.

Along with these personal accounts, Stahl speaks with scientists and doctors about physiological changes that occur in women when they have grandchildren; anthropologists about why there are grandmothers, in evolutionary terms; and psychiatrists about the therapeutic effects of grandchildren on both grandmothers and grandfathers.

Throughout Becoming Grandma, Stahl shares stories about her own life with granddaughters Jordan and Chloe, about how her relationship with her daughter, Taylor, has changed, and about how being a grandfather has affected her husband, Aaron.

In an era when baby boomers are becoming grandparents in droves and when young parents need all the help they can get raising their children, Stahl's book is a timely and affecting read that redefines a cherished relationship.
About the Author
---
LESLEY STAHL is one of America's most recognized and experienced broadcast journalists.  Her career has been marked by political scoops, surprising features and award-winning foreign reporting.  She has been a 60 Minutes correspondent since 1991; the 2015-2016 season marks her twenty-fifth on the broadcast.  Before joining 60 Minutes, Stahl served as CBS News White House correspondent during the Carter, Reagan, and part of the George H.W. Bush presidencies.  She also hosted Face the Nation from 1983 to 1991 and coanchored America Tonight from 1989 to 1990.  She is married to author and screenwriter Aaron Latham.  They have one daughter and two granddaughters.
Praise For…
---
"A very personal look at the changing role of grandparents . . . from longtime '60 Minutes' correspondent Lesley Stahl, who has full-heartedly embraced the job . . . there are some great stories here."
—Judy Woodruff, PBS Newshour
 
"[Stahl] turns her gaze inwards on the experience of being a grandmother . . . If every grandparent out there will buy this book they will be rewarded."
—Charlie Rose, Charlie Rose

"It's the personal stories that make [Becoming Grandma] so accessible… In the most illuminating parts of her book, Stahl writes candidly about her own experiences as a mother, wife, reporter and now, grandmother."
—The Richmond Times-Dispatch

"[An] energetic, informative, and often touching book….Stahl includes stories of generational conflict [and] plentiful glimpses of her family's joys and those of many others…No matter where readers fall in age or experience, this book should top their 2016 reading list of parenting titles."
—Publishers Weekly, STARRED REVIEW

"An ode to mimis, bubbes and nanas everywhere . . . Lesley Stahl reports from the fascinating front lines of modern grandparenting."
—Pamela Druckerman, author of Bringing Up Bébé
 
"Lesley Stahl brings the keen reporting we know from "60 Minutes" to the story of grandparenting. Amazed and delighted at the joy she experienced with the arrival of own two granddaughters, Stahl set about finding out why that was true. Her wise answers, both scientific and practical, provide useful information not only for grandparents and the children they cherish, but also for the wider society. This is a wonderfully fun read about an important subject."
—Cokie Roberts, author of We Are Our Mothers' Daughters
 
"Lesley Stahl, one of America's most well-respected journalists, uses her reporter's instinct and grandmother's heart to take a bold look at life's most joyful relationship in Becoming Grandma.  Stahl's wisdom, experience, and boundless love for her own granddaughters bring stunning new insights into this classic bond.  I loved this book—a must-read for every family."
—Linda Fairstein, author of Devil's Bridge

"Award-winning broadcast journalist Stahl [investigates] the importance of the role grandparents can play in the lives of their children and grandchildren….Through the medium of her own experiences, the author delivers a wise and witty book. A welcome guide for new grandparents and their children looking to savor the joys and navigate the pitfalls of grandparenting."
—Kirkus