The Anchor Brewing Story: America's First Craft Brewery & San Francisco's Original Anchor Steam Beer (Hardcover)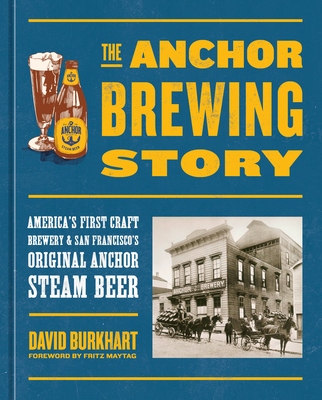 Description
---
The sweeping illustrated story of America's oldest and most iconic craft brewery, featuring a history of American brewing traditions and homebrew recipes for Anchor's top brews including Anchor Steam and California Lager

"A tale of worldly curiosity, brilliance, persistence, and a thirst to succeed . . . If you ever wondered why beer drinkers get passionate about good beer, read this book."—Charlie Papazian, author of The Complete Joy of Homebrewing

San Francisco's Anchor Brewing Co. is one of America's oldest breweries, with an extraordinary heritage rooted in the California Gold Rush. Undaunted and resilient, it has survived earthquakes, fires, insolvency, and Prohibition. In 1965, when mass-produced, mass-marketed beer completely dominated the American brewing landscape, Fritz Maytag rescued the nation's smallest brewery and its unique Anchor Steam Beer from the brink of bankruptcy. Focusing on tradition, quality, and flavor, Maytag transformed Anchor Brewing, igniting a revolution that paved the way for today's craft beer movement. 

Anchor brewery historian David Burkhart tells the story of America's first craft brewery in this compellingly definitive insider's guide. With three hundred images—most shown for the first time—and original homebrew recipes for four of Anchor's iconic brews (Anchor Steam, Anchor California Lager, Anchor Porter, and Liberty Ale), The Anchor Brewing Story is a book for beer drinkers, homebrewers, pro brewers, entrepreneurs, San Francisco–philes, and anyone who loves a good comeback tale.
About the Author
---
Award-winning author and historian David Burkhart is an honors graduate of Yale. In 1991, he joined the small staff of Anchor Brewing Co., where he worked side-by-side with owner and brewmaster Fritz Maytag. In his thirty-plus years at Anchor, Burkhart has done nearly every job at the brewery, adding Anchor brewery historian to his many titles in 2010. His books on the 1906 San Francisco Earthquake and mixologist William T. "Cocktail" Boothby have won numerous awards. Burkhart is also a professional trumpeter; a founding member of the Grammy-nominated Bay Brass; a performer with San Francisco's Symphony, Opera, and Ballet; and a professor at the San Francisco Conservatory of Music.
 
Fritz Maytag grew up in Newton, Iowa. He graduated from Deerfield Academy in 1955 and Stanford in 1959, where he subsequently studied Japanese. The owner of York Creek Vineyards and chairman emeritus of Maytag Dairy Farms, Anchor Brewing Co., and Anchor Distilling Co., Fritz is the recipient of the James Beard Foundation's Outstanding Wine and Spirits Professional and Lifetime Achievement Awards.
Praise For…
---
"The Anchor Brewing Story sparkles. It made me want to drink the pages. It's a tale of worldly curiosity, brilliance, persistence, and a thirst to succeed. It's beer's grandest whodunit, thoroughly revealed. If you ever wondered why beer drinkers get passionate about good beer, read this book, and discover the magic that makes great beer: the people, ideas, trials, tribulations, challenges, disappointments, joys, and triumphs."—Charlie Papazian, founder of Great American Beer Festival, Brewers Association, and American Homebrewers Association and author of The Complete Joy of Homebrewing

"As an aspiring young homebrewer, I first heard of Fritz Maytag and Anchor Brewery around 1969. It was in 1972, while cycling down the coast of California just south of San Francisco, that I had the opportunity to sample my first bottle of Anchor Steam. I still remember being awestruck by its flavor and intensity. I could only hope that someday I might be able to brew something that spectacular. With colorful storytelling, David Burkhart's deep dive into Anchor's history weaves together science, camaraderie, and lore with knowledge that only an insider can provide of the challenges, passion, and dogged determination of Fritz Maytag and the team he built as they transformed his dream into reality. A must-read for anyone who appreciates beer, history, or creativity of the highest order."—Ken Grossman, founder of Sierra Nevada Brewing Co.

"From its earliest days through the Fritz Maytag years and beyond, the story of Anchor Brewing and its beers is legendary. It is the classic American tale of vision, work ethic, and fortitude. Anyone with an interest in or curiosity about beer should read The Anchor Brewing Story."—Vinnie and Natalie Cilurzo, co-owners of Russian River Brewing Company

"Anchor is one of the most consequential breweries in the entire, long history of beer. The Anchor Brewing Story—enjoyably readable and scrupulously detailed—is certain to stand as the definitive source of its history. It's the perfect book for all fans of good food and drink."—Tom Acitelli, author of The Audacity of Hops: The History of America's Craft Beer Revolution

"The Anchor Brewing Story is inspirational, and the very word is apt: the company is a true anchor for the growth of the craft brewing industry."—Charlie Bamforth, Distinguished Professor Emeritus at University of California, Davis

"Inspired by Anchor Brewing, craft brewers have emerged throughout the English-speaking world, providing us with an endless supply of liquid treasures to slake our thirst for beer. This book will slake your thirst for the story of a great brewing company."—Bo Burlingham, author of Small Giants: Companies That Choose to Be Great Instead of Big