Kind (The Good Neighbors #3) (Paperback)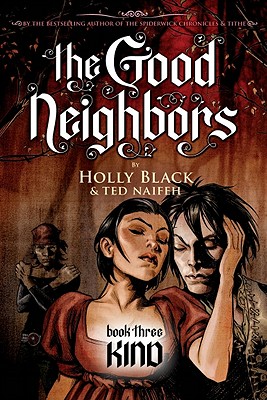 Other Books in Series
This is book number 3 in the The Good Neighbors series.
Description
---
Holly Black and Ted Naifeh weave another masterful mix of fantasy and the unexpected.After biding their time, the faeries have taken control of the human world. The fey and mortals might not be such good neighbors after all.Rue's world is fragmenting. The fey have taken over her city, and now the humans must share. Her grandfather is gone. Her faerie mother is triumphant. Her human father is despondent. And her boyfriend? He would rather be eaten alive by mergirls than be with Rue. Tension between the humans and faeries is growing, and Rue feels pulled in both directions. In some ways, she feels like her place is in the human world-with her friends, her father, and the humans who want to protect themselves. But then there's her fey half-with her beautiful, dangerous mother, the faeries, and her kinship with the natural world. Can Rue fix the rift between the fey and the humans? Or does she have the courage to continue her grandfather's interrupted plan?
About the Author
---
Ted Naifeh is the author and illustrator of many acclaimed graphic novels, including Polly and the Pirates, Courtney Crumrin and the Night Things, and Courtney Crumrin Tales: Portrait of the Warlock as a Young Man. He has also illustrated the popular Death Jr. and Gloomcookie series.
Holly Black is the #1 New York Times bestselling author of The Spiderwick Chronicles (with Tony DiTerlizzi) and the Newbery Honor-winning novel Doll Bones. Her other books include The Good Neighbors graphic novels, and the novels The Darkest Part of the Forest, Tithe, Valiant, and Ironside. With Cassandra Clare she is the author of the Magisterium series, a New York Times bestseller. She currently lives in the realm of Western Massachusetts.
Praise For…
---
Praise for The Good Neighbors:"Black does a wonderful job of weaving an alien faerie world through Rue's urban landscape, and Naifeh's art, rich with shadows, is expressive and angular and pulls the reader into the story." - Booklist"Searing and exceptionally well-written." - The Bulletin of the Center for Children's Books"[Black] skillfully blends the mystical elements with a murder mystery, family drama, and a bit of ever-popular teen angst. Black also does not shy away from the darker aspects of faerie legend, which gives the story a nicely unsettling aspect at all times." - www.BrokenFrontier.com"Ted's knack for misfit characters with a dose of humor is a perfect fit with Holly's vision of the faerie world. And I don't throw words like 'perfect' around lightly." - www.The-Trades.com

Praise for The Good Neighbors:"Black does a wonderful job of weaving an alien faerie world through Rue's urban landscape, and Naifeh's art, rich with shadows, is expressive and angular and pulls the reader into the story." - Booklist"Searing and exceptionally well-written." - The Bulletin of the Center for Children's Books"[Black] skillfully blends the mystical elements with a murder mystery, family drama, and a bit of ever-popular teen angst. Black also does not shy away from the darker aspects of faerie legend, which gives the story a nicely unsettling aspect at all times." - www.BrokenFrontier.com"Ted's knack for misfit characters with a dose of humor is a perfect fit with Holly's vision of the faerie world. And I don't throw words like 'perfect' around lightly." - www.The-Trades.com