The Invisible Man (Mass Market)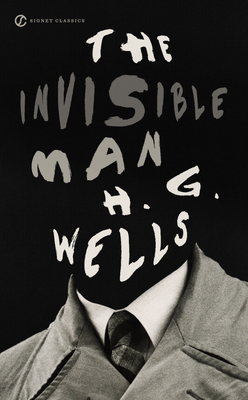 $5.95

Temporarily Out Of Stock - Can Be Ordered For You, Takes Extra Time.
Description
---
THE INSPIRATION FOR THE NEW MAJOR MOTION PICTURE!

From the twentieth century's first great practitioner of the novel of ideas comes a consummate masterpiece of science fiction about a man trapped in the terror of his own creation.

A stranger emerges out of a freezing February day with a request for lodging in a cozy provincial inn. Who is this out-of-season traveler? More confounding is the thick mask of bandages obscuring his face. Why is he disguised in such a manner? What keeps him hidden in his room? The villagers, aroused by trepidation and curiosity, bring it upon themselves to find the answers. What they discover is not only a man trapped in the terror of his own creation, but a chilling reflection of the unsolvable mysteries of their own souls.
 
"My fantastic stories do not pretend to deal with possible things. They aim indeed only at the same amount of conviction as one gets in a gripping good dream."—H. G. Wells

With an Introduction by W. Warren Wagar
and an Afterword by Scott Westerfeld 
About the Author
---
Herbert George Wells was born in Bromley, Kent, England, on September 21, 1866. His father was a professional cricketer and sometime shopkeeper, his mother a former lady's maid. Although "Bertie" left school at fourteen to become a draper's apprentice (a life he detested), he later won a scholarship to the Normal School of Science in London, where he studied with the famous Thomas Henry Huxley. He began to sell articles and short stories regularly in 1893. In 1895, his immediately successful novel The Time Machine rescued him from a life of penury on a schoolteacher's salary. His other "scientific romances"—The Island of Dr. Moreau (1896), The Invisible Man (1897), The War of the Worlds (1898), The First Men in the Moon (1901), and The War in the Air (1908)—won him distinction as the father of science fiction. Henry James saw in Wells the most gifted writer of the age, but Wells, having coined the phrase "the war that will end war" to describe World War I, became increasingly disillusioned and focused his attention on educating mankind with his bestselling Outline of History (1920) and his later utopian works. Living until 1946, Wells witnessed a world more terrible than any of his imaginative visions, and he bitterly observed: "Reality has taken a leaf from my book and set itself to supercede me." 
 
W. Warren Wagar was for many years a history professor at the State University of New York at Binghamton. A Vice President of the H. G. Wells Society, Wagar's works include H. G. Wells and the World State; an edited anthology, H. G. Wells: Journalism and Prophecy; a critical edition of Wells's The Open Conspiracy; and H. G. Wells: Traversing Time. Among his other books are The City of Man: Prophecies of a World Civilization in 20th-Century Thought and A Short History of the Future.

Scott Westerfeld is the author of the Uglies series, the Midnighters trilogy, So Yesterday, Peeps, and The Last Days. Behemoth, the second of his New York Times bestselling Leviathan trilogy, was published in October 2010. He splits his time between Sydney and New York.
Praise For…
---
"I personally consider the greatest of English living writers [to be] H. G. Wells."—Upton Sinclair