Kingston and the Magician's Lost and Found (Paperback)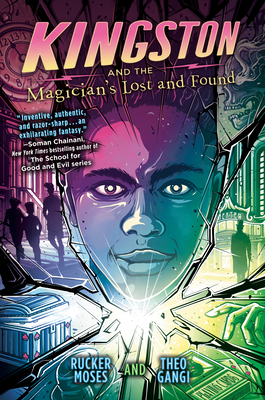 Description
---
Magic has all but disappeared in Brooklyn, but one tenacious young magician is determined to bring it back in this exciting middle grade mystery. Now in paperback.

Twelve-year-old Kingston has just moved from the suburbs back to Echo City, Brooklyn—the last place his father was seen alive. In a magic trick gone terribly wrong, his pops, the famed magician Preston the Great, vanished through a mirror and never returned. Kingston saw the impossible happen with his own eyes and now that he's back in Echo City, he's determined to find his father.

When Kingston finds a magic box his father left behind as a clue, Kingston knows there's more to his father's disappearance than meets the eye. He'll have to keep it a secret—that is, until he can restore magic to Echo City. With his cousin Veronica and childhood friend Too Tall Eddie, Kingston works to solve the clues, but one wrong move and his father might not be the only one who goes missing.
About the Author
---
Rucker Moses is the pen name of Craig S. Phillips and Harold Hayes, Jr. They both hail from Atlanta and started telling stories together at the University of Georgia. They've been nominated for three Emmys for writing in a children's program and have written for TV shows based on books by R. L. Stine and Christopher Pike. They also make virtual reality experiences and own a production company named SunnyBoy Entertainment. In no particular order, their favorite things to write about are ninjas, magic, space, and abandoned amusement parks. When not doing all that, they are hanging with their wonderful families at home in Los Angeles.



Theo Gangi is a novelist and writing teacher based in Brooklyn. He's written several acclaimed novels and short stories, and he's worked on shows for Netflix. He writes far-out adventures that happen right next door. He directs the MFA program at St. Francis College and lives with his wife, young son, and their dog.
Praise For…
---
Praise for Kingston and the Magician's Lost and Found:

★ "A fast-paced, magical read set in an accessible, vibrant world where Black magicians and a mainly Black cast take center stage." —Publishers Weekly, starred review

"Intricately crafted twists at every turn keep the determined crew on their toes. The action is well paced, giving readers time to savor the myriad colorful characters who interact with the clue chasers. . . An enjoyable addition to most middle school mystery collections." —School Library Journal

"Full of heart, magic, and mystery, this is the kind of book that makes you love books. Absolutely fantastic!" —Sarah Beth Durst, award-winning author of Catalyst

"Coded messages, characters who plainly know more than they're saying, doppelgangers, and secret schemes...all come together in a...breathlessly paced tale...should leave readers even more delighted that the stage is set for sequels." —Booklist

"Inventive, authentic, and razor-sharp, Kingston and the Magician's Lost and Found is at once an exhilarating fantasy and a moving tale of how far a father and son are willing to go for one another. Rucker Moses and Theo Gangi put aside familiar tropes to build something new, an underground New York City, filled with magic and secrets, that challenges readers to solve its mysteries alongside its main character. As for Kingston, we've never seen anything like him—a young Black superhero determined to put the magic back in Brooklyn. He's sharp, feisty, funny, and always a step ahead. This is a special book, the kind that you fall in love with, because beneath the fun and twists, shining through is Kingston's big, bold heart." —Soman Chainani, New York Times bestselling author of The School for Good and Evil series

"This brisk first-person narrative will appeal especially to readers who like puzzles and illusions… engaging plot and history of Black magician....A likable, otherworldly adventure with a bit of a mystery." —Kirkus Reviews

"The text is zippy and animated, reading more like a screenplay than a novel, and the secondary characters are splashy . . . Kingston is a carefully balanced mix of optimistic, jaded, and grief-stricken, moving through the world with more hope than the grownups who surround him." —The Bulletin of the Center for Children's Books