Leadership in War: Essential Lessons from Those Who Made History (Paperback)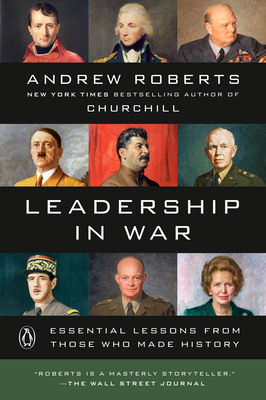 Description
---
A comparison of nine leaders who led their nations through the greatest wars the world has ever seen and whose unique strengths—and weaknesses—shaped the course of human history, from the bestselling, award-winning author of Churchill, Napoleon, and The Last King of America

"Has the enjoyable feel of a lively dinner table conversation with an opinionated guest." —The New York Times Book Review

Taking us from the French Revolution to the Cold War, Andrew Roberts presents a bracingly honest and deeply insightful look at nine major figures in modern history: Napoleon Bonaparte, Horatio Nelson, Winston Churchill, Adolf Hitler, Joseph Stalin, George C. Marshall, Charles de Gaulle, Dwight D. Eisenhower, and Margaret Thatcher.

Each of these leaders fundamentally shaped the outcome of the war in which their nation was embroiled. Is war leadership unique, or did these leaders have something in common, traits and techniques that transcend time and place and can be applied to the essential nature of conflict?

Meticulously researched and compellingly written, Leadership in War presents readers with fresh, complex portraits of leaders who approached war with different tactics and weapons, but with the common goal of success in the face of battle. Both inspiring and cautionary, these portraits offer important lessons on leadership in times of struggle, unease, and discord. With his trademark verve and incisive observation, Roberts reveals the qualities that doom even the most promising leaders to failure, as well as the traits that lead to victory.
About the Author
---
Andrew Roberts is the bestselling author of Churchill: Walking with Destiny, winner of the the Council on Foreign Relations Arthur Ross Book Award; The Storm of War: A New History of the Second World War; Masters and Commanders: How Four Titans Won the War in the West, 1941-1945; Waterloo: Napoleon's Last Gamble; and Napoleon: A Life, winner of the Los Angeles Times Book Prize for biography. He has won many other prizes, including the Wolfson History Prize and the British Army Military Book of the Year. He is the Roger and Martha Mertz Visiting Fellow at the Hoover Institution at Stanford University, a Lehrman Institute Distinguished Fellow at the New-York Historical Society, and a visiting professor in the Department of War Studies at King's College London.
Praise For…
---
"An understated treasure . . . [that] distills some of the insights Roberts has developed in more than a dozen classic works of history and biography, all in a slim volume that might be read over an afternoon. . . . Roberts's chapter on Hitler is a tour de force of historical portraiture." 
—The National Review

"Roberts is superbly well-qualified to write about these extraordinary leaders. . . . Roberts's description offers vivid detail, spare prose, immortal rhetoric, and a touch of humor. His chapters offer masterly, magnificent portraits of what it takes to steer an army or a nation through a crisis. . . . Every reader can be grateful for such a thrilling and succinct account of leadership."
—The New Criterion

"Andrew Roberts provides lovely overviews of the careers of both Marshall and Eisenhower, among others. . . . [Leadership in War] has the enjoyable feel of a lively dinner table conversation with an opinionated guest." 
—The New York Times Book Review

"Andrew Roberts is a remarkably gifted writer of vivid narrative prose, and a talented, popular historian. . . . Reading his work is always a pleasure and often a source of fresh insights."
—The Washington Times

"Roberts delves into the experiences of wartime leaders to produce lessons for heads of business. . . . illuminating . . . These portrayals were originally delivered as lectures by Roberts, a prolific historian of World War II and biographer of Napoleon and Churchill. The profiles of Napoleon and Dwight D. Eisenhower are the most salient for business readers, but it is not difficult to find insight in nearly all of them."
—Strategy+Business

"Meticulously researched and full of revelations, this is a fascinating read."
—The Sun (Pick of the Week)

"Roberts has a gift for finding the anecdote or quotation which reveals an essential truth about his subject."
—History Today

"Roberts provides many valuable insights into the nature of high command in war."
—Military History Matters
 
"Roberts has written acclaimed biographies of several of his chosen leaders and is a master of his material. Future generations of military leaders will have cause to be grateful to Andrew Roberts for distilling the findings of his meticulous research into such an accessible and engaging analysis."
—The House Magazine

"[Roberts] is a master storyteller. It is impossible to get bored reading him."
—Law & Liberty