Speak, Okinawa: A Memoir (Hardcover)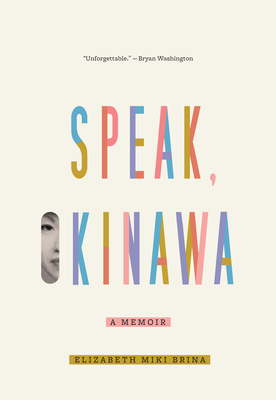 Description
---
A "hauntingly beautiful memoir about family and identity" (NPR) and a young woman's journey to understanding her complicated parents—her mother an Okinawan war bride, her father a Vietnam veteran—and her own, fraught cultural heritage.

Elizabeth's mother was working as a nightclub hostess on U.S.-occupied Okinawa when she met the American soldier who would become her husband. The language barrier and power imbalance that defined their early relationship followed them to the predominantly white, upstate New York suburb where they moved to raise their only daughter. There, Elizabeth grew up with the trappings of a typical American childhood and adolescence. Yet even though she felt almost no connection to her mother's distant home, she also felt out of place among her peers.

Decades later, Elizabeth comes to recognize the shame and self-loathing that haunt both her and her mother, and attempts a form of reconciliation, not only to come to terms with the embattled dynamics of her family but also to reckon with the injustices that reverberate throughout the history of Okinawa and its people. Clear-eyed and profoundly humane, Speak, Okinawa is a startling accomplishment—a heartfelt exploration of identity, inheritance, forgiveness, and what it means to be an American.
About the Author
---
ELIZABETH MIKI BRINA is the recipient of a Rona Jaffe Bread Loaf Scholarship and a New York State Summer Writers Institute Scholarship. She currently lives and teaches in New Orleans.
Praise For…
---
ONE OF NPR'S BEST BOOKS OF THE YEAR

"A hauntingly beautiful memoir about family and identity." —NPR, Here & Now

"Masterful . . . Brina's writing is crisp, captivating, and profound. She is vulnerable, raw, and relatable, and her stories will no doubt cause readers to reflect on their relationships with their own parents. As educational as it is entertaining, Speak, Okinawa is well worth the read." —The Associated Press

"A gorgeous literary memoir of inner exploration and the search for identity." —Good Morning America

"In Speak, Okinawa, Elizabeth Miki Brina beautifully combs a lifetime of memory, love, loss, and the connections that bind us to one another. In exploring how one comes to be, Brina's prose illuminates and dazzles—and we see, in the end, what was intangible made clear in her writing. Speak, Okinawa is indelible, and Brina's words are unforgettable." —Bryan Washington, author of Memorial

"Speak, Okinawa is the book I've needed my entire life. Elizabeth Miki Brina plumbs the depths of mixed-race girlhood, parental love and harm, and the daily, intimate aches of growing up between cultures. This is a book that gives feelings—however fleeting—clear form. I urge everyone to read it." —Jessica J. Lee, author of Two Trees Make a Forest, winner of the Hilary Weston Writers' Trust Prize

"Speak, Okinawa is a virtuosic and unflinching search for clarity." —Poets & Writers

"Speak, Okinawa is the rarest of books: as expansive as a history, propulsive as a novel, and intimate as a confession. It reads like a great consciousness springing to life. This book is more than an eye-popping debut, more than the introduction of a hugely talented writer. It is a time machine, a love letter, a revelation, a triumph. We are lucky to have it." —M.O. Walsh, author of My Sunshine Away and The Big Door Prize

"Searingly candid . . . Poignant . . . Powerful." —The New Yorker

"In America, we rarely inherit language for grappling with the fraught legacies of family and identity, memory and erasure, empire and occupation. But in Speak, Okinawa, Elizabeth Miki Brina bravely charts a path toward self-recognition and reconciliation, with prose so powerful and pristine it often left me hovering at the edge of tears. This is a bracing, luminous debut that will long be remembered, and long turned to for inspiration." —Francisco Cantú, author of The Line Becomes a River

"Brina recounts, with piercing candidness and clarity, the almost claustrophobic world of an only child and her parents . . . The memoir is also a portrait of the devastating effects of imperialism and racism on a person's identity, self-worth, and relationships—and offers a perspective on how a person can combat these legacies." —The Washington Post

"Brina captivates in her stunning and intimate debut memoir . . . This nuanced tale goes both wide and deep, and is as moving as it is ambitious. Memoir lovers will be enthralled." —Publishers Weekly

"Deeply human . . . A forthright and tunneling inquiry into how the author came to understand the many inherited layers of herself and her racial identity . . . Artfully concerned with the DNA-altering effects of trauma and the almost unfathomable power of language, Brina's work opens a window on a lifelong search for peace, and the life-giving work of listening." —Booklist (starred)

"A masterful debut . . . A can't-miss memoir that will stay with readers after they finish the last page." —Library Journal (starred)

"I was completely transported by this memoir. At once a reckoning with cultural and personal identity, a revealing journey into one family's experience, and an important examination of a beloved, too-often overlooked island and its people, Speak, Okinawa is a phenomenal piece of work. I can't wait for this moving story to be shared with the world." —Sarah Bird, author of Daughter of a Daughter of a Queen

"A guilty and ultimately redemptive love letter to a mother. This book is medicine in its anguished honesty, countering the poison of internalised racism." —Jay Griffiths, author of A Country Called Childhood

"With searing honesty, Brina accomplishes the task of any great memoir: to make the singular speak for many . . . Speak, Okinawa is a comfort to anyone who has felt foreign in their own skin, family, or society . . . Brina's writing shines." —The Japan Times

"Brilliant." —The Times-Picayune

"Brave." —Ploughshares

"This is a memoir about daughterhood, home and homelands. It will make you want to call your parents. This book will teach you history and may well hurt your heart." —Rowan Hisayo Buchanan, author of Starling Days

"Elizabeth Miki Brina captures the complicated reality of being a mixed-race Asian woman in a way I've rarely encountered before. With searing clarity, she excavates a family story shrouded in silence that spans across generations. Her mode of storytelling is tender, precise, and hypnotic." —Nina Mingya Powles, author of Tiny Moons: A Year of Eating in Shanghai

"The history of Okinawa, told in the first-person plural, is jarring in the most eye-opening way." —BookPage (starred)

"A stupendous book . . . Gorgeous . . . Elizabeth Miki Brina claims her voice with resounding clarity . . . The knowledge she reveals here—about herself, her complex heritage, her history—proves breathtaking . . . Moving fluidly between intimate memories and documented history, Brina creates a multi-layered literary gift." —Shelf Awareness

"A compelling memoir . . . In clear, unfettered prose Brina rediscovers the history and culture of Okinawa . . . Speak, Okinawa sheds light in the dark, unspoken corners of biracial identity, the chasms of misunderstanding in America today—and the wider western world too." —Spectator

"In Speak, Okinawa we become immersed in the experience of Okinawa as a dual colony and understand Brina's memories exist in that diasporic context. And as we do, we see and feel the way trauma crosses generations . . . This book mattered to me in ways I can't articulate in this review. I really, really don't know what else to say. And I feel a kind of unspeakable shame that I don't. The stories mattered. The history mattered. The words mattered." —The International Examiner