Gone Fishing: A novel in verse (Paperback)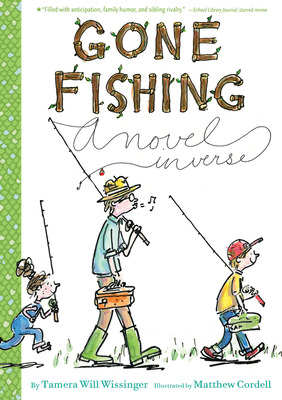 Description
---
Triple Crown Awards' 2017-2018 Gallery Honor

"Just the thing for readers with a burgeoning interest in poetry—or angling."—Publishers Weekly

Nine-year-old Sam loves fishing with his dad. So when his pesky little sister, Lucy, horns in on their fishing trip, he's none too pleased. All ends well in this winsome book of poems—each labeled with its proper poetic form. Together the poems build a dawn-to-dusk story of a father-son bond, of sibling harmony lost and found—and, most of all, of delicious anticipation. Charming line drawings animate the poetry with humor and drama, and the extensive Poet's Tackle Box at the end makes this the perfect primer to hook aspiring poets of all ages.
About the Author
---
Tamera Will Wissinger writes poetry and stories for children. She earned her B.A. degree in English from Sioux Falls College, and her M.F.A. degree in Writing from Hamline University. She is the author of Gone Fishing: A Novel in Verse and This Old Band.  www.tamerawillwissinger.com
Matthew Cordell has illustrated many picture and chapter books for children including Wolf in the Snow, which won the Caldecott Medal. He lives with his wife and their two children outside of Chicago, Illinois. Visit him online at matthewcordell.com and on Twitter @cordellmatthew.
Praise For…
---
Triple Crown Awards' 2017-2018 Gallery Honor "Just the thing for readers with a burgeoning interest in poetry—or angling." —Publishers Weekly "A playful verse narrative of the joys and perils of a family fishing trip. . . . This tender, well-crafted sibling story should hook many readers." —Kirkus "Engaging verse that's just the right depth and length for chapter-book readers. . . A solid, entertaining story to hook children on poetry." —Booklist "All of Sam's episodes take the form of poems, each discreetly labeled by its poetic form, which is then defined at the end of the book. . . most will enjoy the notion that there are as many ways to tell a tale as to catch a fish." —Bulletin "This novel in verse successfully builds a story filled with anticipation, family humor, and sibling rivalry. . . . Wissinger deftly plies her craft to ensure that the use of poetry enhances the readability of the story" —School Library Journal, starred review —