Wonderstruck (Hardcover)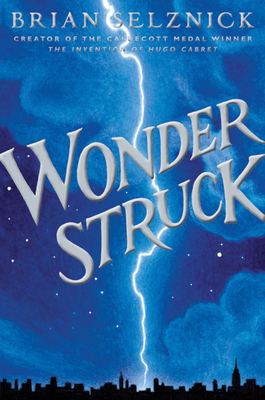 $29.99

Out Of Stock - Can Be Ordered For You. May take extra time.
Description
---
Don't miss Selznick's other novels in words and pictures, The Invention of Hugo Cabret and The Marvels, which together with Wonderstruck, form an extraordinary thematic trilogy!In this groundbreaking tour de force, Caldecott Medalist and bookmaking pioneer Brian Selznick sails into uncharted territory and takes readers on an awe-inspiring journey. Ben and Rose secretly wish their lives were different. Ben longs for the father he has never known. Rose dreams of a mysterious actress whose life she chronicles in a scrapbook. When Ben discovers a puzzling clue in his mother's room and Rose reads an enticing headline in the newspaper, both children set out alone on desperate quests to find what they are missing.Set fifty years apart, these two independent stories--Ben's told in words, Rose's in pictures--weave back and forth with mesmerizing symmetry. How they unfold and ultimately intertwine will surprise you, challenge you, and leave you breathless with wonder. Rich, complex, affecting, and beautiful--with over 460 pages of original artwork--Wonderstruckis a stunning achievement from a gifted artist and visionary.
About the Author
---
Brian Selznick's books have sold millions of copies, garnered countless awards worldwide, and been translated into more than 35 languages. He broke open the novel form with his innovative and genre-defying thematic trilogy, beginning with the Caldecott Medal-winning #1 New York Times bestseller The Invention of Hugo Cabret, adapted into Martin Scorsese's Oscar-winning movie Hugo. He followed that with the #1 New York Times bestseller, Wonderstruck, adapted into the eponymous movie by celebrated filmmaker Todd Haynes, with a screenplay by Selznick, and the New York Times bestseller, The Marvels. Selznick's two most recent books for young people, Baby Monkey, Private Eye, an ALA Notable Book co-written with his husband David Serlin, and Kaleidoscope, a New York Times Notable Children's Book of 2021, were both New York Times bestsellers as well. He also illustrated the 20th anniversary edition covers of J.K. Rowling's Harry Potter series. Selznick and Serlin divide their time between Brooklyn, New York and La Jolla, California. Learn more at thebrianselznick.com and mediaroom.scholastic.com/brianselznick.
Praise For…
---
Awards and Praise for Wonderstruck:#1 New York Times BestsellerNew York Times Notable Children's BookALA Notable Children's BookParents' Choice Gold WinnerPublishers Weekly Best Book"Engrossing, intelligent, beautifully engineered and expertly told in word and image." -- The New York Times"Moving and ingenious . . ." -- The Wall Street Journal"Brian Selznick proves to be that rare creator capable of following one masterpiece--The Invention of Hugo Cabret--with another even more brilliantly executed." -- Washington Post"Another entrancing, exquisitely illustrated novel . . . Older kids and adults alike will be mesmerized by the interlocking stories. A verbal and visual marvel." -- Family Circle* "A gift for the eye, mind, and heart." -- Booklist, starred review* "Visually stunning, completely compelling."-- Kirkus Reviews, starred review* "Innovative . . . has the makings of a classic." -- Publishers Weekly, starred review* "A thing of wonder to behold . . . an emotional experience that neither the words nor the illustrations could achieve on their own." -- School Library Journal, starred review

Awards and Praise for Wonderstruck:#1 New York Times BestsellerNew York Times Notable Children's BookALA Notable Children's BookParents' Choice Gold WinnerPublishers Weekly Best Book"Engrossing, intelligent, beautifully engineered and expertly told in word and image." -- The New York Times"Moving and ingenious . . ." -- The Wall Street Journal"Brian Selznick proves to be that rare creator capable of following one masterpiece--The Invention of Hugo Cabret--with another even more brilliantly executed." -- Washington Post"Another entrancing, exquisitely illustrated novel . . . Older kids and adults alike will be mesmerized by the interlocking stories. A verbal and visual marvel." -- Family Circle* "A gift for the eye, mind, and heart." -- Booklist, starred review* "Visually stunning, completely compelling."-- Kirkus Reviews, starred review* "Innovative . . . has the makings of a classic." -- Publishers Weekly, starred review* "A thing of wonder to behold . . . an emotional experience that neither the words nor the illustrations could achieve on their own." -- School Library Journal, starred review