Fly Guy Presents: Sharks (Scholastic Reader, Level 2) (Paperback)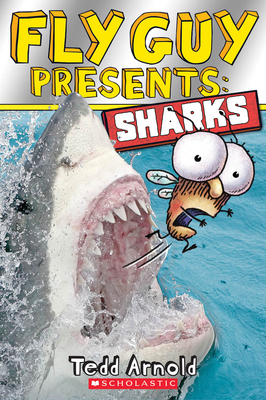 $4.99

Temporarily Out Of Stock - Can Be Ordered For You, Takes Extra Time.
Description
---
Fly Guy is buzzzzing on over to the nonfiction genre!Award-winning author/illustrator Tedd Arnold brings nonfiction to life with the help of his very popular main character, Fly Guy! This engaging nonfiction reader combines the kid-friendly humor of Fly Guy with the high-interest topic of sharks! Fly Guy and Buzz introduce young readers to sharks with straightforward fun facts, humorous asides, and full-bleed photographs throughout. *FOIL ON THE COVER!*
About the Author
---
Tedd Arnold is the bestselling author and illustrator of the Fly Guy (Zig Zag et Zazie) series, Green Wilma, Parts, and other popular picture books. He is also the illustrator of Detective Blue. He has received Theodor Seuss Geisel Honors for Hi! Fly Guy (Salut Zig Zag!) and I Spy Fly Guy! (Où es-tu Zig Zag?). Tedd lives with his wife, Carol, in Florida.
Praise For…
---
Praise for FLY GUY PRESENTS: SHARKS"A first-rate sharkfest, unusually nutritious for all its brevity." -KIRKUS REVIEWSPraise for FLY GUY PRESENTS: SPACE"An eye-catching lesson on space that aspiring astronauts and astronomers will not want to miss." -BOOKLISTPraise for HI! FLY GUY"Readers drawn in by the flashy foil will stick around to applaud this unusually capable critter." -PUBLISHERS WEEKLYPraise for SUPER FLY GUY"A fly by delight." -BOOKLIST

Praise for FLY GUY PRESENTS: SHARKS"A first-rate sharkfest, unusually nutritious for all its brevity." -KIRKUS REVIEWSPraise for FLY GUY PRESENTS: SPACE"An eye-catching lesson on space that aspiring astronauts and astronomers will not want to miss." -BOOKLISTPraise for HI! FLY GUY"Readers drawn in by the flashy foil will stick around to applaud this unusually capable critter." -PUBLISHERS WEEKLYPraise for SUPER FLY GUY"A fly by delight." -BOOKLIST