Five-Minute Bedtime Bible Stories (Board book)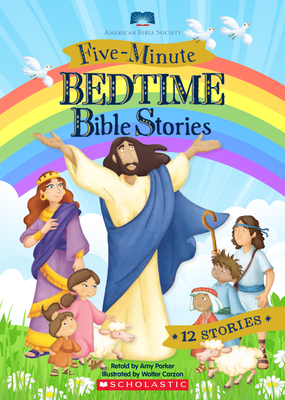 Description
---
These twelve popular Bible stories are perfect for bedtime!FIVE-MINUTE BEDTIME BIBLE STORIES presents twelve fully-illustrated Bible stories. This book is perfect for read-aloud time: each story can be read aloud in one sitting! And it is a great way to introduce children to the Bible. The stories are retold in simple yet traditional language, and the colorful illustrations on EVERY page make this book especially fun for young readers! Featured stories include the Garden of Eden, Noah's Ark, Moses, David and Goliath, Queen Esther, Daniel and the Lions, and the nativity. This book has been officially vetted by the American Bible Society. It has a soft, padded cover with a ribbon bookmark, and shiny foil appears on the cover and spine!
About the Author
---
Walter Carzon has illustrated comic books for DC, Marvel, and Disney Publishing. He has also designed many characters for advertising agencies, and has had several of his art collections published by different publishing houses in Argentina. Walter lives in Argentina.
Amy Parker has written more than 20 books for children, teens, and adults, including the bestselling A Night Night Prayer; Thank You, God, For Mommy; and Thank You, God, For Daddy. She has also collaborated with authors ranging from New York Times bestsellers to her very own son. Most importantly, she is a wife to Daniel and a mom to their amazing sons, Michael and Ethan. She lives in Tennessee.