Guts: A Graphic Novel (Hardcover)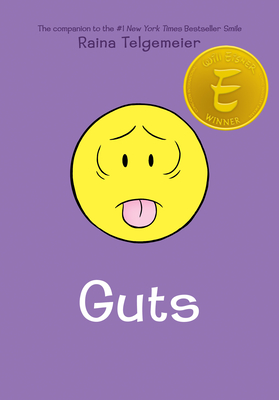 $24.99

Out Of Stock - Can Be Ordered For You. May take extra time.
Fall 2019 Kids Indie Next List
---
"When Raina was in fourth grade, she had a lot on her mind — school, trying not to vomit, and a million other things. Over time, Raina learned how to confront her fears and find ways to stay calm during overwhelming moments. Raina shares her anxieties and fears in this funny and poignant graphic memoir, which is sure to comfort any reader who may be going through the same thing."
— Jen Steele, Boswell Book Company, Milwaukee, WI
Description
---
A true story from Raina Telgemeier, the #1 New York Times bestselling, multiple Eisner Award-winning author of Smile, Sisters, Drama, and Ghosts!Raina wakes up one night with a terrible upset stomach. Her mom has one, too, so it's probably just a bug. Raina eventually returns to school, where she's dealing with the usual highs and lows: friends, not-friends, and classmates who think the school year is just one long gross-out session. It soon becomes clear that Raina's tummy trouble isn't going away... and it coincides with her worries about food, school, and changing friendships. What's going on?Raina Telgemeier once again brings us a thoughtful, charming, and funny true story about growing up and gathering the courage to face -- and conquer -- her fears.
About the Author
---
Raina Telgemeier is the #1 New York Times bestselling, multiple Eisner Award–winning creator of Smile, Sisters, and Guts, which are all graphic memoirs based on her childhood. She is also the creator of Drama and Ghosts, and is the adapter and illustrator of the first four Baby-sitters Club graphic novels. Raina lives in the San Francisco Bay Area. To learn more, visit her online at goraina.com.
Praise For…
---
Praise for Guts:
#1 USA Today Bestseller
#1 New York Times Bestseller
New York Times Best Comic of 2019
New York Times Best Children's Book of 2019
Washington Post Best Graphic Novel of the Year
Forbes Best Graphic Novel of 2019, Honorable Mention
NPR Best Book/Book Concierge
TIME Best Book of the Year
Amazon Top 20 Children's Book of 2019
Today.com Best Kids' Book of 2019
Chicago Public Library's Best of the Best
School Library Journal Best Book of the Year
School Library Journal Best Graphic Novel of the Year
A 2020 CBC Children's & Teen Choice Book Award Winner
* "The story both normalizes therapy and shows a child developing useful coping mechanisms for anxiety in a way that will reassure, even inspire, readers." -- Publishers Weekly, starred review
* "A must." -- School Library Journal, starred review
"A compassionate and accessible look at one girl's struggles with anxiety." -- The Bulletin of the Center for Children's Books
Praise for Smile:
#1 New York Times Bestseller
Will Eisner Comic Industry Award Winner
Boston Globe-Horn Book Honor Book
"Irresistible, funny, and touching." -- Kirkus Reviews
"One of the most widely loved kids' graphic novels in recent history." -- Booklist
"It hits home partly because there is nothing else out there like it." -- The New York Times Book Review
Praise for Sisters:
#1 New York Times Bestseller
Will Eisner Comic Industry Award Winner
* "A wonderfully charming tale of family and sisters that anyone can bond with." -- Kirkus Reviews, starred review
* "Poignant and laugh-out-loud funny." -- Publishers Weekly, starred review
* "Utterly relatable for anyone with siblings." -- School Library Journal, starred review
Praise for Drama:
#1 New York Times Bestseller
An ALA Stonewall Honor Book
* "Telgemeier is prodigiously talented at telling cheerful stories with realistic portrayals of middle-school characters." -- Booklist, starred review
* "Pitch-perfect." -- Kirkus Reviews, starred review
* "Another dead-on look at the confusing world of middle school." -- Publishers Weekly, starred review
* "An entertaining and enlightening read." -- School Library Journal, starred review
Praise for Ghosts:
#1 New York Times Bestseller
* "Telgemeier has her finger on the pulse of middle-grade readers, and this might be her best yet." -- Booklist, starred review
* "Superior visual storytelling." -- Kirkus Reviews, starred review
* "Telgemeier nudges readers toward the edge of their comfort zone, but she never leaves them alone there." -- Publishers Weekly, starred review
Praise for Guts:
#1
USA Today
Bestseller#1
New York Times
Bestseller
New York Times
Best Comic of 2019
New York Times
Best Children's Book of 2019
Washington Post
Best Graphic Novel of the Year
Forbes
Best Graphic Novel of 2019, Honorable MentionNPR Best Book/Book Concierge
TIME
Best Book of the YearAmazon Top 20 Children's Book of 2019Today.com Best Kids' Book of 2019Chicago Public Library's Best of the Best
School Library Journal
Best Book of the Year
School Library Journal
Best Graphic Novel of the Year* "The story both normalizes therapy and shows a child developing useful coping mechanisms for anxiety in a way that will reassure, even inspire, readers." --
Publishers Weekly
, starred review* "A must." --
School Library Journal
, starred review"A compassionate and accessible look at one girl's struggles with anxiety." --
The Bulletin of the Center for Children's Books
Praise for Smile:
#1
New York Times
BestsellerWill Eisner Comic Industry Award WinnerBoston Globe-Horn Book Honor Book"Irresistible, funny, and touching." --
Kirkus Reviews
"One of the most widely loved kids' graphic novels in recent history." --
Booklist
"It hits home partly because there is nothing else out there like it." -- The New York Times Book ReviewPraise for Sisters:
#1
New York Times
BestsellerWill Eisner Comic Industry Award Winner
* "A wonderfully charming tale of family and sisters that anyone can bond with." -- Kirkus Reviews, starred review
* "Poignant and laugh-out-loud funny." --
Publishers Weekly
, starred review* "Utterly relatable for anyone with siblings." --
School Library Journal
, starred review
Praise for Drama:
#1
New York Times
BestsellerAn ALA Stonewall Honor Book* "Telgemeier is prodigiously talented at telling cheerful stories with realistic portrayals of middle-school characters." --
Booklist
, starred review* "Pitch-perfect." --
Kirkus Reviews
, starred review
* "Another dead-on look at the confusing world of middle school." -- Publishers Weekly, starred review
* "An entertaining and enlightening read." --
School Library Journal
, starred review
Praise for Ghosts:
#1
New York Times
Bestseller
* "Telgemeier has her finger on the pulse of middle-grade readers, and this might be her best yet." -- Booklist, starred review
* "Superior visual storytelling." --
Kirkus Reviews
, starred review* "Telgemeier nudges readers toward the edge of their comfort zone, but she never leaves them alone there." --
Publishers Weekly
, starred review