The Testing (Hardcover)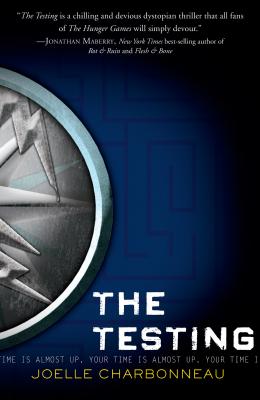 $17.99
Email or call for price.
Staff Reviews
---
"There is nothing standardized about this Testing. Charbonneau's imagination will surprise readers at every turn."
—Jennifer M. Brown, children's editor, Shelf Awareness
"Action-packed and full of twists, The Testing will keep you guessing until the very last page—and desperate for the next book!"?
—Erica O'Rourke, author of the Torn Trilogy
"The
rising tension, skillfully executed scenarios, and rich
characterizations all contribute to an exciting story bound to capture
readers' imaginations. . . . Charbonneau works action, romance,
intrigue, and a plausible dystopian premise into a near-flawless
narrative."
—Publishers Weekly, starred review
"Charbonneau jumps into the packed dystopia field with a mashup of Veronica Roth's Divergent (2011) and Suzanne Collins' Hunger Games trilogy, but she successfully makes her story her own."
—Kirkus
"Charbonneau is a fantastic story teller and this book is a tribute to that background. The intrigue in The Testing passes evaluation of what a good dystopian novel should represent."
—VOYA, 4Q 5P M J S
Description
---
It's graduation day for sixteen-year-old Malencia Vale, and the entire Five Lakes Colony (the former Great Lakes) is celebrating. All Cia can think about—hope for—is whether she'll be chosen for The Testing, a United Commonwealth program that selects the best and brightest new graduates to become possible leaders of the slowly revitalizing post-war civilization. When Cia is chosen, her father finally tells her about his own nightmarish half-memories of The Testing. Armed with his dire warnings ("Cia, trust no one"), she bravely heads off to Tosu City, far away from friends and family, perhaps forever. Danger, romance—and sheer terror—await.
About the Author
---
Joelle Charbonneau began telling stories as an opera singer, but these days she finds her voice through writing. She lives near Chicago with her husband and son, and when she isn't writing, she works as an acting and vocal coach.
www.joellecharbonneau.com
Twitter @jcharbonneau
Instagram @joellejcharbonneau
Praise For…
---
VOYA Top Shelf for Middle School Readers 2013 list
"Electrifying."—EntertainmentWeekly.com
"The Testing is a chilling and devious dystopian thriller that all fans of The Hunger Games will simply devour. Joelle Charbonneau writes with guts and nerve but also great compassion and heart. Highly recommended."—Jonathan Maberry, New York Times best-selling author of Rot & Ruin and Flesh & Bone
"I galloped through this excellent read; I was in suspense the whole time."—Charlaine Harris, author of the Sookie Stackhouse series
"There is nothing standardized about this Testing. Charbonneau's imagination will surprise readers at every turn."—Jennifer M. Brown, children's editor, Shelf Awareness
"Action-packed and full of twists, The Testing will keep you guessing until the very last page—and desperate for the next book!"—Erica O'Rourke, author of the Torn Trilogy
* "The rising tension, skillfully executed scenarios, and rich characterizations all contribute to an exciting story bound to capture readers' imaginations. . . . Charbonneau works action, romance, intrigue, and a plausible dystopian premise into a near-flawless narrative."—Publishers Weekly, starred review
"Charbonneau jumps into the packed dystopia field with a mashup of Veronica Roth's Divergent and Suzanne Collins' Hunger Games trilogy, but she successfully makes her story her own."—Kirkus
"Charbonneau is a fantastic story teller and this book is a tribute to that background. The intrigue in The Testing passes evaluation of what a good dystopian novel should represent."—VOYA, 4Q 5P M J S
"The plot twists are well integrated and will keep readers on edge awaiting the next volume."—Horn Book
"The influence of The Hunger Games is obvious, and The Testing will satisfy readers who want similar dystopian adventures." —SLJ