Coven (Paperback)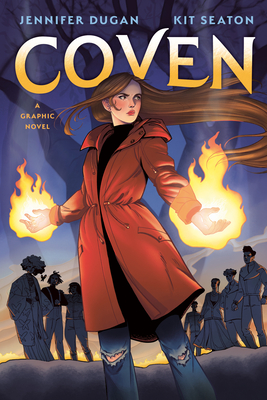 Description
---
In this queer, paranormal YA graphic novel debut from the author of Some Girls Do and the illustrator of Wonder Woman: Warbringer, a young witch races to solve the grisly supernatural murders of her coven members before the killer strikes again.

"[This] gorgeously illustrated tale mashes together murder mystery and witchcraft." —Nerdist

Emsy has always lived in sunny California, and she'd much rather spend her days surfing with her friends or hanging out with her girlfriend than honing her powers as a fire elemental. But when members of her family's coven back east are murdered under mysterious circumstances that can only be the result of powerful witchcraft, her family must suddenly return to dreary upstate New York. There, Emsy will have to master her neglected craft in order to find the killer . . . before her family becomes their next target.
About the Author
---
Jennifer Dugan is a writer, a geek, and a romantic who writes the kinds of stories she wishes she'd had growing up. She's the author of the graphic novel Coven, as well as the young adult novels Playing For Keeps, The Last Girls Standing, Melt With You, Some Girls Do, Verona Comics, and Hot Dog Girl, which was called "a great, fizzy rom-com" by Entertainment Weekly and "one of the best reads of the year, hands down" by Paste magazine. She lives in upstate New York with her family, their dog, a strange kitten who enjoys wearing sweaters, and an evil cat who is no doubt planning to take over the world. You can visit Jennifer at JLDugan.com or follow her on Twitter and Instagram @JL_Dugan.

Kit Seaton has illustrated the graphic novel adaptations of Leigh Bardugo's Wonder Woman: Warbringer and Alexandra Bracken's Brightly Woven. She is the co-creator of the comics Norroway and Afar. You can visit Kit at kitseaton.com or follow her on Instagram @kitandcatcomics.
Praise For…
---
Praise for Coven:

A GLAAD Outstanding Original Graphic Novel Nominee

* "Dugan nails adolescent emotions without letting them crowd out the story's action . . . Queer witchy teens, murder, and a homecoming dance—what more could you want?" —Booklist, starred review

"Visually stunning . . . An engaging queer teen witch story that doesn't shy away from the realistic tensions of loss and uncertainty." —School Library Journal

"The multiracial, intergenerational ensemble cast of queer witches facing a deadly, unknown magical threat forms a strong narrative foundation, enhanced by intense character conflict and action." —Kirkus Reviews

"Dugan's empathetic cast, whose interpersonal challenges and endearing romances flourish amid supernatural conflict, feel solidly teen, buoying this vividly illustrated graphic novel adventure." —Publishers Weekly

"The illustrations [are] done in atmospheric shades with vivid highlights . . . [A] paranormal story featuring a witchy girl who is only just realizing how incredibly powerful she can be." —The Bulletin of the Center for Children's Books

"Highly entertaining . . . Deals with a plethora of topics from grief to betrayal and being ripped away from your home—or having it taken from you . . . A fast-paced murder mystery, found family vibes and an inclusive cast of characters." —The Nerd Daily

"With beautiful illustrations, exciting magical powers, and intriguing characters, Coven is the perfect graphic novel for those who love a good witch story." —The Honey Pop