History Smashers: The Titanic (Paperback)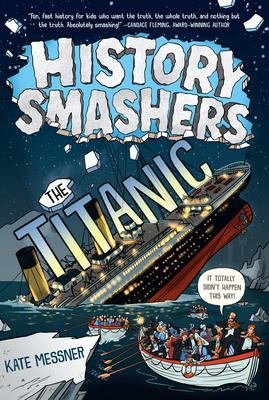 $8.99

Out Of Stock - Can Be Ordered For You. May take extra time.
Other Books in Series
This is book number 4 in the History Smashers series.
Description
---
Myths! Lies! Secrets! Uncover the hidden truth behind the sinking of the Titanic with beloved educator/author Kate Messner. The fun mix of sidebars, illustrations, photos, and graphic panels make this perfect for fans of I Survived! and Nathan Hale's Hazardous Tales.

On April 15, 1912 an "unsinkable" ship called the Titanic unexpectedly hit an iceberg and sank to the bottom of the North Atlantic. Right?

Wrong! Nobody was really talking about the Titanic being unsinkable until after it sank.

The truth is, four different ships wired the Titanic to report icebergs and field ice in the area. But the Titanic never slowed down. In fact, when the Californian warned that it was trapped in ice, the Titanic's wireless operator was so busy sending outgoing messages that he replied, "Shut up!" No joke.

Discover the nonfiction series that demolishes everything you thought you knew about history.

Don't miss History Smashers: The Mayflower, Women's Right to Vote, and Pearl Harbor.
About the Author
---
KATE MESSNER is passionately curious and writes books that encourage kids to wonder, too. Her titles include award-winning picture books, like Over and Under the Snow; novels, like Breakout and Chirp; the Fergus and Zeke easy reader series, and the popular Ranger in Time chapter books, and works of nonfiction with a focus on nature and history. Before becoming a full time writer, Kate was a TV journalist and National Board certified middle school English teacher. She lives on Lake Champlain with her family and is trying to summit all 46 Adirondack High Peaks in between book deadlines. Visit katemessner.com and Facebook: Kate Messner for more information and follow her on Twitter @katemessner.
Praise For…
---
Praise for the History Smashers series:

"Critical, respectful, engaging: exemplary history for children." --Kirkus Reviews, starred review

 "The book's format may be a good match for those with shorter attention spans, and permits it to be gratifyingly capacious in what it covers." --New York Times Book Review 

"Well-researched, entertaining, and packed with facts." --Booklist

"Messner and Meconis provide a timely perspective on an important part of American history." —School Library Journal

"A history book for middle-graders that should be on everyone's (child and adult) to-read list." --Shelf Awareness

"Kate Messner serves up fun, fast history for kids who want the truth, the whole truth, and nothing but the truth. Absolutely smashing!" —Candace Fleming, award-wining author

"Informative and fun, eye-opening and entertaining. I wish I could have read History Smashers when I was in elementary school. I would have devoured them and developed a big appetite for even more of this sort of truth-telling." --Chris Barton, award-winning author