Near the Bone (Paperback)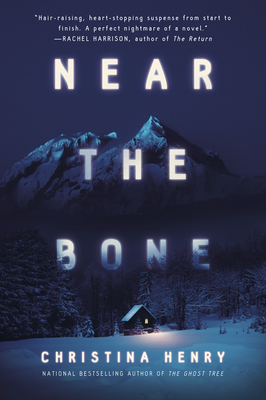 $17.00

Out Of Stock - Can Be Ordered For You. May take extra time.
Description
---
A woman trapped on a mountain attempts to survive more than one kind of monster, in a dread-inducing horror novel from the national bestselling author Christina Henry.

Mattie can't remember a time before she and William lived alone on a mountain together. She must never make him upset. But when Mattie discovers the mutilated body of a fox in the woods, she realizes that they're not alone after all.

There's something in the woods that wasn't there before, something that makes strange cries in the night, something with sharp teeth and claws.

When three strangers appear on the mountaintop looking for the creature in the woods, Mattie knows their presence will anger William. Terrible things happen when William is angry.
About the Author
---
Christina Henry is a horror and dark fantasy author whose works include The Ghost Tree, Looking Glass, The Girl in Red, The Mermaid, Lost Boy, Alice, Red Queen, and the seven book urban fantasy Black Wings series.
 
She enjoys running long distances, reading anything she can get her hands on and watching movies with samurai, zombies and/or subtitles in her spare time. She lives in Chicago with her husband and son.
Praise For…
---
"Henry's storytelling is her own sort of witchcraft."—Christopher Golden, New York Times bestselling author of Ararat and Red Hands

"Hair-raising, heart-stopping suspense from start to finish. A perfect nightmare of a novel."–Rachel Harrison, author of The Return

"Henry has expertly walked the line between psychological suspense and horror to crowd-pleasing results for years, and this title is no exception. Hand out freely to fans of Sarah Pinborough, Jennifer McMahon, and Zoje Stage."–Library Journal

"Near the Bone features compelling and creative characters, descriptions of snow so realistic that they'll make you reach for a blanket and a monster so terrifying that it is sure to haunt the dreams of even the most stoic reader...Near the Bone is a terror-ridden yet poetic hike that will leave your nerves frazzled and heart."-BookPage


Praise for Christina Henry's novels

"Satisfyingly upends the familiar tale of a clever girl, a dangerous wolf, and a brave savior, and folklore fans will enjoy this bloody near-future variation on a familiar theme."—Publishers Weekly

"An engrossing page-turner that will delight anyone who loves running through thought experiments about the apocalypse."—Paste 

"A riveting rewrite of Peter Pan."--The Wall Street Journal

"Multiple twists keep the reader guessing, and the fluid writing is enthralling....This is a fine addition to the shelves of any fan of children's classics and their modern subversions."--Publishers Weekly

"This wild, unrelenting tale, full to the brim with the freedom and violence of young boys who never want to grow up, will appeal to fans of dark fantasy."--Booklist

"A horrifying fantasy that will have you reexamining your love for this childhood favorite. Smooth, velvety prose blends well with the deliciously complex characters and intricate story line."--RT Book Reviews (top pick)

"It's full of magic and passion and courage, set against a convincing historical backdrop....Henry's spare, muscular prose is a delight. I loved this novel."--Louisa Morgan, author of A Secret History of Witches