Seen, Heard, and Paid: The New Work Rules for the Marginalized (Hardcover)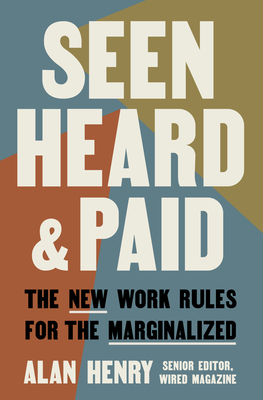 Description
---
The real tools for career success and work satisfaction for anyone feeling undermined or marginalized at their job, from a productivity expert and editor at Wired.

"Alan Henry doesn't just illuminate the invisible barriers that often stand in the way of success—he shines a light on what you can do to break through them."—Adam Grant, #1 New York Times bestselling author of Think Again and host of the TED podcast WorkLife

For over twenty years, Alan Henry has written about using technology and productivity techniques to work and live better for publications such as Lifehacker, The New York Times, and Wired. But he found that as a Black man he didn't have access to some of the more powerful ways to hack your job—like only checking email once a day or blocking out time on your calendar to do deep work. In fact, he found that even when he landed a prestigious title at the Times, there were moments when he was still overlooked and excluded from the most interesting and career-boosting work. 

This led him to first explore these struggles in a Times piece titled "Productivity Without Privilege." Now he goes even deeper, interviewing experts across multiple fields to come up with powerful tools to overcome the forces of marginalization. In Seen, Heard, and Paid, Henry shares the new work rules that may finally allow people of color, women, and LGBTQ+ folks to have the same access to career advancement and rewarding work as those with more privilege, including: 
 
How to Be Seen: Only spend time on work that gets you attention.
How to Be Heard: Figure out your unique contribution.
How to Get Paid: Data is power and power is money.
 
Whether you're dealing with microaggressions, trying to get the glamour work instead of the office housework, weighing the pluses and minuses of working remotely, or deciding it's time to look for a new opportunity, Seen, Heard, and Paid will help you feel informed, supported, and empowered.
About the Author
---
Alan Henry is a journalist and editor who writes and commissions stories that help readers make better use of their technology and embrace a healthier relationship with it in their lives. He is currently senior editor at Wired. He was previously the Smarter Living editor at The New York Times, and before that the editor in chief of the productivity and lifestyle blog Lifehacker.
Praise For…
---
"Seen, Heard, and Paid is the perfect antidote to workplace gaslighting. With compassion and keen insight, Alan Henry has created a productivity manifesto for workers who are marginalized in the office, whether for race, gender, sexual orientation, or educational background. If you've ever cried over coworker microaggressions or gotten angry at a boss who never gives you credit for your ideas, this book will light the way forward to better relationships with colleagues—and teach you when to draw the line and say no."—Annalee Newitz, author of Four Lost Cities: A Secret History of the Urban Age and cohost of Our Opinions Are Correct
 
"Alan Henry's 'new work rules' are vital in our post-COVID world as workers reconsider and reclaim their power. For disabled people like me who've been consciously and unconsciously shut out of office opportunities and culture, this thorough and thoughtful guide will not only help you feel less alone but will give you tools to define your own success. An essential read for anyone trying to make sense of their place at work and in the world."—Tessa Miller, author of What Doesn't Kill You: A Life with Chronic Illness

"For those of us from marginalized identities, most books on office politics offer advice that not only doesn't work but actually makes us more vulnerable. Seen, Heard, and Paid is the workplace advice book for us. It's grounded in the reality—backed by data—that office politics is actively stacked against us. And it helps us navigate those spaces while maintaining our dignity—and our sanity."—Kendra Pierre-Louis, journalist and author of Green Washed

"Readers who feel unseen at work, no matter their background or situation, will find powerful takeaways."—Booklist

"An essential guide . . . Henry sets out his points in a logical, clear manner, and the result is a solid, useful package."—Kirkus Reviews